In recent years, plant-based milk alternatives have become incredibly popular. Being a vegan and consuming plant-based milk on daily bases is as normal for us Vegans as it is for non-vegans. There are several plant-based milk options available on the supermarkets. Which vegan milks are out there and what are their benefits? Plant milk refers to manufactured, nondairy beverages made from a water-based plant extract for flavoring and aroma. Plant milks are vegan beverages consumed as plant-based alternatives to dairy milk, and often provide a creamy mouthfeel. Plant-based milk variations out there are almond, coconut, oat, soy, quinoa, cashew, macadamia, hemp and rice milk. The quality of plant-based milks varies greatly when it comes to nutrients. For example, many almond milks are much lower in protein than cow's milk. If you are going to switch to a plant-based milk, be certain to read the label and find a product that contains good amounts of protein, vitamin D, iron, and calcium.
Almond Milk
Almond milk is made by blending almonds with water and then straining the mixture to remove the solids. You can also make it by adding water to almond butter. It has a pleasant, nutty flavor and a creamy texture similar to that of regular milk. For this reason, it is a popular choice for people following a vegan diet and those who are allergic or intolerant to dairy. You can find almond milk in most supermarkets, usually in the health food or organic section. Commercial almond milk comes in a variety of brands and flavors - unsweetened, sweetened, roasted, vanilla and the list goes on. For health reasons, it is best to choose almond milk that does not contain added sugar. Although about 50% of the calories in almond milk come from fat, it is generally a low-fat product and probably doesn't have a significant impact on your blood lipid profile. Almond milk is high in vitamin E and contains healthy fats. Drinking it regularly may potentially benefit your heart. Producers of almond milk dilute it with water to make its fat content similar to that of low fat milk, which is around 1% fat. One cup of almond milk contains only 39 calories, which is half the amount of calories in a cup of skim milk. Almond milk contains no cow's milk or other animal products, making it a great option for people following a vegan diet and those who are lactose intolerant or allergic to milk. I use almond milk a lot in baking as it is one of the best plant – based milks to use.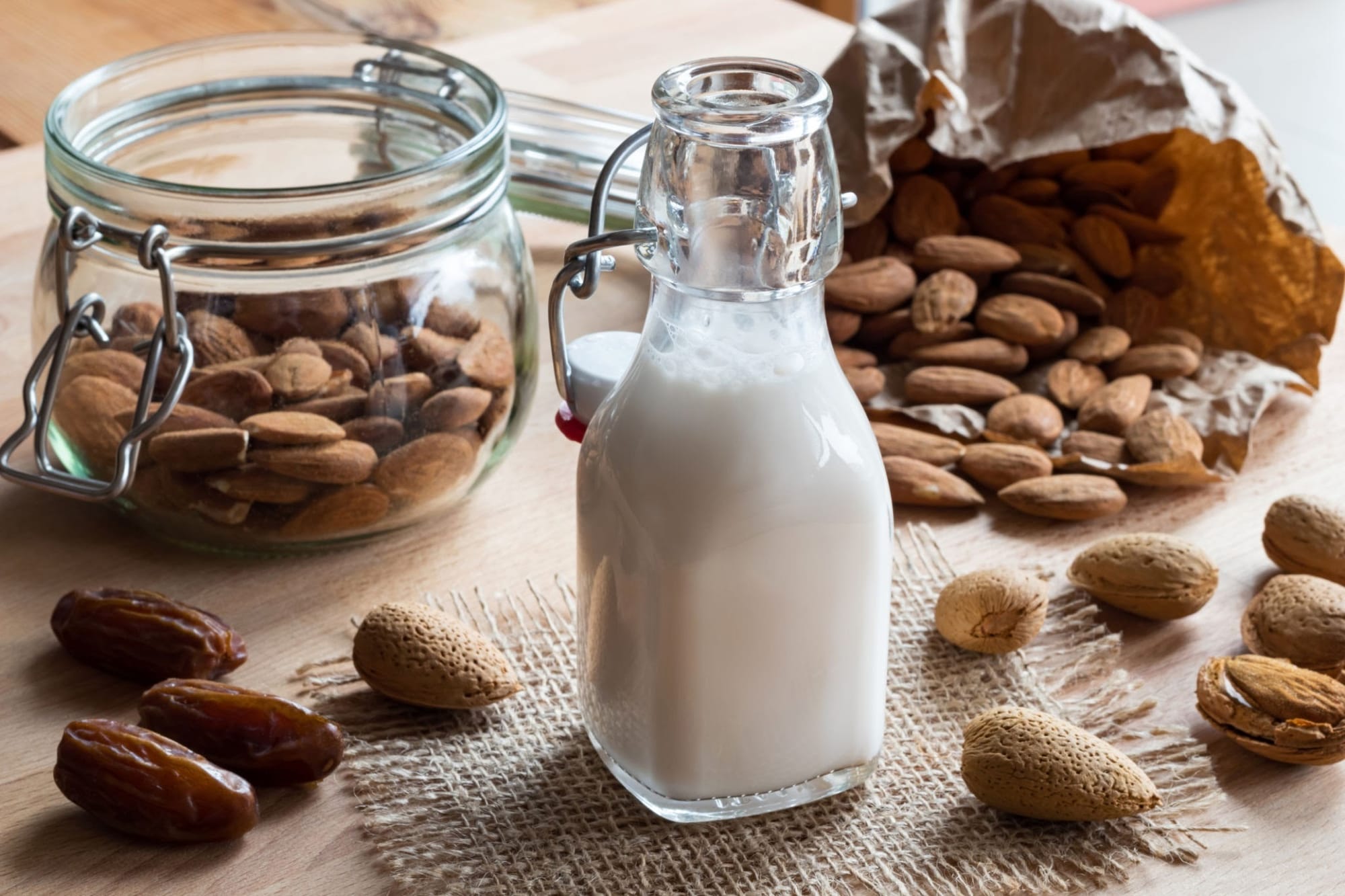 Soy Milk
Soy milk, also known as soy milk, is a plant-based drink produced by soaking and grinding soybeans, boiling the mixture, and filtering out remaining particulates. It is a stable emulsion of oil, water, and protein. Its original form is a natural by-product of the manufacture of tofu. Soy milk is a plant-based nondairy beverage, often consumed as an alternative to milk. It's made from soybeans, and many brands fortify their soy milk with vitamins and minerals such as vitamin D and calcium. Soy milk offers culinary diversity, creamy texture, and a healthful nutritional profile, including essential omega-3 fatty acids [if fortified] and flavonoids that exert antioxidant, anti-inflammatory, and cardioprotective properties. Soy is a good source of low-fat and plant-based protein. It is cholesterol-free, has less saturated fat than cow's milk and lowers the LDL in the body. Both calcium-fortified soy milk and low-fat milk are good sources of protein and calcium. There are so many types of soy milk on the market, and the number of calories and added sugar will differ depending on what you buy. Always check the nutrient facts label on your brand of choice. When comparing all plant milks, we can say, broadly, that soy milk is the most nutritionally similar to a lowfat cow's milk. Soybean is the incredible, edible bean. With all nine essential amino acids, soy milk is rich in protein and is balanced in fats and carbs. When choosing a soy milk from the shop - You're looking for a few things. One, go for a brand that is unsweetened. Sweetened versions can contain around five grams of sugar per serving. If you want a little flavor, unsweetened vanilla is your best bet. Most soy milks on the market are fortified, but read the label to make sure yours contains calcium and vitamin D.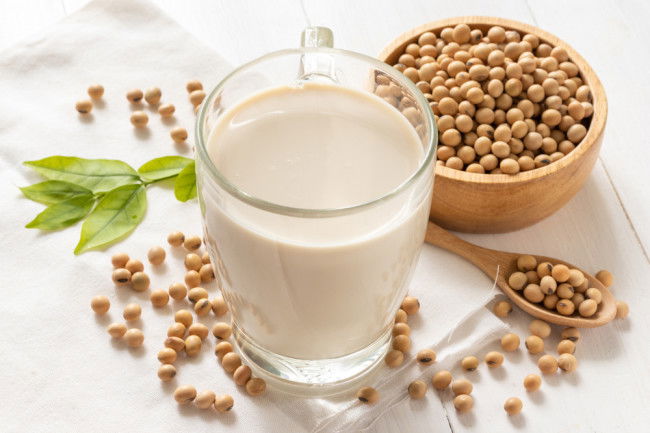 Coconut Milk
Coconut milk is an opaque, milky-white liquid extracted from the grated pulp of mature coconuts. The opacity and rich taste of coconut milk are due to its high oil content, most of which is saturated fat. Coconut milk is a traditional food ingredient used in Southeast Asia, Oceania, South Asia, and East Africa. Coconut milk should not be confused with coconut water, which is found naturally in immature green coconuts. Unlike coconut water, the milk does not occur naturally. Instead, solid coconut flesh is mixed with water to make coconut milk, which is about 50% water. By contrast, coconut water is about 94% water. It contains much less fat and far fewer nutrients than coconut milk. Coconut milk is classified as either thick or thin based on consistency and how much it's processed.
Thick: Solid coconut flesh is finely grated and either boiled or simmered in water. The mixture is then strained through cheesecloth to produce thick coconut milk.
Thin: After making thick coconut milk, the grated coconut remaining in the cheesecloth is simmered in water. The straining process is then repeated to produce thin milk.
In traditional cuisines, thick coconut milk is used in desserts and thick sauces. Thin milk is used in soups and thin sauces. Most canned coconut milk contains a combination of thin and thick milk. It's also very easy to make your own coconut milk at home, adjusting the thickness to your liking.
Coconut milk is a high-calorie food. About 93% of its calories come from fat, including saturated fats known as medium-chain triglycerides (MCTs). The milk is also a good source of several vitamins and minerals. In addition, some experts believe coconut milk contains unique proteins that may provide health benefits. However, more research is needed. There's some evidence that the MCT fats in coconut milk may benefit weight loss, body composition and metabolism. Coconut milk is likely safe for most people who are not allergic to coconuts. It is best to choose BPA-free cans. Although coconut milk is nutritious, it's also high in calories. Keep this in mind when adding it to foods or using it in recipes. Here are a few tips for selecting the best coconut milk:
Read the label: Whenever possible, choose a product that contains only coconut and water.
Choose BPA-free cans: Purchase coconut milk from companies that use BPA-free cans, such as Native Forest and Natural Value.
Use cartons: Unsweetened coconut milk in cartons usually contains less fat and fewer calories than canned options.
Go light: For a lower-calorie option, select light canned coconut milk.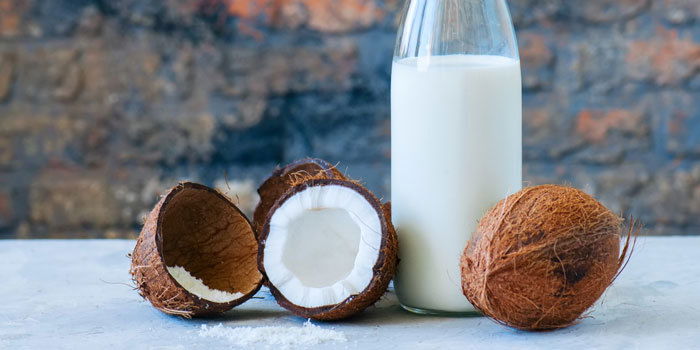 Oat Milk
In recent years, plant-based milk alternatives have become incredibly popular. Particularly, oat milk is a good choice for people with allergies or intolerances. It's naturally free of lactose, nuts, soy, and gluten if made from certified gluten-free oats. Not to mention, it's delicious and may benefit bone and heart health. Oat milk is a popular dairy-free, vegan-friendly milk substitute. It's made by soaking and blending steel-cut or rolled oats with water and then straining them through cheesecloth to separate the milk from the oats. Naturally, oat milk isn't as nutritious as whole oats. As a result, it's often enriched with nutrients — including calcium, potassium, iron, and vitamins A and D. Oat milk is unique in that it's free of many of the allergens found in other types of milk. Plus, it contains beta-glucans — a soluble fiber that may offer heart health benefits.
Oat milk is an excellent source of many vitamins and minerals, as well as fiber. Because oat milk is made from strained oats, it's missing a lot of the nutrients that you would normally get from eating a bowl of oats. For this reason, it's often enriched with nutrients. Most commercial oat milk is fortified with vitamins A, D, B2, and B12, as well as various minerals like calcium. Compared to other types of milk, oat milk generally has more calories, carbs, and fiber than almond, soy, or cow's milk while providing less protein than soy and dairy varieties. Oat milk is a sensible option for those with dietary restrictions. Since it's made from just oats and water, it's vegan and free of nuts, soy, and lactose. Though oats are also naturally gluten-free, they can be processed in the same factories as gluten-containing grains, which may contaminate the oats. Oat milk is often fortified with B vitamins, such as riboflavin (B2) and vitamin B12. For instance, they may help elevate your mood, combat oxidative stress, and promote healthy hair, nails, and skin — especially if you're already deficient in these vitamins.
Oat milk is high in beta-glucans — a soluble fiber with heart health benefits. Oat milk is often fortified with calcium and vitamin D — which can benefit your bones. While oat milk has several possible health benefits, it comes with some downsides. For one, certain varieties of commercial oat milk may be high in sugar — especially if they're sweetened or flavored. That's why it's best to purchase unsweetened options.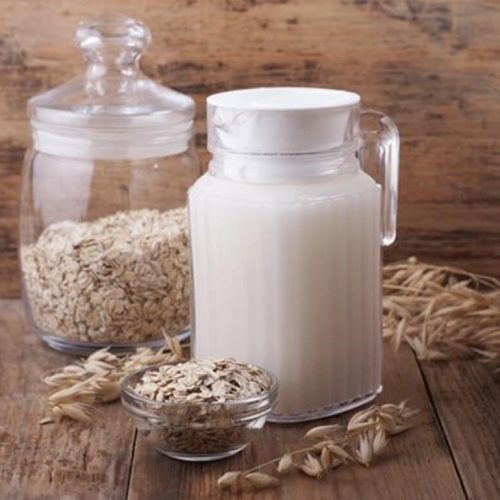 Rice Milk
Rice milk is made from milled white or brown rice and water. As with other nondairy milks, it often contains thickeners to improve texture and taste. Rice milk is the least allergenic of the nondairy milks. This makes it a safe option for those with allergies or intolerances to dairy, gluten, soy or nuts. Rice milk is mild in taste and naturally sweet in flavor. It has a slightly watery consistency and is great to drink on its own as well as in smoothies, in desserts and with oatmeal.
One cup (240 ml) of rice milk contains 130–140 calories, 2–3 grams of fat, 1 gram of protein and 27–38 grams of carbohydrates. Rice milk contains a similar number of calories to cow's milk, but almost double the carbohydrates. It also contains considerably less protein and fat. Of all the nondairy milk alternatives on this list, rice milk contains the most carbohydrates — around three times as many as the others. What's more, rice milk has a high glycemic index (GI) of 79–92, which means it is absorbed quickly in the gut and rapidly raises blood sugar levels. For this reason, it may not be the best option for people with diabetes. Due to its low protein content, rice milk may also not be the best option for growing children, athletes and the elderly. This is because these populations have higher protein requirements. The US Food and Drug Administration (FDA) recommends that people consume rice as part of a balanced diet that includes a variety of grains. Solely relying on rice and rice products is not advised, especially for infants, toddlers and pregnant women.
For most people, drinking rice milk should not be a cause for concern. However, if rice happens to make up a significant part of your diet, then it could be beneficial to diversify your diet by eating a variety of grains, including other nondairy milks.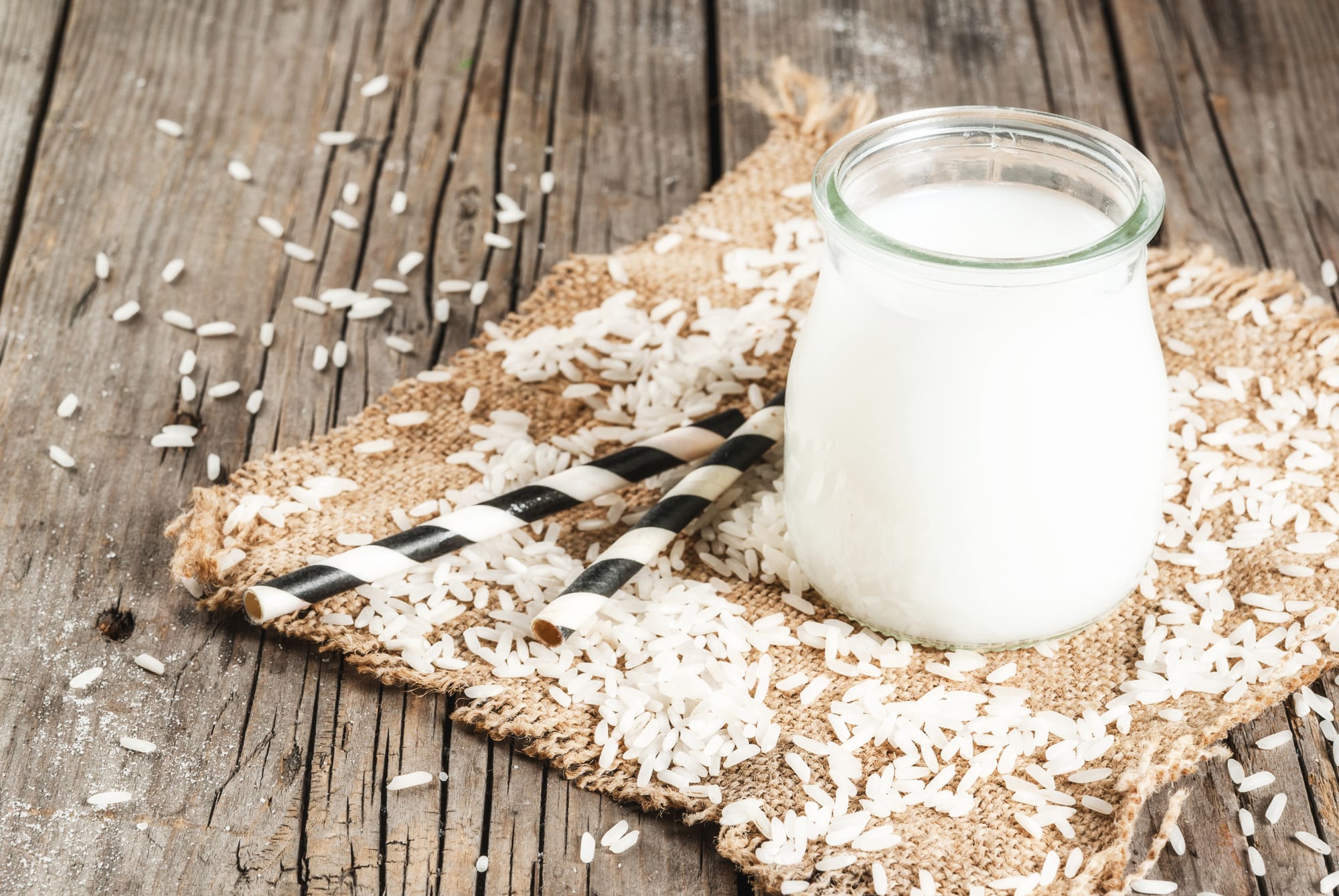 Cashew Milk
Cashew milk is made from a mixture of cashew nuts or cashew butter and water. It is rich and creamy and has a sweet and subtle nutty flavor. It's great for thickening smoothies, as a creamer in coffee and as a substitute for cow's milk in desserts. As with most nut-based milks, the nut pulp is strained from the milk. This means the fiber, protein, vitamins and minerals from the whole cashew are lost. One cup (240 ml) of unsweetened cashew milk contains just 25–50 calories, 2–4 grams of fat, 0–1 gram of protein and 1–2 grams of carbohydrates. Cashew milk contains fewer than one third of the calories of cow's milk, half the fat and significantly less protein and carbohydrates. Due to its low protein content, cashew milk may not be the best option for people with increased protein requirements. It could be worth switching to a higher-protein milk such as soy or oat if you have increased protein needs, or if you struggle to meet your daily protein requirements. However, with only 25–50 calories per cup (240 ml), unsweetened cashew milk is a great, low-calorie option for those looking to reduce their total daily calorie intake. The low carbohydrate and sugar content also makes it a suitable option for people who need to monitor their carb intakes, such as people with diabetes. Lastly, cashew milk is one of the easiest milks to make at home.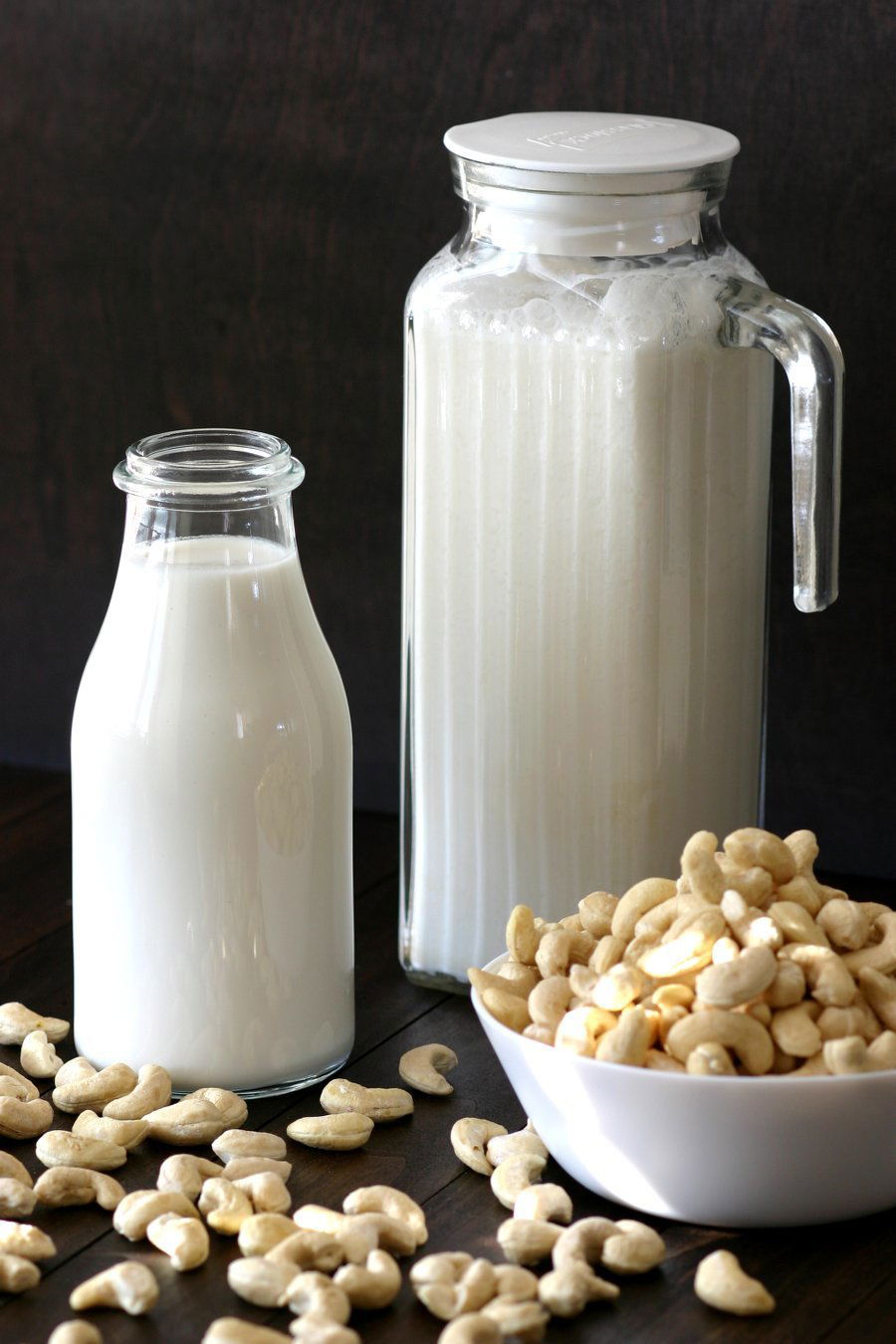 Macadamia Milk
Macadamia milk is made mostly of water and about 3% macadamia nuts. It's fairly new to the market, and most brands are made in Australia using Australian macadamias. It has a richer, smoother and creamier flavor than most nondairy milks, and tastes great on its own or in coffee and smoothies. One cup (240 ml) contains 50–55 calories, 4.5–5 grams of fat, 1–5 grams of protein and 1 gram of carbohydrates. Macadamia milk contains one third the calories and about half the fat of cow's milk. It is also somewhat lower in protein and carbohydrates. It is very low in calories, with only 50–55 calories per cup (240 ml). This makes it a great option for those trying to reduce their calorie intake. The low carbohydrate content also makes it a suitable option for people with diabetes or those looking to reduce their carb intake. What's more, macadamia milk is a great source of healthy monounsaturated fats, with 3.8 grams per cup (240 ml). Increasing your intake of monounsaturated fats may help reduce blood cholesterol levels, blood pressure and the risk of heart disease, especially if it replaces some saturated fat or carbohydrates in your diet.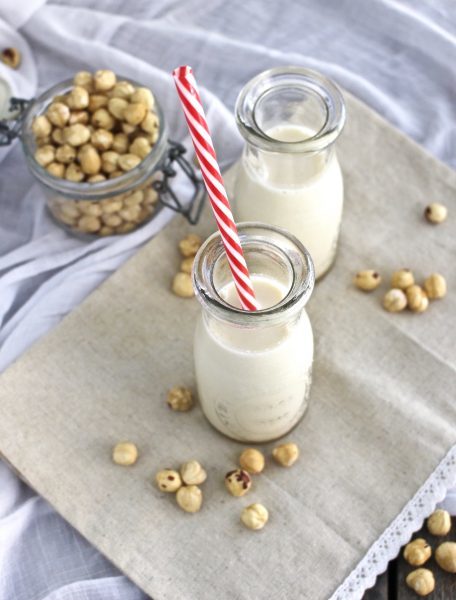 Hemp Milk


Hemp milk is made from the seeds of the hemp plant, Cannabis sativa. This is the same species used to make the drug cannabis, also known as marijuana. Unlike marijuana, hemp seeds contain only trace amounts of tetrahydrocannabinol (THC), the chemical responsible for marijuana's mind-altering effects. Hemp milk has a slightly sweet, nutty taste and a thin, watery texture. It works best as a substitute for lighter milks such as skim milk.
One cup (240 ml) of unsweetened hemp milk contains 60–80 calories, 4.5–8 grams of fat, 2–3 grams of protein and 0–1 gram of carbohydrates. Hemp milk contains a similar amount of fat to cow's milk, but around half the calories and protein. It also contains significantly fewer carbohydrates. It is a good option for vegans and vegetarians, since one glass provides 2–3 grams of high quality, complete protein, with all the essential amino acids.
What's more, hemp milk is a source of two essential fatty acids: the omega-3 fatty acid alpha-linolenic acid and the omega-6 fatty acid linoleic acid. Your body cannot make omega-3s and omega-6s, so you must obtain them from foods. Lastly, unsweetened hemp milk is very low in carbohydrates, making it a great option for those who want to reduce their carb intake. If this is a priority for you, avoid sweetened varieties because they can contain up to 20 grams of carbs per cup (240 ml).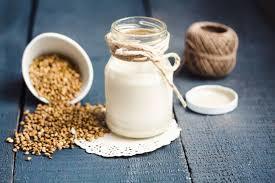 Quinoa Milk
Quinoa milk is made from water and quinoa, an edible seed that is commonly prepared and consumed as a grain. The whole quinoa grain is very nutritious, gluten-free and rich in high-quality protein. While quinoa has become a very popular "superfood" over recent years, quinoa milk is fairly new to the market.
For this reason, it is slightly more expensive than other nondairy milks and can be a little harder to find on supermarket shelves. Quinoa milk is slightly sweet and nutty and has a distinct quinoa flavor. It works best poured onto cereal and in warm porridge. One cup (240 ml) contains 70 calories, 1 gram of fat, 2 grams of protein and 12 grams of carbohydrates. Quinoa milk contains a similar number of carbohydrates to cow's milk, but fewer than half the calories. It also contains significantly less fat and protein.
It is made up of mostly water and contains 5–10% quinoa. This means that most of the protein, fiber, vitamins and minerals from quinoa are diluted. It has a fairly well-balanced nutrition profile compared to other nondairy milks. It is comparatively low in fat with moderate amounts of protein, calories and carbs. Quinoa milk is a good plant-based source of complete protein for vegetarians and vegans. If it is available at your local supermarket, then it could be worth trying.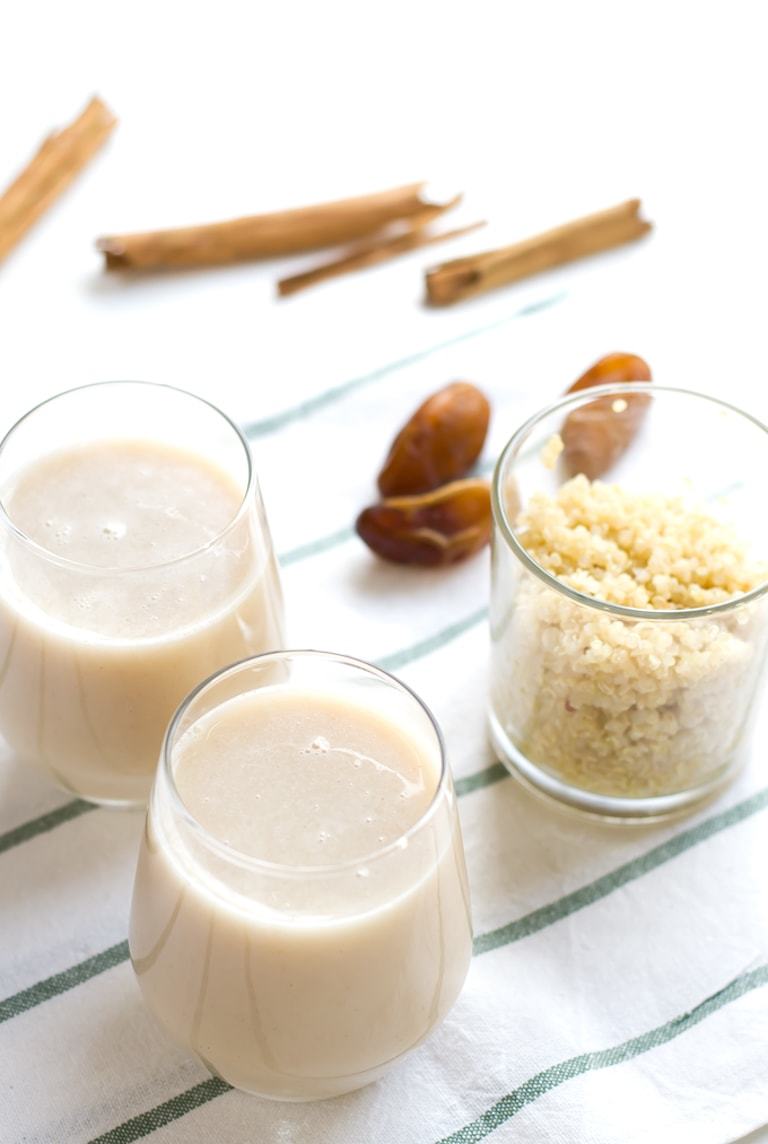 " I truly hope that the above information will help you with your future baking and that it was a wonderful read "
- SiggyBlog -