We all dream of flawless, glowing skin, but with new products constantly hitting the shelves and the seemingly endless skincare advice out there on the Internet, it's not always easy to figure out the skincare routine that's going to work best for you. You know the basics — drink plenty of water, get enough sleep, and wash your face, but what about everything in between? Luckily, there's no need to shell out tons of cash on any magical procedures or expensive creams to achieve flawless skin.
Our lives are built on habits. From our morning coffee or tea to the side of the bed we sleep on, our routines shape our days and our bodies. While the term "habit" often has a negative connotation, we can also create habits that are beneficial to our health and the health of our skin. From exercise and diet to product choices, here are ten habits that can help you maintain healthy, beautiful skin.
A Little Bit About Facial Skincare
Think of your skin-care routine as consisting of three main steps:
Cleansing — Washing your face.
Toning — Balancing the skin.
Moisturizing — Hydrating and softening the skin.
The goal of any skin-care routine is to tune up your complexion so it's functioning at its best, and also troubleshoot or target any areas you want to work on. As your skin needs shifts with age, so will your products. Allow these three steps to become your daily ritual that fortifies your skin and grounds your day.
Give it Time
The science behind skin-care products has come a long way but there's still no such thing as an instant fix — you need time to reap the benefits, real results are only seen through consistent use. Generally, aim to use a product over at least six weeks, once or twice daily, to notice a difference. Tip: With any skin-care product, apply in order of consistency — from thinnest to thickest. For example, cleanser, toner (if you use it), serum, and then moisturizer.
Cleansing
Washing your face is the most basic and essential step of any routine. Our skin comes in contact with environmental pollutants, dirt and other factors each day that should be gently removed. Wash twice a day, morning and night, to avoid clogged pores, dullness and acne. The right formula cleanses your skin without stripping essential, healthy oils. Take it easy with exfoliating scrubs (use once a week) and avoid those with crushed walnut shells or abrasive ingredients.
Toning
For many, the word "toner" brings to mind stinging astringents from the '80s. Today's formulas, however, have evolved. Think of them as supplements — these thin liquids deliver an extra shot of nutrients, helping the other products in your regimen absorb better, while still balancing your complexion. Consider a toner to be optional: "It can be a good way to add in specific ingredients that you may not have in your other products or add another layer of skin-replenishment. If you have the time and inclination, here are some hero ingredients to look for:
Alpha and beta hydroxy acids to gently remove dead skin cells that can clog pores, improve sun-damaged skin and minimize dullness.
Hyaluronic acid to boost hydration, seal in dewiness and plump skin to subtly treat fine lines.
Rose water and green tea to calm irritation and reduce redness with an anti-inflammatory effect.
Vitamin E and C to fight daily exposure to free radicals that can age your skin.
Toners should be done after cleansing and before putting on anything else. The traditional application method is to saturate a cotton pad and pass it over your face - but by that method you end up losing a lot of product. Tip: Applying toner with clean hands is the most efficient. Just pour a few drops in your palm, then swipe it on. Or if you prefer, you can pull apart a cotton pad - so it's not so thick before putting toner on it. Can be used morning and night, but you might want to use those with exfoliating acids only at night or every other day.
Serums
Simply put, serums are powerful skin allies. Filled with concentrated doses of active ingredients, these elixirs can mitigate a number of issues, from dark spots to wrinkles. Even if you don't have any specific issues, everyone still needs a general antioxidant serum in the morning to protect from daily aggressors. While there are "limitless options" for ingredients, to handle specific issues, look for these products:
Hyaluronic acid to seal in hydration and strengthen the barrier function (the top layer of your skin) to prevent moisture loss.
Vitamin C to help brighten dull skin and decrease dark spots with continued use.
Retinol, vitamin B3, peptides to stimulate the production of collagen and elastin, proteins in the body that help prevent lines and skin sagging.
Colloidal sulfur, niacinamide to calm redness and irritation by decreasing inflammation, and improve acne with its antimicrobial effects.
Moisturizing
The most basic function of a moisturizer is to hydrate and soften the skin. Essentially, moisturizers assist in preventing water loss through the outer layers of skin. They can also complement the naturally found protective oils and other building blocks within the skin, such as ceramides. This is one product that doctors recommend using year-round, for all skin types. Skin naturally loses the ability to retain moisture as we age, and daily activities, such as washing, can strip natural hydrators from the surface.
Facial Masks
To say that face masks have become popular lately is a bit of an understatement. Masks offer highly concentrated treatments to address specific issues. But unlike a toner or a serum, masks deliver ingredients under occlusion, which helps the ingredients absorb more efficiently. Then there's the fun factor: Many of the latest innovations bubble up, turn colors and peel off. Yes, it's a little gimmicky, and this step is certainly not essential in your routine. Think of masks like boosters — not necessary but beneficial. If you want to give one a whirl, here are three performance-driven varieties to consider:
* Sheet masks: These are primarily hydrating. Having ingredients saturated on the skin in this occlusive manner keeps air from getting in and you'll get a higher absorption in a short amount of time. I always recommend keeping these in the fridge to get an anti-inflammatory benefit as well.
* Sleeping packs or overnight masks: Overnight masks or sleeping packs will have a thicker texture and help trap in whatever ingredients you layer underneath. They're ideal for mature skin or severely dry skin.
* Clay or mud masks: These absorb oil and can have a mild exfoliating effect — so they're great for oily areas. You don't have to put it on your whole face, though. You can target just a few areas. In fact, I love multi-masking: using a clay on the t-zone and a hydrating one everywhere else.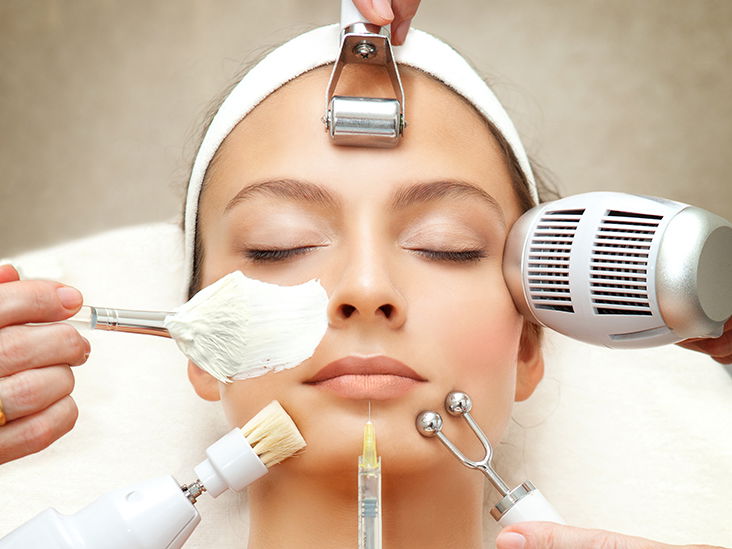 #1 Wash You Face!
Washing your face removes dirt, oils and bacteria that accumulate and make your pores appear larger. You should wash your face when you wake up to remove dirt and oils, and again before bed to remove makeup and grime from the day. You should also wash your face after you sweat or work out. You should use a gentle, natural face wash. Gentle cleansing helps skin look its best. To gently cleanse your face, wet it with lukewarm water. Then apply a mild cleanser, gently applying the cleanser in a circular motion with your fingertips. Finish by completely rinsing off the cleanser and gently patting your face dry with a clean towel. For oily or acne-prone skin, a salicylic gel or benzoyl peroxide wash works great. For dry mature skin, use either a moisturizing glycolic or milky cleanser. For skin with brown spots or melasma, use a brightening wash, such as an alpha hydroxy acid cleanser.
#2 Clean Your Make-Up Brushes

Regularly
Dirty makeup brushes can wreak havoc with your skin and can cause much more damage than just a simple breakout or skin irritation. Daily use accumulates sebum, impurities, pollution, dust, product buildup and dead skin cells that can include harmful bacteria like staphylococcus, streptococcus Washing your brushes will rid them of dirt, oils and bacteria that can build up over time and become harmful for the skin. In essence, dirty brushes can cause breakouts and skin blemishes in a short period of time. To fight infection and clogged pores, I recommend washing concealer and foundation brushes once a week. For brushes you use around your eyes, wash twice per month, and for any other brushes, once a month is fine.
Here's how: Put a drop of a mild shampoo into the palm of your hand. Wet the bristles with lukewarm water. Then, massage the bristles into your palm to distribute the shampoo into the brush. Avoid getting the metal part of the brush wet/or the base of the brush hairs because the glue could soften and the bristles could fall out. Rinse the shampoo out and squeeze out the water with a towel. Lay the brushes on their side with the bristles hanging off the edge of the counter to dry.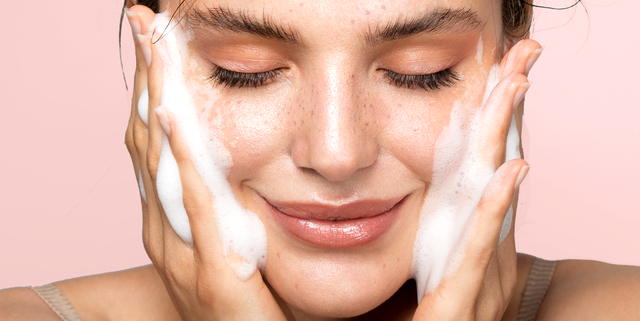 #3 Moisturize Both Day & Night
Using a moisturizer every day is important for every skin type, whether it is dry, oily, mature, or acne prone. Proper moisturizing helps prevent dry, flaky skin and keeps skin cells performing at their best, preventing fine lines and wrinkles from forming. The best times to moisturize are right after you get out of the shower and right before you go to bed. Avoid lotions with heavy fragrances and make sure you find a moisturizer gentle enough for every day use with zero irritation.
#4 Use Sunscreen - 365 Day's In a Year
Many people feel they only need to protect themselves on sunny days or when visiting the beach. But the truth is that we need to protect our skin even when we're driving a car, flying in an airplane, or running errands. It's the daily UV exposure that contributes to the visible signs of aging. The sun causes the majority of aging for skin. Too much sun can cause serious skin damage, contributing to dehydration and forming harmful free radicals. Sunscreens provide essential protection from the sun's harmful rays and should be worn when you are in the sun for long periods of time. Choose a broad-spectrum sunscreen with a SPF of 30 or greater — and remember that it needs to be reapplied every 2 hours.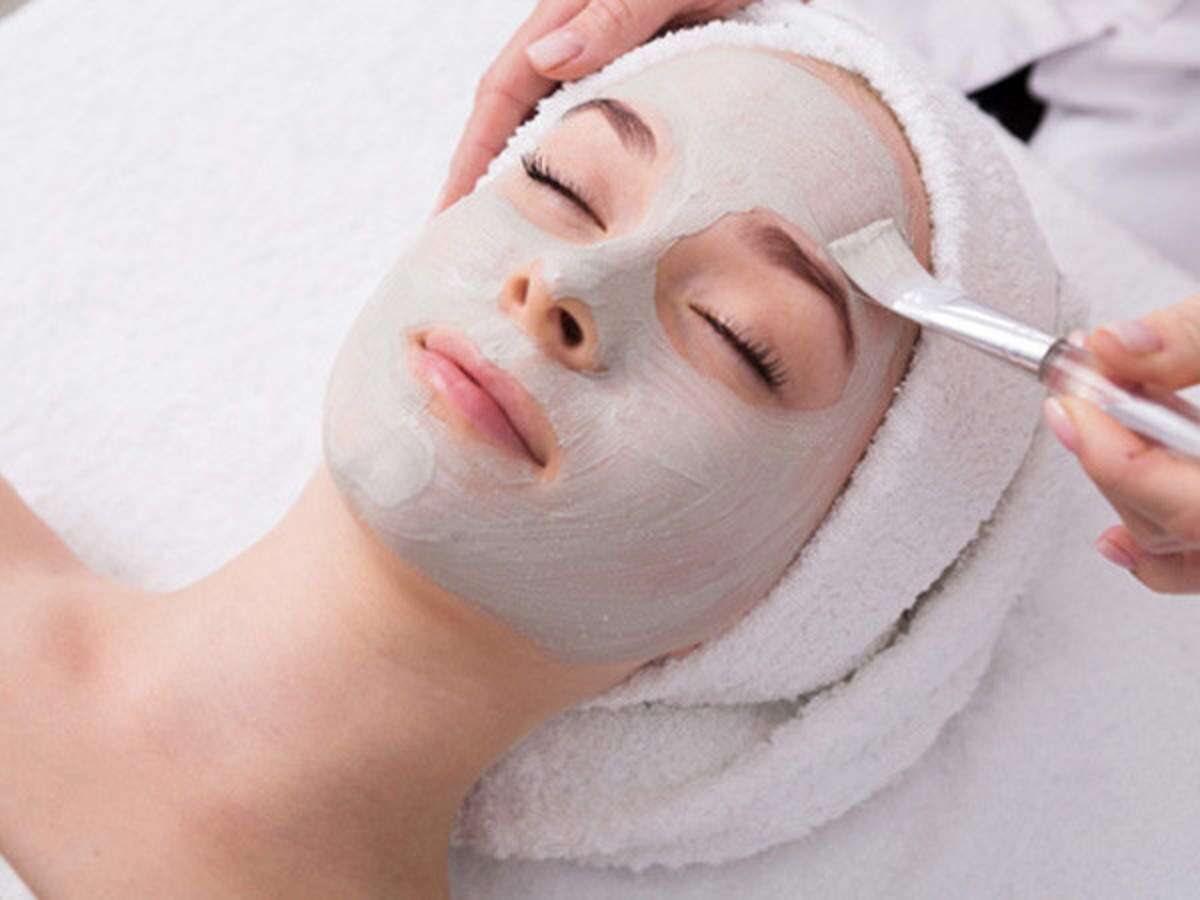 #5 Get More Sleep & Sleep Smarter
"Beauty Sleep" is a real thing. Our bodies need 7 to 9 hours of restful sleep every night to restore, rejuvenate and repair. It's like visiting the fountain of youth every night, as our skin produces new collagen when we sleep. To maintain strong sleep hygiene, experts recommend a consistent sleep schedule and a cool (65℉), dark environment. Build thirty minutes into your schedule to wind down before bed; this is a great time to wash your face and moisturize it as well. It's not just about getting 7 hours a night. Skin will also benefit from regularly using clean silk pillowcases. The material glides easily and prevents creasing and wrinkles. Silk is also easier on hair — it helps avoid tangles and breakage. Better hair and skin while you sleep? Yes, please.
#6 Exfoliate Your Face
We lose 50 million skin cells a day, and without a little extra nudge, they may hang around leaving the skin looking sullen. To fight this, you should "choose a product that is pH neutral so it doesn't dry as it exfoliates. And don't just stop with your face — the skin on your body needs exfoliation, too. Look for gentle exfoliating ingredients like alpha hydroxy acids (AHA), which are found in natural fruit acids. Alpha hydroxy acids dissolve the skin's natural "glue" that holds on to dead skin cells, gently removing them without scrubbing. Alpha hydroxy acids also act as a humectant, drawing moisture to the skin.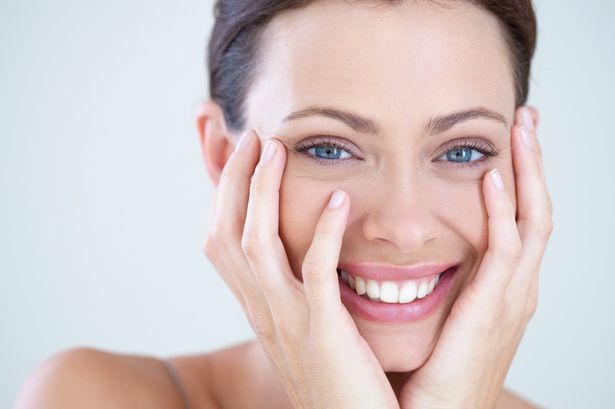 #7 Simplify Your Skincare Routine
Fad products and fancy ingredients are fun to try, and sometimes they work well, but usually they're off the shelves just as quickly as they're on them. Find a cleanser and moisturizer that you know work for you, and keep them at the core of your routine. Layering on multiple skincare products all at once is a big no-no. It can be harsh on the skin, resulting in more breakouts and clogged pores. Choose your cleanser, moisturizer and face mask - and try to stick to the same branded products minimum of 3 months, as your skin needs time to get used to the ingredients as well. Quality ingredients make quality products; here are a few of the things you should always avoid: mineral oil, parabens, propylene glycol, and artificial fragrance.
#8 Hydrate Inside & Out
A lack of water means less radiance and more sag. Drinking water feeds the skin from the inside. Dehydrated skin can look dull, be itchy and dry and make lines more noticeable. It can also enhance dark areas around your eyes and nose. Alcohol and coffee dehydrate skin. Drinking plenty of water keeps skin hydrated and can give your skin a healthy glow. Eating fruits and vegetables, exercise and restful sleep can all help keep skin hydrated, too. I suggests choosing products (cleansing, moisturizing, and anti-aging) that have hydrating formulas. And, of course, drink minimum of eight glasses of water a day.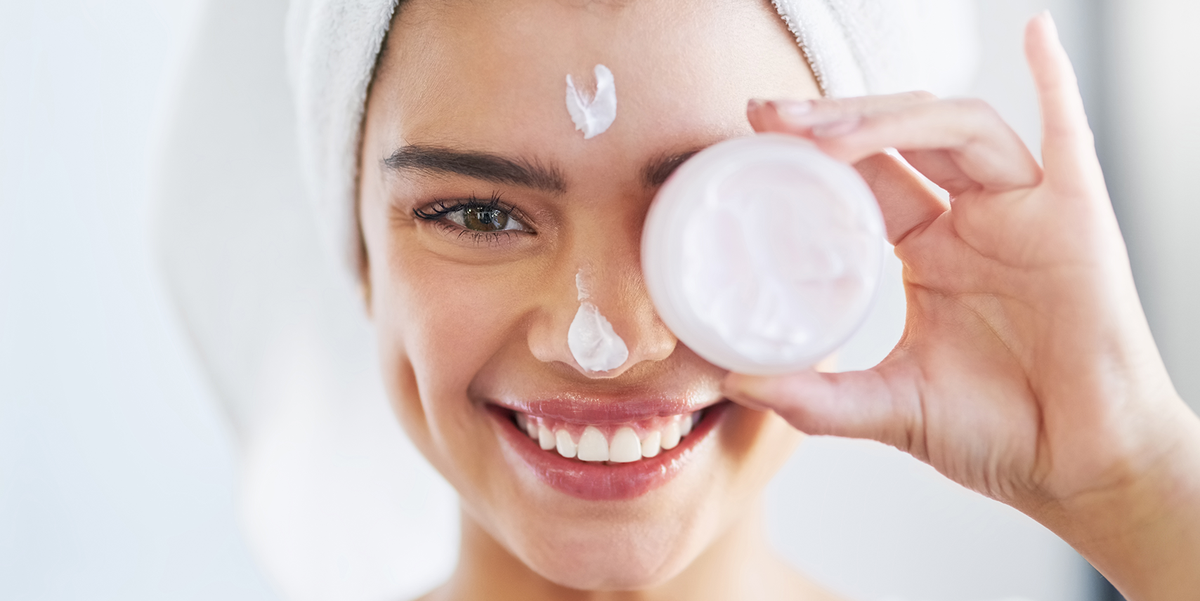 #9 Use Facial Masks
Face masks dive down deeper into the pores than regular daily cleansers. They can help draw out dirt, oil and impurities from below the skin's surface, giving you a more thorough cleansing session. The mask traps the moisture or ingredient in the skin and creates film that helps to either hydrate, moisturize, dry or exfoliate the skin depending on the ingredients used and its purpose. Therefore, face masks allow ingredients to penetrate better into your skin in a short amount of time. No face mask will work miracles immediately. But together with a good skin care regime, they can improve your skin's texture and appearance. However, using a cleanser, moisturizer, and sunscreen daily is far more important. It is recommended to do facial masks maximum twice a week.
#10 Maintain A Healthy Lifestyle & Exercise Regularly
Exercise helps increase blood flow, drawing oxygen into and free radicals away from the skin. Exercise also helps decrease stress and improve sleep quality. Make sure to wash your face after sweaty workouts. Your skin has a natural barrier to retain moisture, and essential to that is omega-3 fatty. Flax seeds on your salad or even walnuts will be an instant boost to your omega-3, thus increasing your skin's ability to hold onto moisture. And be sure to eat a diet low in foods with a high glycemic index (simple and complex carbohydrates). A balanced diet is important, but there's more than one way to give your skin vitamins. There are also topical antioxidants, which are serums and creams that contain ingredients that nourish the skin (think vitamin C serum!). These can really help to repair the skin from sun damage. Not sure how to use them? The best time to apply them is right after cleansing so that your skin can soak them in, or they can be layered under your sunscreen for added protection.
The Bottom Line
By the end of the day, the only person who can take the best care of your facial skin is you! Make sure you by the products which match your face skin type and use them consistently. Take care of your body and eat healthy, take vitamin and drink a lot of water.