One of the traditional coffee/tea sweet bites in Estonia are classic rum cakes. They are easy to make, they are so delicious, and they are unique. I don't know anyone who knows someone who doesn't like rum cake, even tourist around the world fall in love with these little sweet bites when they try them. Besides, there is no better and easier way to use a cake reminiscent of an ounce cake base or even a biscuit base with the same fate. I have a warm relationship with rum cakes, or "potatoes," as they used to be called during the Soviet Era, these were some of my favorite cakes. I can't explain what fascinated me about these cakes. Probably this juicy, rich doughy state (who would not have loved to eat dough as a child) and the rum taste certainly played a role. Later I have tried different variants and this taste can be added not with natural rum, but with rum essence. Well, hardly any real rum was added to those cakes of that time. Be that as it may, these cakes still taste nice today, and it's especially good to make them when, suddenly, there's been a good portion of biscuit left over from making a cake.
Of course, a very successful cake base (see instructions below) or a biscuit base purchased for this purpose from a store is also suitable here. There are many different rum cake recipes available in online Estonian baking and cooking blogs – however the recipe that I am going to share with you today is my family recipe with some twists on a traditional rum cake. In any case, applause for anyone who launched an idea that fits into the zero-cost logic.
For weekly post updates follow my Instagram page @sigrid_ballard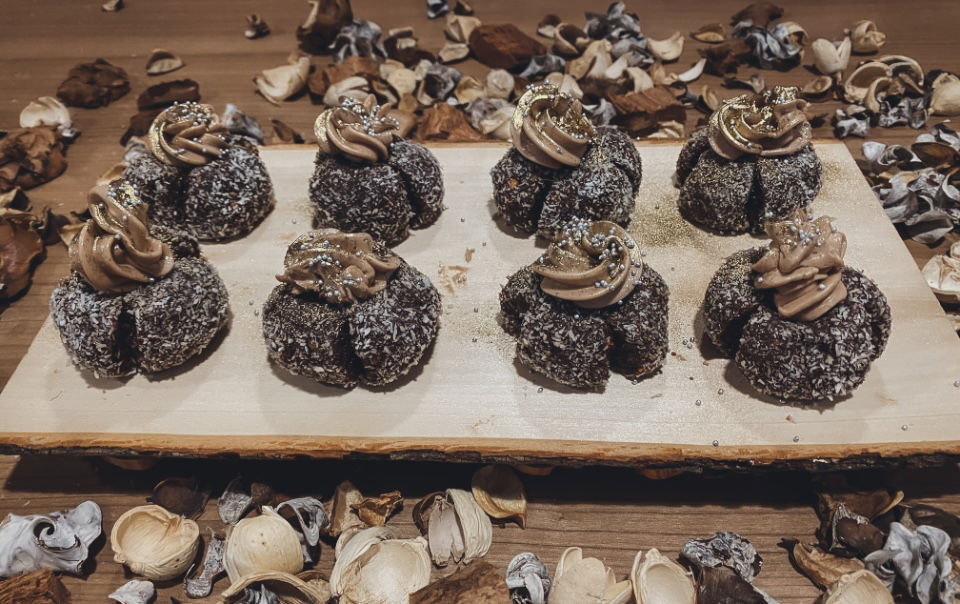 ' Easy To Make & Super Delicious '
The bonus of rum cakes is that they are extremely simple. There is no need to turn on the oven and all you need is only a bowl and a spoon for mixing. If you want to make the biscuit crumb faster, you can also use a food processor or shredder, but if necessary, the biscuit crumb can also be prepared by tapping between your fingers. The third option is using a kitchen towel, while placing the cookies between it and them either rolling or slightly hitting the cookies between the towel with a wooden roller. I also like to add chocolate to rum cake dough. It also helps the dough to form better. I usually make these cakes myself by the hour, so I just add enough liquid substances to the biscuit crumb to make a good dough.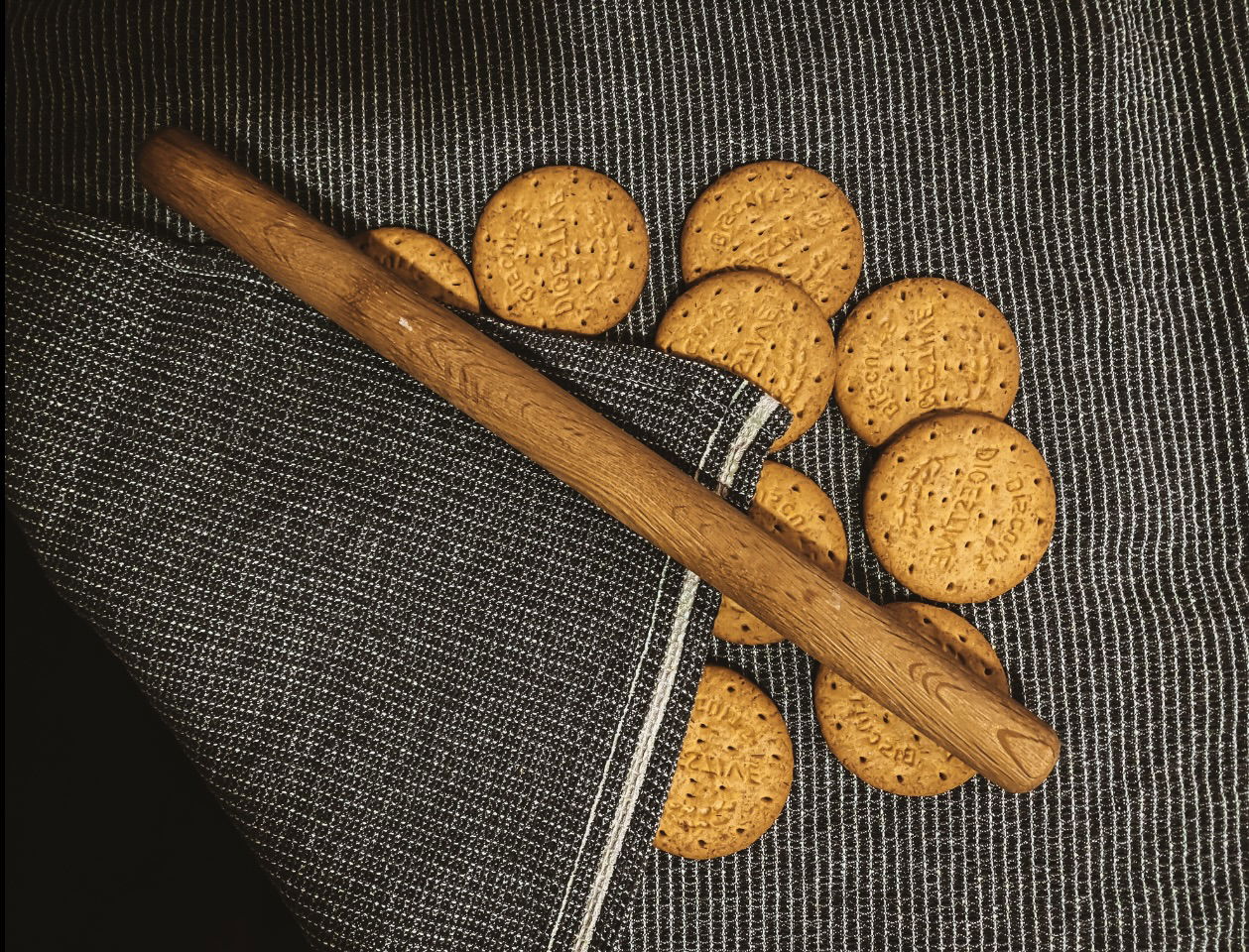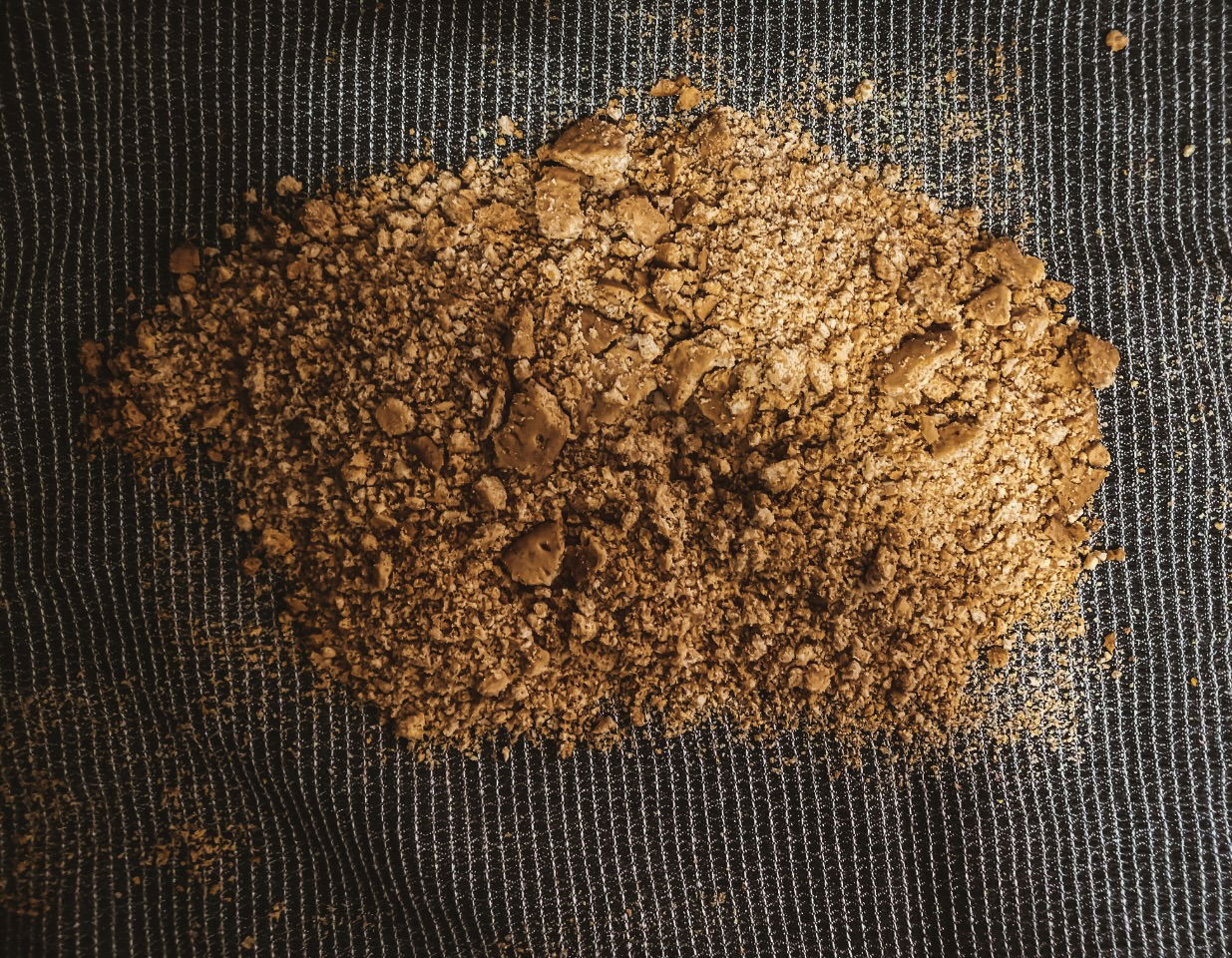 ' Small Additions Make A Big Difference'
I like to make my rum cake mix with condensed milk. However, in the case of a cake base inclined towards the upper end of the sweet scale, you can replace it either partially or completely with sour cream or simply add a little sour cream to the mixture - if it seems too dry, but enough condensed milk has already been added. You can also make a great rum-flavored cream with condensed milk, which goes well with this rum cake.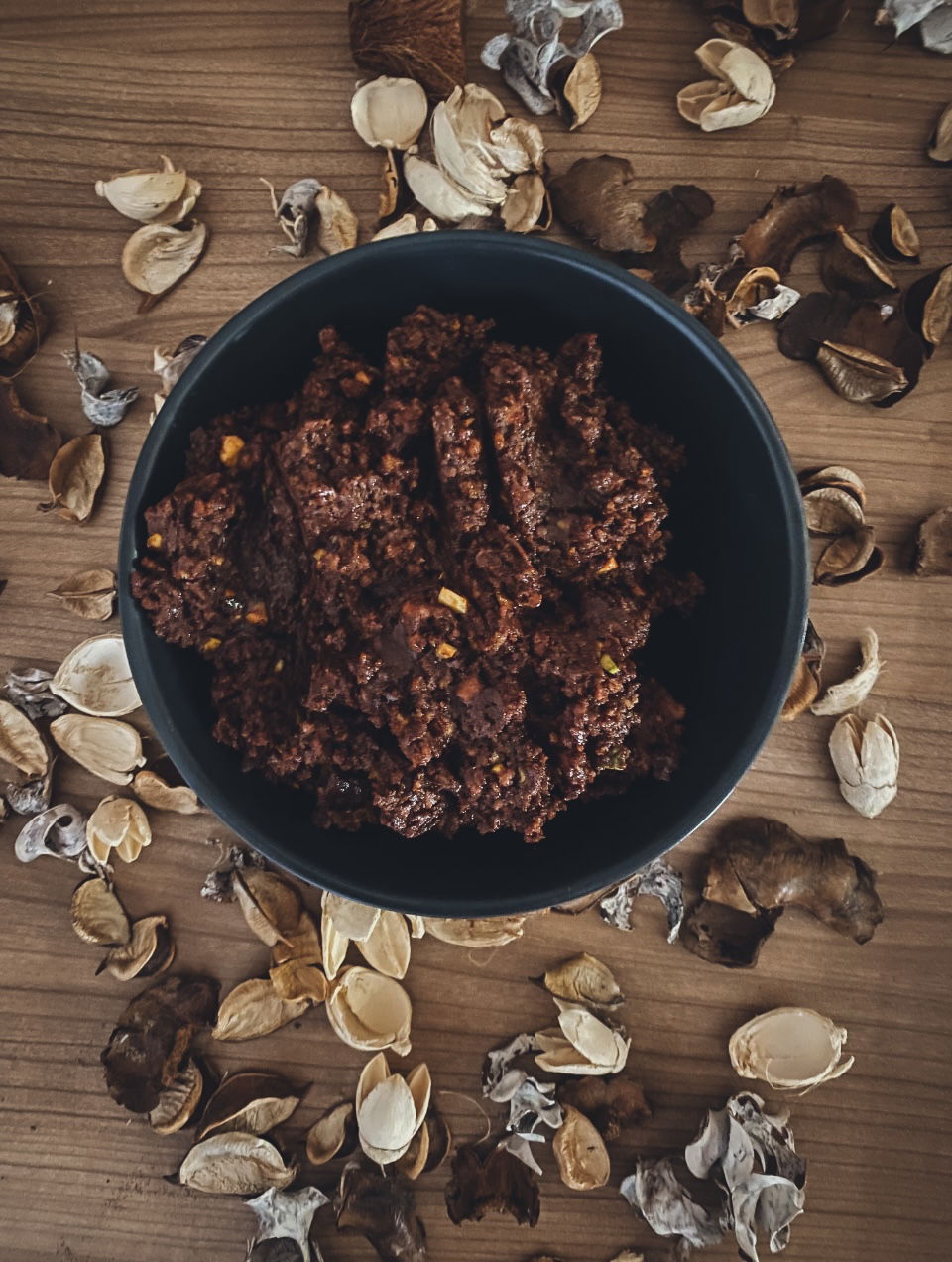 I use gold dust and silver balls for my rum cake decoration, but you can also use berries as an additional decoration - you don't have to add berries directly, but they add a lot of complexions to both taste and appearance (especially fresh cranberries and blackcurrants). These little rum cakes are often made from cookies at home. However, in my opinion, the best crumb for rolling cakes can be obtained from ordinary crushed mold cookies, and crushed nuts can also be mixed into the resulting crumb. Of course, you don't have to go to an extra store for a couple of cookies, or if the other cookies can't be used, it's not wise to buy this pack at all - you can add a few tablespoons of the original biscuit cake or just a bigger amount of nut crumbs.
It is very important to use room temperature ingredients - like the butter, chocolate, sour cream and condensed milk. When using room temperature ingredients when you mix them combine better together and is less messy.
' The Recipe For Rum Cakes '
400g of shop biscuits
75g of room temperature butter (not salted)
100g condensed milk
100g sour cream
30ml of rum or rum essence (or use real dark rum if you want to have a nice kick in this cake)
150g of dark chocolate (minimum 50% cacao)
50g roasted and cut pistachios (or use any other nuts for your liking)
3 teaspoons of cacao powder
1 teaspoon of vanilla powder
50 g of coconut flakes
If you are vegan you can simply use instead of butter vegan butter, instead of sour cream and condensed milk use vegan cream cheese.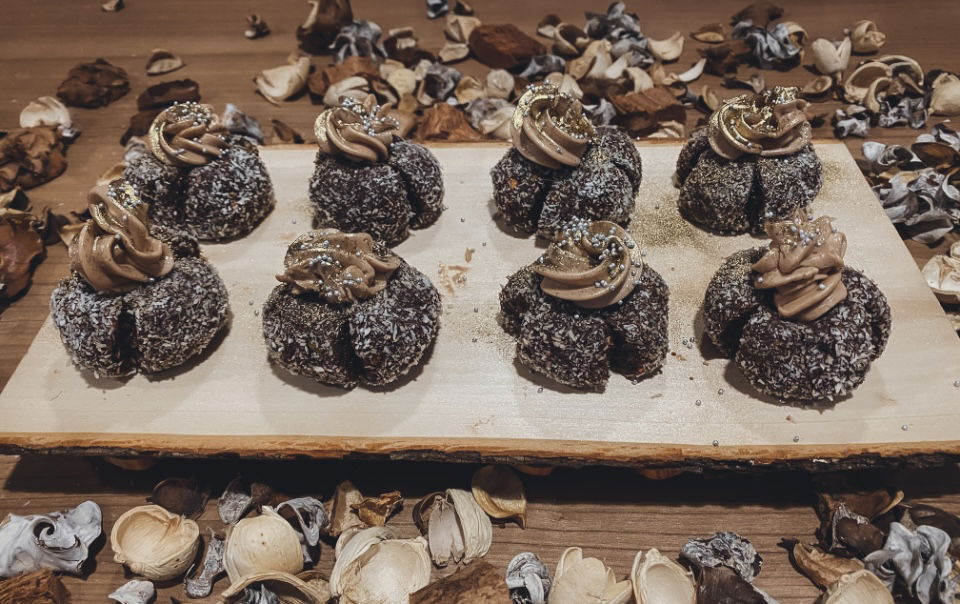 ' The Recipe For The Cream '


70 g of room temperature butter (not salted)
3 tablespoons condensed milk
1 teaspoon cocoa powder
a few drops of rum essence
In addition, if desired, to decorate physiques, wild berries, or other berries of your choice. You can also add nay nuts or raisins into the cake if you wish.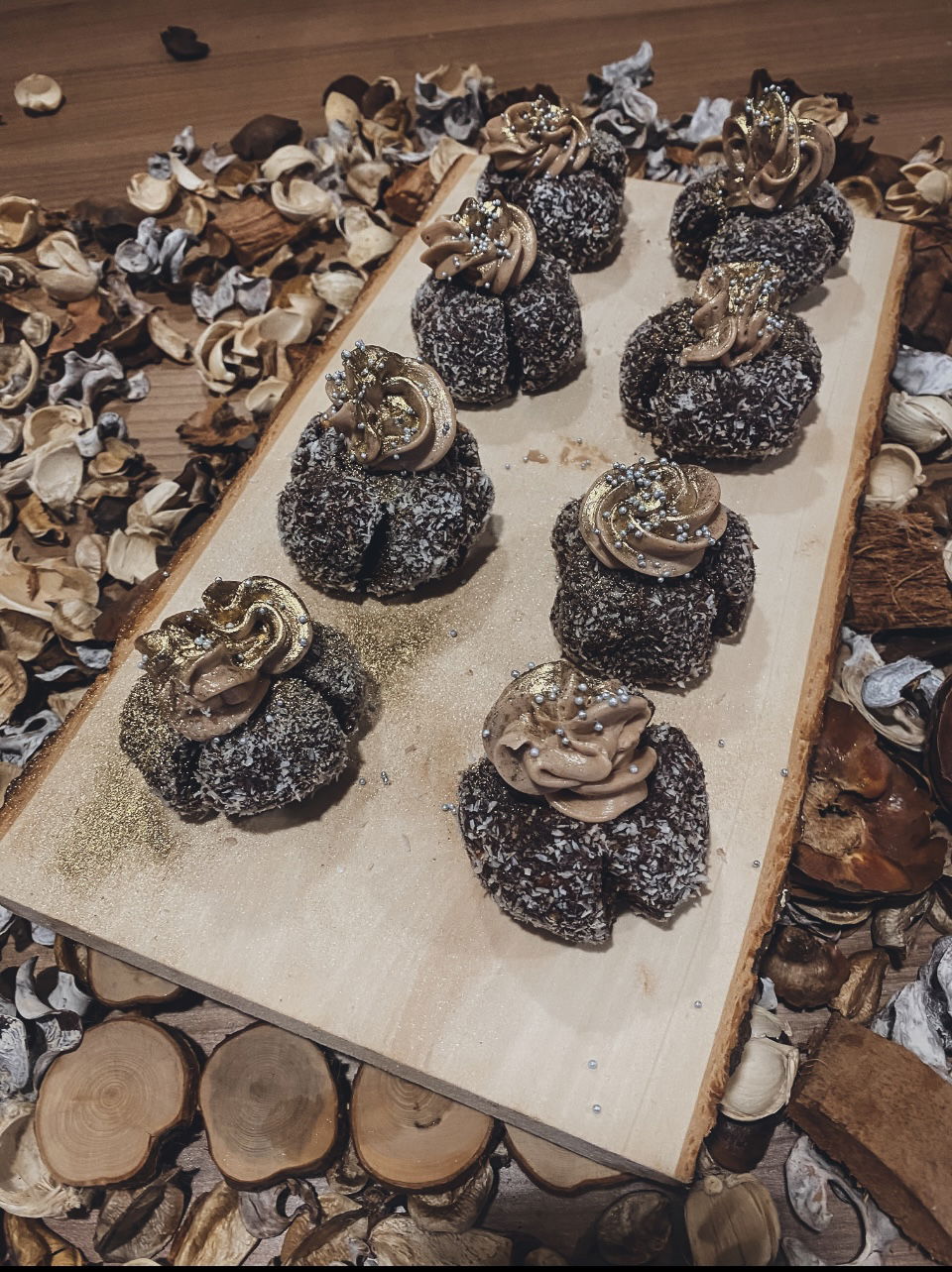 Instructions
Shake the base of the biscuit * into a bowl or break into larger pieces and crush with the blade of the food processor. Another trick which is super easy is to put all the biscuits between a kitchen towel and then roll over with a dough roller (it's a good stress release as well). Thinly cut the pistachios or nay other nuts you would like to use into small pieces. Now add into the biscuit mix the cacao powder, vanilla powder and the nuts - hand mix well.
The next step is to melt the butter, dark chocolate on low temperature on a pan (make sure you use low heat, do not burn it - just melt it). Now mix into the biscuit mix the melted soft butter and chocolate. Separately mix together the condensed milk, rum essence, and sour cream. Once that is done you can add the sour cream mixture to the biscuit mix. Mix until smooth, then hand roll into equal balls between hands and roll in a mixture of coconut flakes. Now press the rolled rum cake a little flat if desired and make light streaks on the sides with a knife ( 3-4 strikes). Now place the rum cakes into the fridge until you mix the cream.
To make the cream, whisk everything together in a bowl on low speed - the butter, condensed milk and cocoa using a hand mixer and season with rum essence (make sure all ingredients are on room temperature). Put the cream into a cake sprayer and leave it into the fridge for 15 minutes to thicken before decorating your rum cakes. Using a cake sprayer, make nice tassels on top of the rum cakes and, if desired, add some berries immediately. Let the refrigerator season for a few hours and you're done.
You can keep the rum cakes in the fridge up to 3 days or you can freeze the rum cake dough and keep it up too 6 months. Enjoy!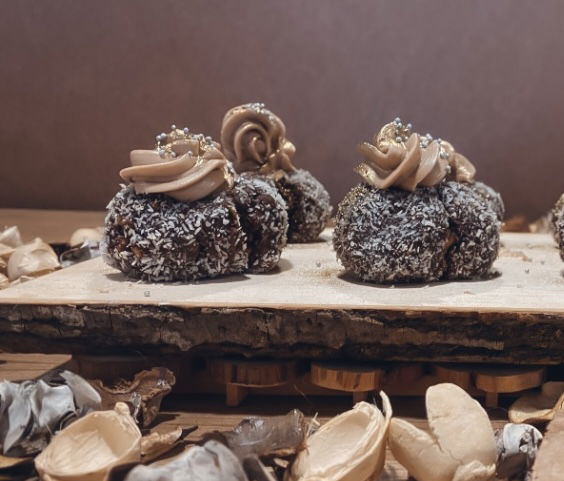 ' Making Homemade Biscuits '
To make the biscuit base, preheat the oven to 180 degrees and grease the contents and sides of the cake pan with a diameter of approx. 24 cm (or with rice flour). Whisk 5 egg yolks with 2.5 tablespoons of sugar to a light yellow foam. In another bowl, whisk the egg whites together with 2.5 tablespoons of sugar to a strong foam. Mix 1/4 egg white foam with egg yolks, gradually add 5 tablespoons of flour, while gently stirring the dough. Finally, gently mix in the remaining egg white mixture. Pour immediately into the prepared cake tin and bake for 25-30 minutes until the stick inserted in the middle of the biscuit is clean by pulling it out. Allow the mold to cool for 10 minutes, then lift out of the mold and allow to cool completely. P.S. When baking this thicker type of biscuit, do not open the oven for the first 15 minutes.
' What Is Rum Essence And How Much Real Rum To Use '
Rum essence is an easy way to add strong rum flavor to baking products, sauces, ice cream, and beverages. The essence should be food grade and lie in adherence to the international standards for food. Check the expiry date before buying. This essence gives a mature rum Jamaica type flavor. Rum liquor can be substituted for rum extract, however there is a difference in the amount required for both dark and light rum. As a general rule, for recipes requiring 1 teaspoon of rum extract, use 3 tablespoons of rum or season to taste.

Enjoy these traditional Estonian none 'baked rum cakes!
- SiggyBlog -