A Little Bit About Estonia and It's Capital City, Tallinn
Europe has a lot to offer for people who like to discover new places. Estonia is one of those little, small destinations which has a lot to offer. Estonia, a country in Northern Europe, borders the Baltic Sea and Gulf of Finland. Including more than 2,200 islands, its diverse terrain spans rocky beaches, old-growth forest, and many lakes. Formerly part of the Soviet Union, it's dotted with castles, churches, and hilltop fortresses. The country is bordered to the north by the Gulf of Finland across from Finland, to the west by the Baltic Sea across from Sweden, to the south by Latvia, and to the east by Lake Peipus and Russia. The territory of Estonia consists of the mainland, the larger islands of Saaremaa and Hiiumaa, and over 2,200 other islands and islets on the eastern coast of the Baltic Sea, covering a total area of 45,339 km2 (17,505 sq mi).
Tallinn is the capital city of Estonia and a perfect holiday destination if you want to combine the comforts of modern world, versatile nightlife, and luxurious adventures with rich cultural scene in the local historical setting. Tallinn, Estonia's capital on the Baltic Sea, is the country's cultural hub. It retains its walled, cobblestoned Old Town, home to cafes and shops, as well as Kiek in de Kök, a 15th-century defensive tower. Its Gothic Town Hall, built in the 13th century and with a 64m-high tower, sits in historic Tallinn's main square. St. Nicholas Church is a 13th-century landmark exhibiting ecclesiastical art. Tallinn Old Town is one of the best-preserved Hanseatic town centers in the world. A stone's throw away you'll find the city's business center with modern towers and luxurious hotels, trendy neighborhoods, and large shopping centers. First established in the early medieval era, today's Tallinn is an exciting mix of old and new. Here's the good news: with Tallinn being such a compact, green capital, you can cover a lot in just a weekend and enjoy short scenic strolls while at it. Second best thing about Tallinn, is that it is geographically located close to Finland, Sweden, Latvia, Lithuania and Russia – which you can also extend your stay in those other beautiful cities.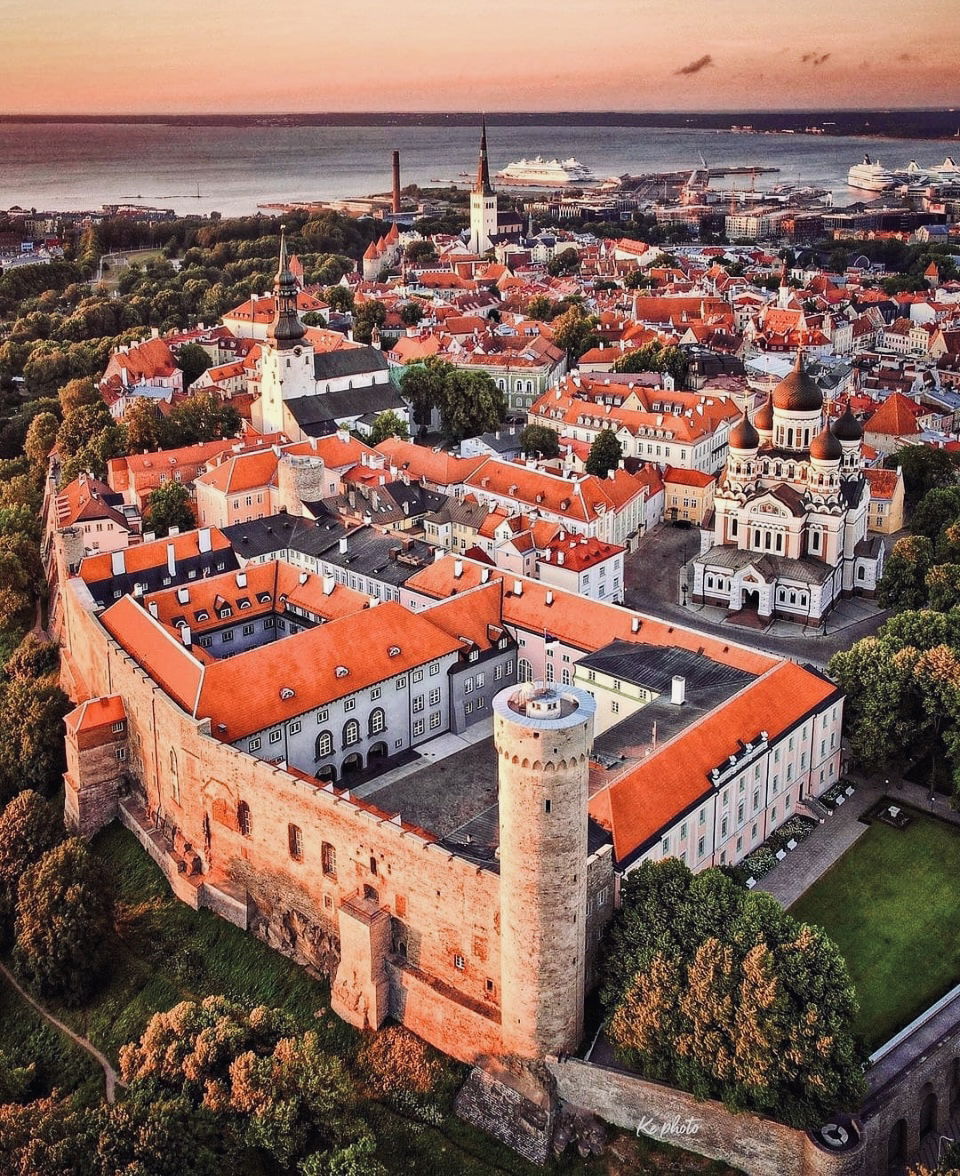 When Is The Best Time To Visit Tallinn?
May to late August is the best time to visit Estonia for warmth, especially in June and July, with Baltic beaches and inland lakes both popular escapes when the sun shines. Spring is ripe for bird watching with Steller's eiders, long tailed ducks, Bewick's swans, and thousands of geese occupying the islands and shallow bays from Feb-April. Autumn can be incredibly rewarding with deep, dark forests and marshlands colliding in a clash of warm colours, although the same can't be said for temps which seem to plummet no sooner September's started. Winter has a magical charm of its own though, with fairytale forests covered in snow and not to mention Tallinn Old Town looks gorgeous during the winter period.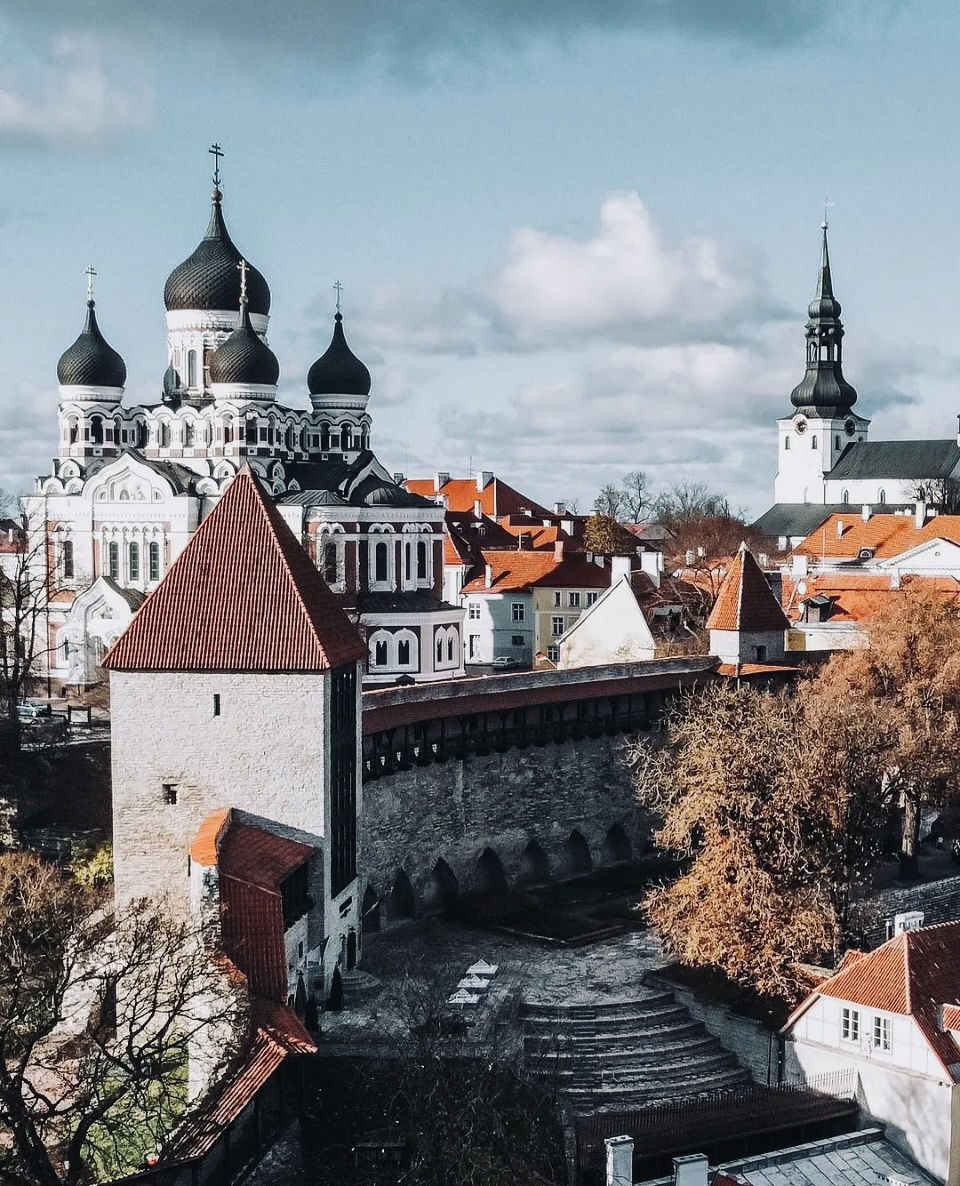 How Long Should You Stay In Tallinn, Or In Estonia?
Tallinn really is one of the most beautiful cities in Eastern Europe, and is the perfect place for a city break. So I suggest you spend at least 4 full days if you want to see everything that this beautiful city has to offer! You could spend more, but no less or you'll miss out on all the best things to do in Tallinn.
If you fancy exploring more of what Estonia has to offer in general, then it's a great idea to rent a car for a couple of days after you're done exploring all the best tourist attractions Tallinn has to offer and head out and explore the country! Other cities worth visiting in Estonia: Tartu (Student Capital), Parnu (Summer Capital), Haapsalu and Saaremaa (Eastern Vikings Capital). Estonia has a low population and plenty of untouched nature - If you want to see more of Estonians nature, the places to definitely explore are: Rummu Karjaar (it is only a 47 minute drive from Talllinn), Keila Joa ( Waterfall), Kakaerdaja Raba (good for hiking), Lahemaa (National Park) and Soomaa (National Park). It is very easy to travel from city to city in Estonia - you can take a train or a bus from Tallinn. If you would like to visit any of the Islands like Saaremaa, they have several ferry's throughout the day from Haapsalu which you can take (however island trips you do need to pre plan).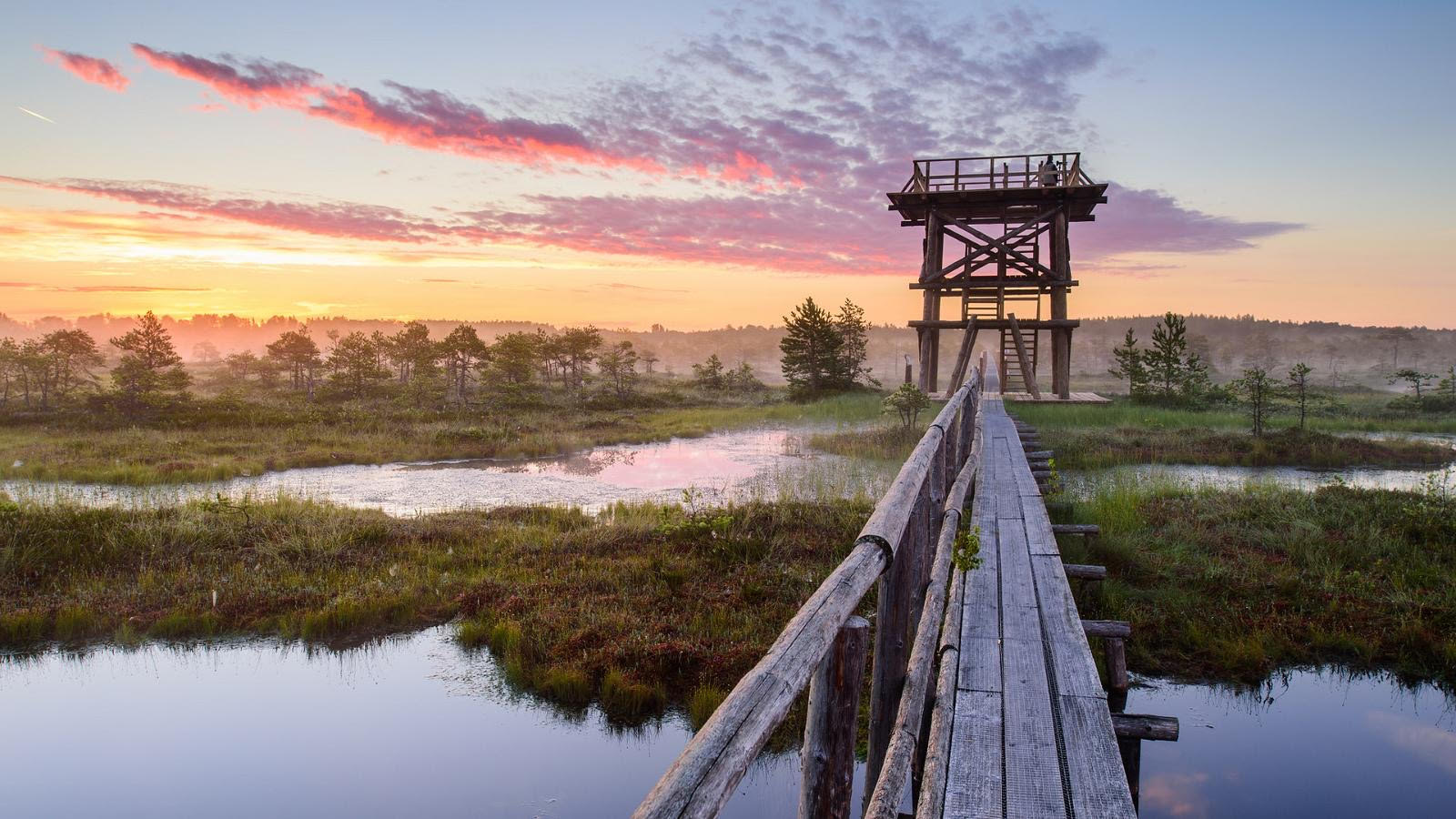 Where To Stay In Tallinn?


The Old Town - if you only have one day in Tallinn, I definitely think the Old Town is the best choice for accommodation. That way, you maximize your time for sightseeing. However, if you're looking for a base to explore Estonia, it may be a little less practical. That's partly because there's limited access in certain areas for those with cars. Their are plenty of options for Hotels, rental apartments on Airbnb. The good news here is that there are plenty of places to stay in the Old Town. Options here range from luxury boutique hotels to most of the cheap hostels in Tallinn, so it's a place where all tourists are welcome. Click here to see options of Hotels in the Old Town.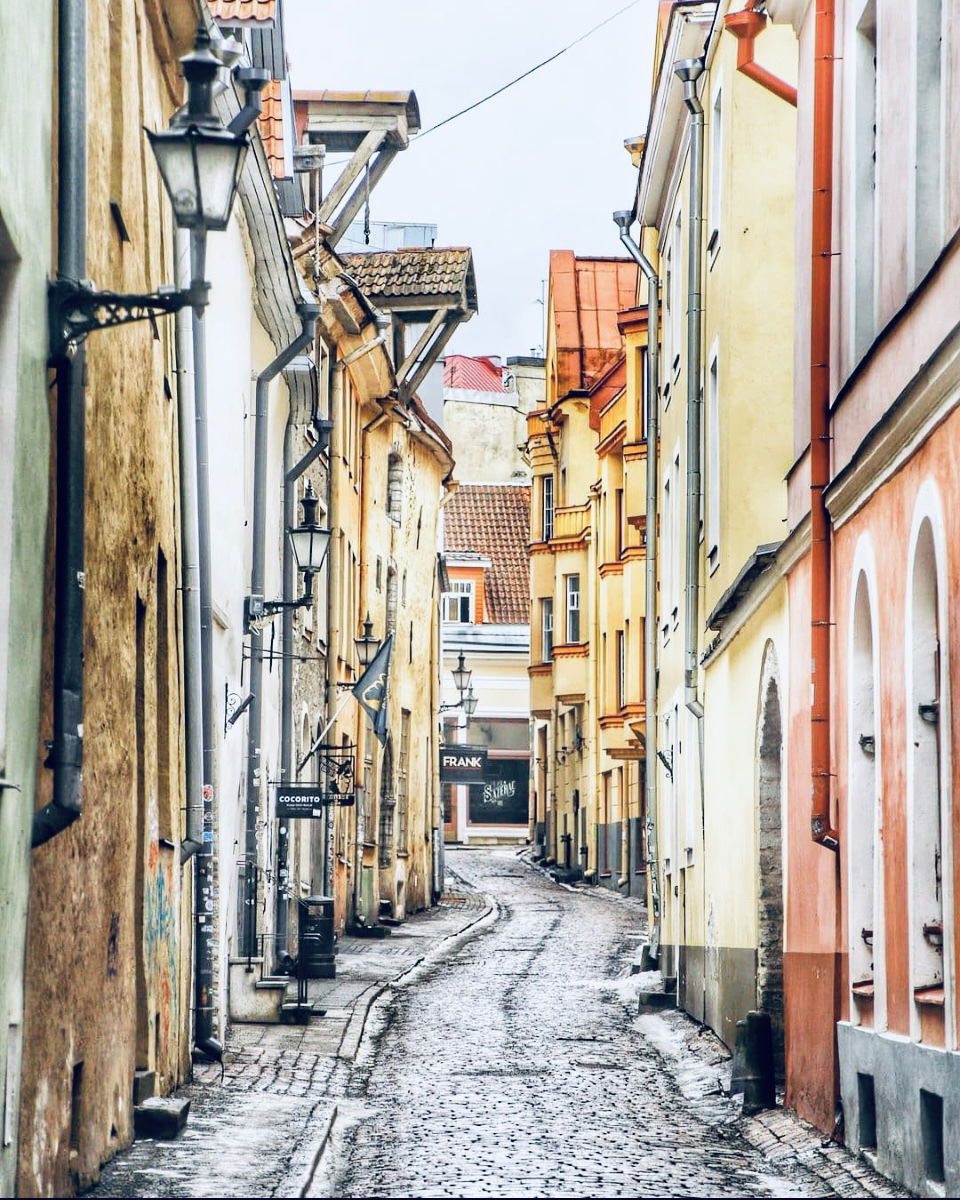 Kalamaja - After the Old Town, one of the next most popular options is the historic neighborhood of Kalamaja. This large district is to the northwest of the Old Town was once a working class area during the 19th century. In fact, it still has many tall wooden houses and tenements that date from that period. All of this gives Kalamaja a relaxed, residential feel that can be quite inviting. There are some real benefits to picking Kalamaja for your trip. It's located close to the train station, not to mention the lively Balti Jaama market. Kalamaja is also one of the more bohemian areas of Tallinn, meaning there are some quality local cafes, bars and restaurants nearby. Add to that good bus/tram connections and an easy walk into the Old Town, and you can see why independent travelers like it here. Click here to see options for Kalamaja accommodations.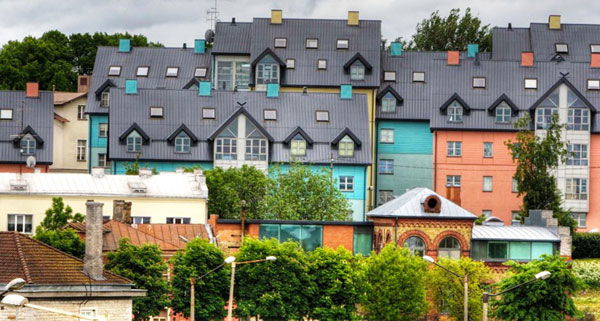 Rotermann Quarter - Those looking for somewhere that's lively and modern in the city should turn their attention to the Rotermann Quarter. Sitting just across the road to the east of the Old Town, it's a super central and convenient part of the city. Having tried a few areas, I'd actually say that Rotermann is my pick for where to stay in Tallinn for your first visit. What makes this place so interesting is that it was once an industrial area that's now full of repurposed buildings. The city converted the area's old warehouses and factories, creating some striking modern architecture along the way. Whether you stay here or not, make sure to at least see the Rotermann Quarter on your trip. Beyond what it looks like, Rotermann is loaded with everything tourists could want. Throughout the precinct, you'll discover lots of hotels, restaurants, cafes, bars and shops, not to mention great spots for photography. The area is particularly good for digital nomads, thanks to the many quality cafes here.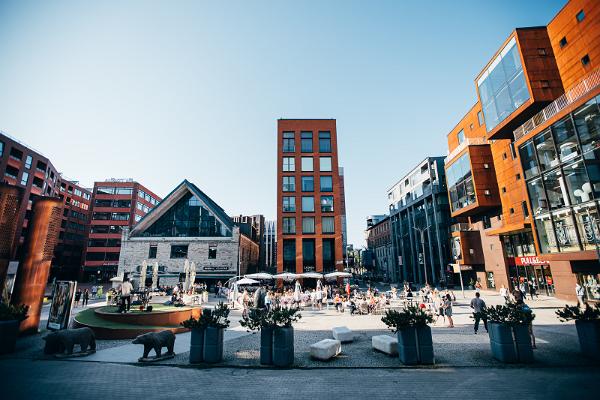 Port Tallinn - One final option that people may consider is to stay right near the Port of Tallinn. Located to the northeast of the Old Town, the Port of Tallinn is not all that far from Rotermann and the Old Town. But honestly, there's really only one reason I can see to stay here. That is if you're taking the ferry to Helsinki, Stockholm or St Petersburg and want to be as close as possible to the terminal. While staying close to the ferry may seem a smart choice, it's a little unnecessary with Tallinn. Whether you just walk or take public transport, getting to the port really is quite easy. But of course, that logic applies both ways and you could argue that you can stay near the Port of Tallinn and explore the city just as easily. I guess my point isn't to get too fixated on staying close to your ferry.
If you wish to Explore more Hotels or renting an apartment have a click to this link - where to stay in Tallinn.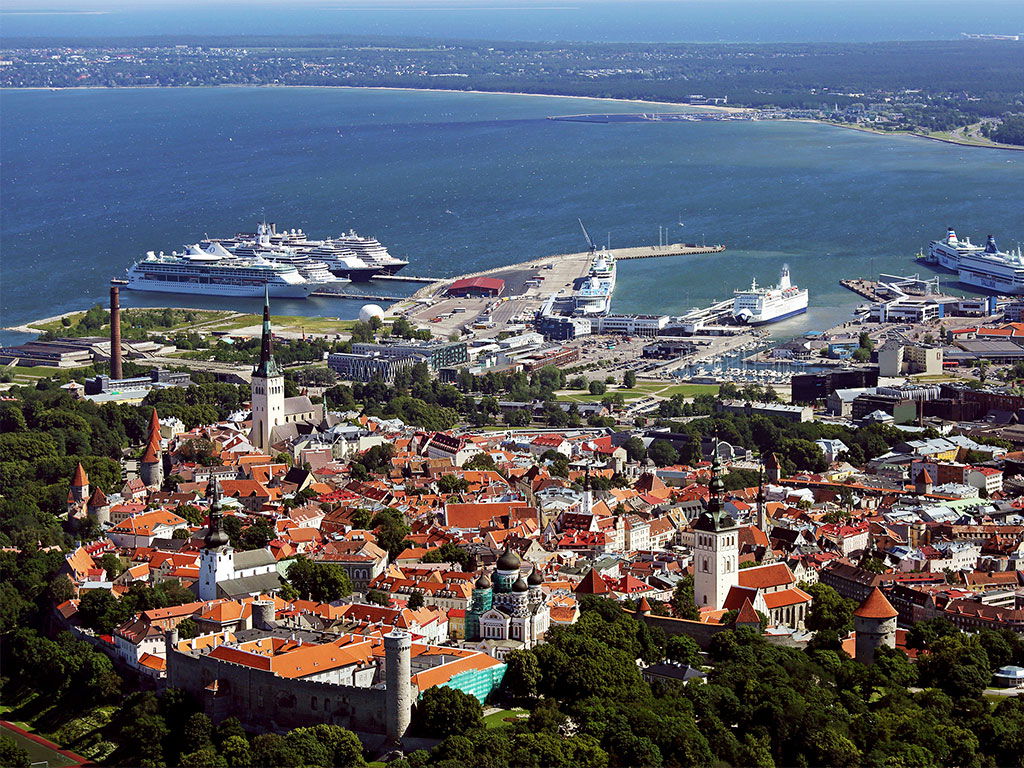 Top 10 Things To Do In Tallinn
Tallinn, is a charming and fascinating city. It is one of the smallest capital cities in Europe. Tallinn has a lot to offer - its most known for its medieval old town, narrow streets and historical buildings; many small cafes to stop buy; handcrafted goods and food. As the city is not big and everything is in walking distance, it makes it very easy to plan your daily route from one spot to another. Below I have listed the top ten must visit places in Tallinn.
#1 Tallinn Town Hall Square & Old Town (Link To The Location)
Visitors from all over the world drop around to admire the beauty of Tallinn, the best preserved medieval city in Northern Europe boasting Gothic spires, winding cobblestone streets and enchanting architecture. Once a home to wealthy merchants settling from Germany, Denmark and beyond, Tallinn Old Town today is enjoyed by locals and visitors alike, with restaurants, bars, museums, and galleries bringing much life to this historical city center. Unlike many other capital cities in Europe, Tallinn has managed to wholly preserve its structure of medieval and Hanseatic origin. Due to its exceptionally intact 13th century city plan, the Old Town was inscribed as a UNESCO World Heritage Site in 1997, joining the ranks of the world's most recognized landmarks. Here you'll find original cobblestone streets dotted with medieval churches and grandiose merchant houses, barns, and warehouses many of which date back to the Middle Ages. Spend a day in an authentic medieval milieu and you will soon realize why so many visitors have described Tallinn Old Town as mystical, mesmerizing and addictive.
Their are two beautiful cafes I would recommend to visit in the old town when you need a small break from your walk to grab a small bite and coffee or tea. Café Maiasmokk is a historical café in Tallinn: is an old café in the old town that is located at the address of Pikk tn 16. It is said to have finished in its modern form in 1864, making it the oldest operational café in Estonia. The premises also contain a museum about the history and uses of marzipan. It is a must to try or to buy a marzipan sweet when visiting Estonia. The second one is Pierre Chocolaterie, this gorgeous café is a bit hidden away but so worth to visit for their handcrafted sweets and coffee. It is located in a small little street, which actually gives you a feeling that you are sitting in a café somewhere in Paris instead in Estonia.
#2 Kiek in de Kök (Link To The Location)
The Kiek in de Kök Fortifications Museum, with its underground passages and defense towers, immerses visitors in the fascinating history of the city of Tallinn. Walk the town wall from one tower to another, and discover the unique fortifications while enjoying the view of the Old Town. Kiek in de Kök is the starting place for visitors interested in the fascinating system of hidden tunnels (Bastion Passages) from the 17th and 18th centuries that run underneath the old bastions of Toompea hill. The tunnels also house the Carved Stone Museum, where you can explore Tallinn's history through a display of decorated portals, pillars, reliefs and other carved stone fragments from the 16th to 19th centuries. The Maiden's Tower (Neitsitorn), once built as a defense tower in the 14th century, has also been an artists' home and a popular bar. Today, you can sip coffee in its swank café, walk along the town wall for some amazing views or explore the displays on Tallinn's café culture, sweets makers and the fascinating history of the tower itself. From the Maiden's Tower, you can access the Stable Tower (Tallitorn) and Gate Tower (Väravatorn) atop the town wall.
#3 Kohtuotsa Viewing Platform (Link To The Location)
Tallinn viewing platform of the city itself offers sweeping panoramas of Old Town's rooftops and towers against the backdrop of the modern city skyline. The spacious area on the east corner of Toompea hill offers unforgettable views of the medieval neighborhood and is easily the city's most famous photo spot. From here you can see most of Tallinn's centuries-old spires as well as its newer ones, the highest of which is the Tallinn Television Tower visible in the distance. Beyond the modern city center lies the Lasnamäe suburb with its countless Soviet-style block apartment buildings. During the summer season, an outdoor café operates here and dance evenings are held on the platform space. With any luck, you will also find a seagull called Steven walking on the edge of the platform posing for photos like a true supermodel.
#4 Alexander Nevsky Cathedral (Link To The Location)
This spectacular, onion-domed structure perched atop Toompea Hill is Estonia's main Russian Orthodox cathedral. It's also by far the grandest, most opulent Orthodox church in Tallinn. Built in 1900, when Estonia was part of the tsarist Russian empire, the cathedral was originally intended as a symbol of the empire's dominance – both religious and political – over this increasingly unruly Baltic territory. Now with the controversy long since faded, what's left is simply an architectural masterpiece. Designed by respected St. Petersburg architect Mikhail Preobrazhenski, the church is richly decorated in a mixed historicist style. The interior, filled with mosaics and icons, is well worth a visit. The church's towers' hold Tallinn's most powerful church bell ensemble, consisting of 11 bells, including the largest in Tallinn, weighing 15 tones. You can hear the entire ensemble playing before each service.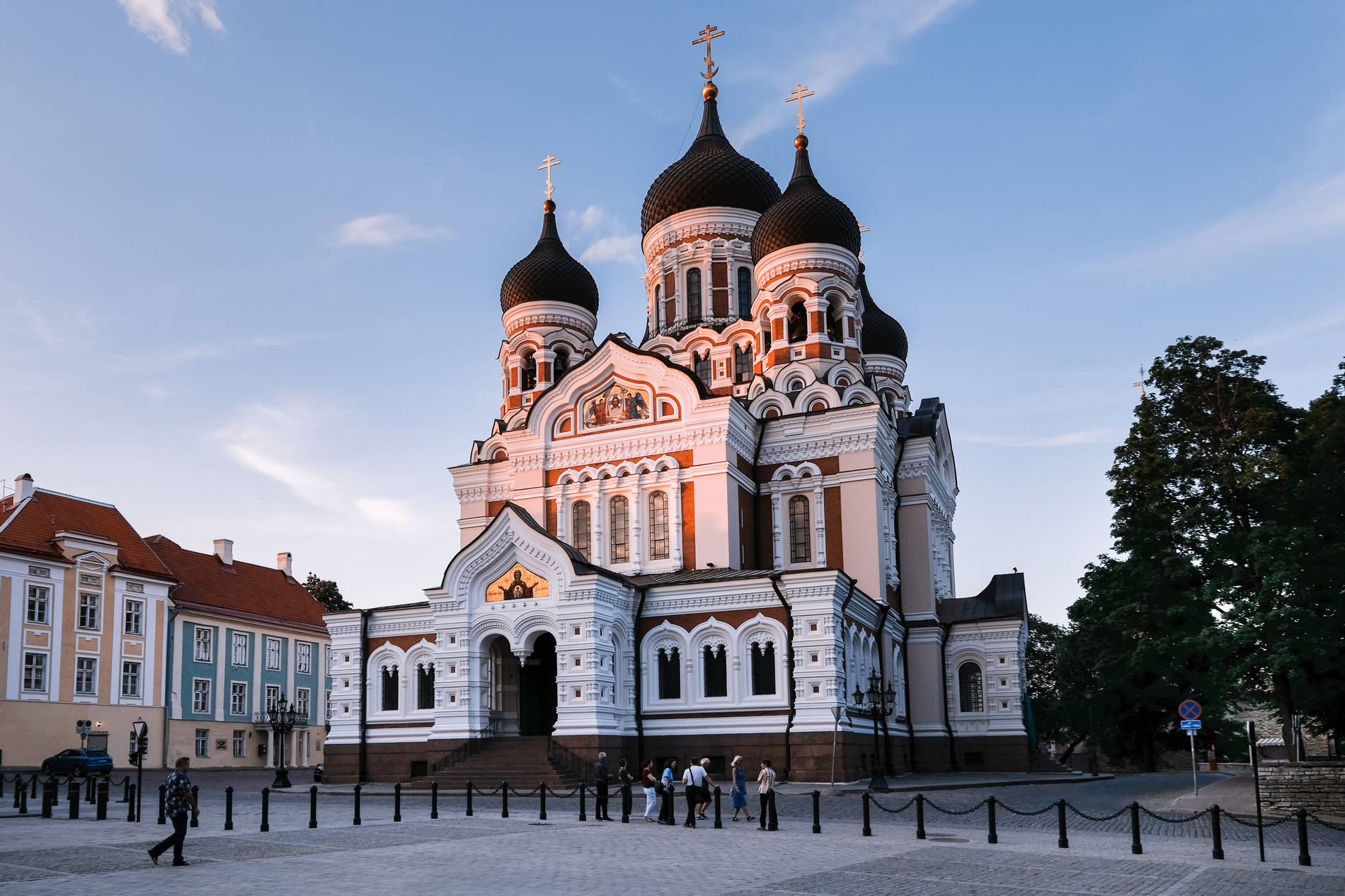 #5 Kadriorg Park (Link To The Location)
Kadriorg Park is the most outstanding palatial and urban park in Estonia, covering around 70 hectares. Its construction began in 1718 on the orders of Russian tsar Peter I. Elements of park design from the 18th, 19th and 20th centuries can be seen here. The most popular places for a stroll in the park are the flower beds surrounding the Swan Pond and the promenade leading from there to the president's palace. There are a number of museums in the park, including KUMU (the Estonian Art Museum), Kadriorg Art Museum and the Mikkeli Museum. Their are plenty of cafes and restaurants around Kadriorg, if you want to have a small break from your walk around. The best time to visit Kadriorg is during the summer - to see the beautiful flower beds and the small lake. With any luck in the right time on the season you might even be able to see white swans.
#6 Pirita Monastery Ruins (Link To The Location)
The history of the ruins rising on the banks of the Pirita River dates back to 1407, when the largest nunnery in Old Livonia was founded here. It was named after St. Birgitta, the founder of the monastery in Sweden, and remained in its original form until 1577. It was the largest convent in Livonia, and one of the largest in Northern Europe. Today, the ruins of the monastery are a beloved concert venue. There is also a reception and gala dinners, many special musical performances are held during the summer period. The new complex of the monastery was completed in 2001 and consists of a chapel, a closed auditorium, a guest house and a small seminar room. The whole house is served by Birgitta's sister. You can take a walk around Pirita area itself after visiting the monastery ruins. Pirita is one of the most prestigious and wealthiest districts of Tallinn, partly thanks to natural benefits such as its beach and yachting harbor. Pirita beach is the largest in Tallinn, and in the summer can attract up to 30,000 visitors a day.
#7 Estonia Open Air Museum (Link To The Location)
The Estonian Open Air Museum is a life-sized reconstruction of an 18th-19th century rural/fishing village, which includes church, tavern, schoolhouse, several mills, a fire station, twelve farmyards and net sheds. Travel back to the rural Estonia of old in this vast, living museum filled with recreated, 18-20th century villages. The forested park comprises numerous thatched farm buildings as well as historic windmills, a wooden chapel and a village school. Staff is period costume demonstrate how people lived and worked in times past. Visitors can buy handicrafts and try out the traditional foods served in the village tavern. The museum is located in the quiet, seaside Rocca al Mare area, an ideal place for families to take a picnic and escape from city life. Fun, family-oriented theme fairs take place where traditions are passed on to the younger generation through games, songs and dances. It is a good place to visit with children, if you are on a family vacation. It is open 4 seasons in the year.
#8 Olde Hansa Medieval Restaurant (Link To The Location)
If you really want to experience how it felt living in the medieval times in Estonia, then Olde Hansa is on your must visit list. The building, where Olde Hans is located is part of the cultural heritage of Tallinn and consists of three old storerooms. The medieval restaurant Olde Hansa is the home of a rich merchant, whose guests enjoy delicious, authentic Hansa-era meals and drinks, authentic period music, and service that is always friendly. All of the dishes on the menu, including the many wild game delicacies, are cooked using 15th-century recipes and methods. Likewise, medieval musicians delight guests every night of the week except Mondays. They also have in the same building a Medieval giftshop, which has remarkable souvenirs, food and drink items. One of the most famous things that Olde Hansa is known for (after their gorgeous medieval food and atmosphere) is their roasted almonds. They are to die for!! They have throughout the year an Olde Hansa Almond trolly located outside of their restaurant - which you can see yourself how they prepare the roasted almonds.
#9 Toompea Castle (Link To The Location)
Toompea Castle is a castle on Toompea hill in the central part of Tallinn. The castle, an ancient stronghold site in use since at least the 9th century, today houses the Parliament of Estonia. The history of Toompea is the story of the rulers and conquerors of Estonia, each of whom molded and reinforced the place to their own needs and according to their own taste. Today the castle is home to the Estonian parliament. The blue, black and white of the national flag can be seen flying on top of the 45.6-metre Tall Hermann tower as the symbol of Estonia's independence. Each day at sunrise the Estonian flag is raised above the tower to the tune of the national anthem Free excursions of the castle for single visitors, as well as groups take place every day from Monday to Friday if booked ahead of time. Sessions of parliament can be watched from the public gallery.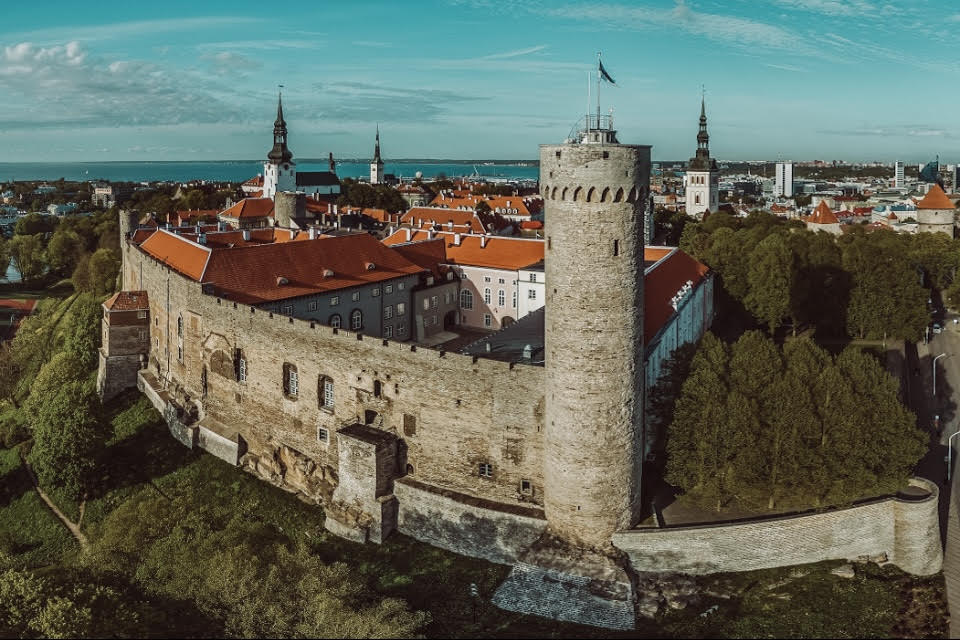 #10 Telliskivi Creative City (Link To The Location)
Telliskivi Creative City is an artist-friendly complex that has become a popular hangout for shoppers and restaurant-goers. Located in a reclaimed factory area not far from Old Town, it is Estonia's biggest creative economic enterprise center, bringing together a diverse range of activities and businesses. For example, there is a 160-seat eatery, an alternative shopping center, a gallery, a printing shop, a furniture shop, a theatre and an antique books store. Saturdays bring a flea market. More than anything, the hub is a bohemian place for relaxation and business that encourages people with similar interests to get together. The list of places to enjoy food and drink at Telliskivi is on this link here: https://telliskivi.cc/en/restaurants/ and if you are looking for a more shopping tour for yourself; click on the link here: https://telliskivi.cc/en/indie-shops/
One of the most modern and iconic restaurants in Tallinn is also allocated in Telliskivi Creative City - Fotografiska. Fotografiska is an internationally recognized museum of photography with its roots in Stockholm. It is a meeting place for art, good food, music, design, and open mindsets. The concept of the Fotografiska Tallinn Photography Museum includes an exhibition and event area, a café, a restaurant, and a fine-art photography shop.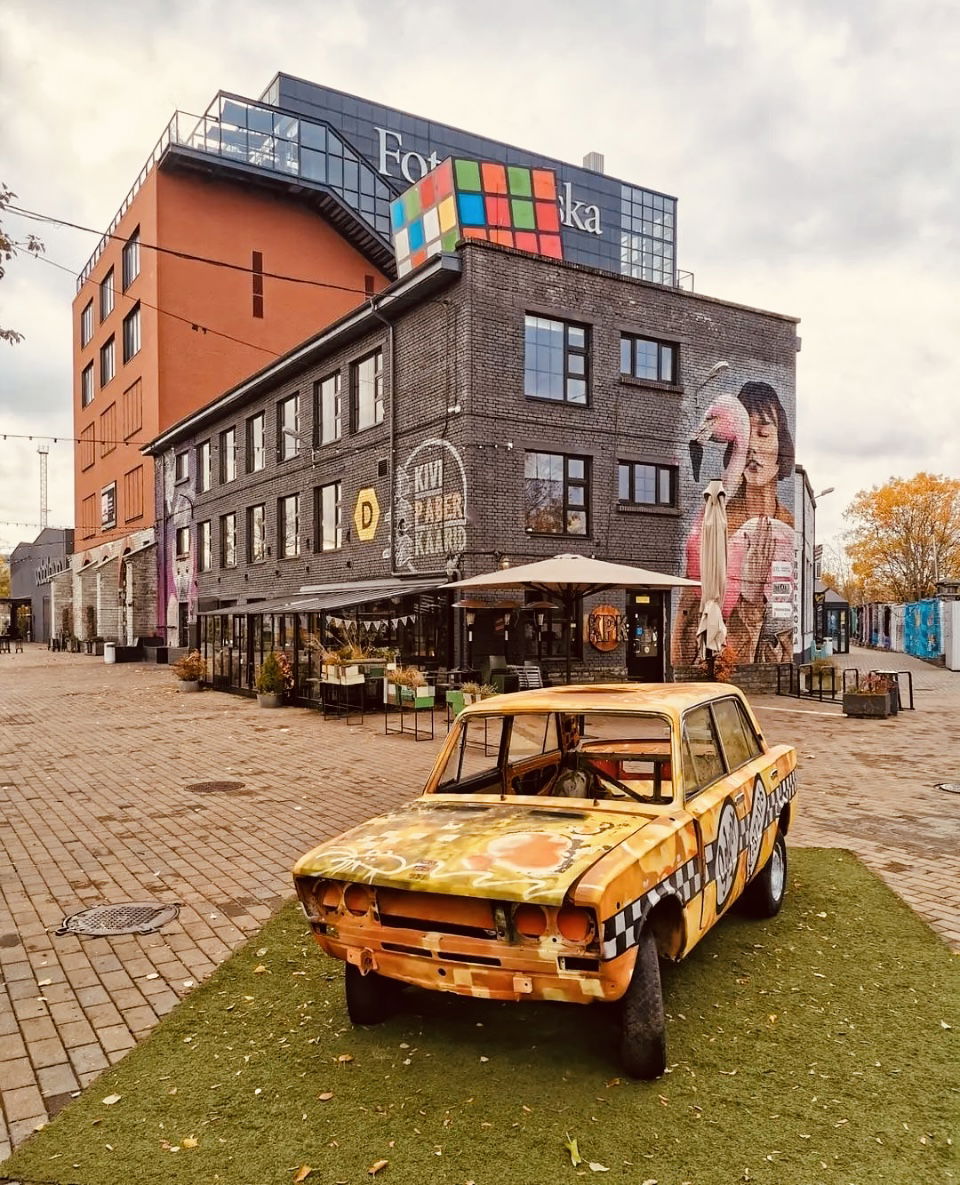 Where To Eat In Tallinn?
When visiting Tallinn, you have the wonderful opportunity to discover its beautiful restaurants. Excellent food and a diverse restaurant scene are one of the main reasons people visit Tallinn. An exciting mix of world cuisines, local traditions and Nordic cooking will surprise even the most seasoned foodies. Regardless of whether you have visited Estonia repeatedly or never, a large selection of very different but reliably good places to eat is a good reason to come to Estonia and travel around here. If you wish to experience some of the most exquisite food the region has to offer, then have a look at Flavors Of Estonia Guide to pick a restaurant up to your taste and style.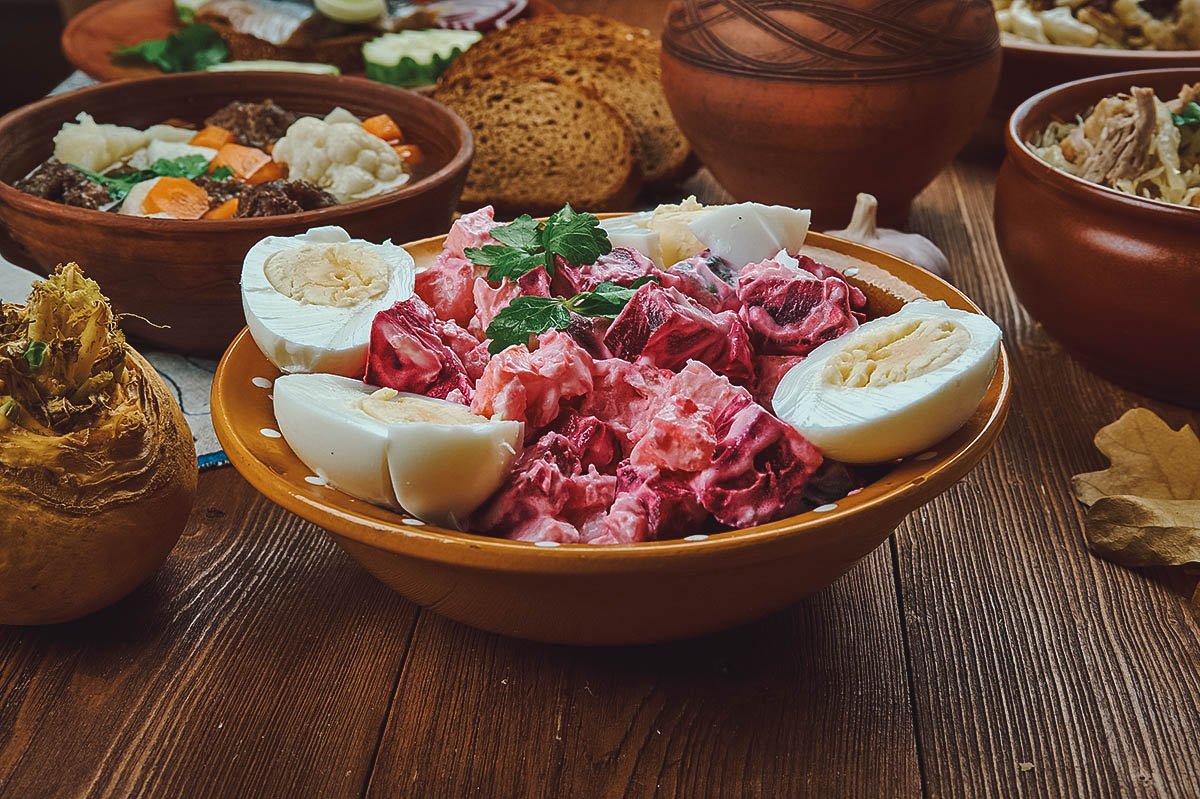 Estonian Cousin & What To Try
I would suggest to try Estonian national dishes while you are visiting - it is very different from other European cousin. Estonian food has a long history. It's founded on ancient cooking traditions and the freshest local produce, but it's also been influenced by the cuisines of neighboring countries like Finland, Sweden, Russia, Germany, and Latvia. he most typical foods in Estonia have been rye bread, pork, potatoes and dairy products. Estonian eating habits have historically been closely linked to the seasons. In terms of staples, Estonia belongs firmly to the beer, vodka, rye bread and pork "belt" of Europe.
Dishes To Try In Estonia
1. Potato Salad - It's one of the most popular traditional Estonian foods and is always served at parties, birthdays, and celebrations. It's made primarily with vegetables that can be found in nearly every Estonian home's garden – peas, carrots, potatoes, and cucumbers. Sausage, mayonnaise, and slices of hard-boiled egg can also added to the salad.
2. Rosolje - Commonly served as a side dish, rosolje is a purple salad made with boiled potatoes, beetroot, herring, and pickle. The salad often includes slices of hard-boiled eggs, meat, or apples. The various components are coated in sour cream, mayonnaise, and a mustard dressing that helps make rosolje the delicious purple Estonian dish that it is.
3. Mulgikapsas - Estonians love barley and cabbage. Mulgikapsad is a mixture of sour cabbage and barley groats, with the occasional addition of chopped pork. The cabbage is stewed with other ingredients and only gets better the longer it stays in the pan.
4. Kiluvoileib - Kiluvõileib is a type of sprat sandwich. It's a common Estonian snack that was popularized in the 20th century. It's traditionally made with Estonian black bread (rye bread) coated with butter or egg butter and topped with slices of hard-boiled egg, onions, fresh greens, and of course – a sprat fillet fished from the Baltic Sea.
5. Frikadellisupp - Frikadellisupp is made from vegetables and meatballs, its simplicity being a part of what makes it the beloved dish that it is. Vegetables and root crops like carrots, potatoes, peas, and onions are often used in the recipe. It's the best served warm on cold rainy days, and trust me, in Estonia, rain occurs more often than not.
6. Verivorst - is a traditional Estonian Christmas food. It is made from pig's blood, barley, pork, and spices. The sausage was brought to Estonia by Swedes and Latvians at the beginning of the 19th century. Back then, people would make verivorst at home but these days, it's more common to serve store-bought versions. Verivorst is typically cooked in an oven or fried on a pan and is mainly eaten with cranberry jam, marinated pumpkin, sour cabbage, and sour cream. This combination is always present on Christmas tables in Estonia.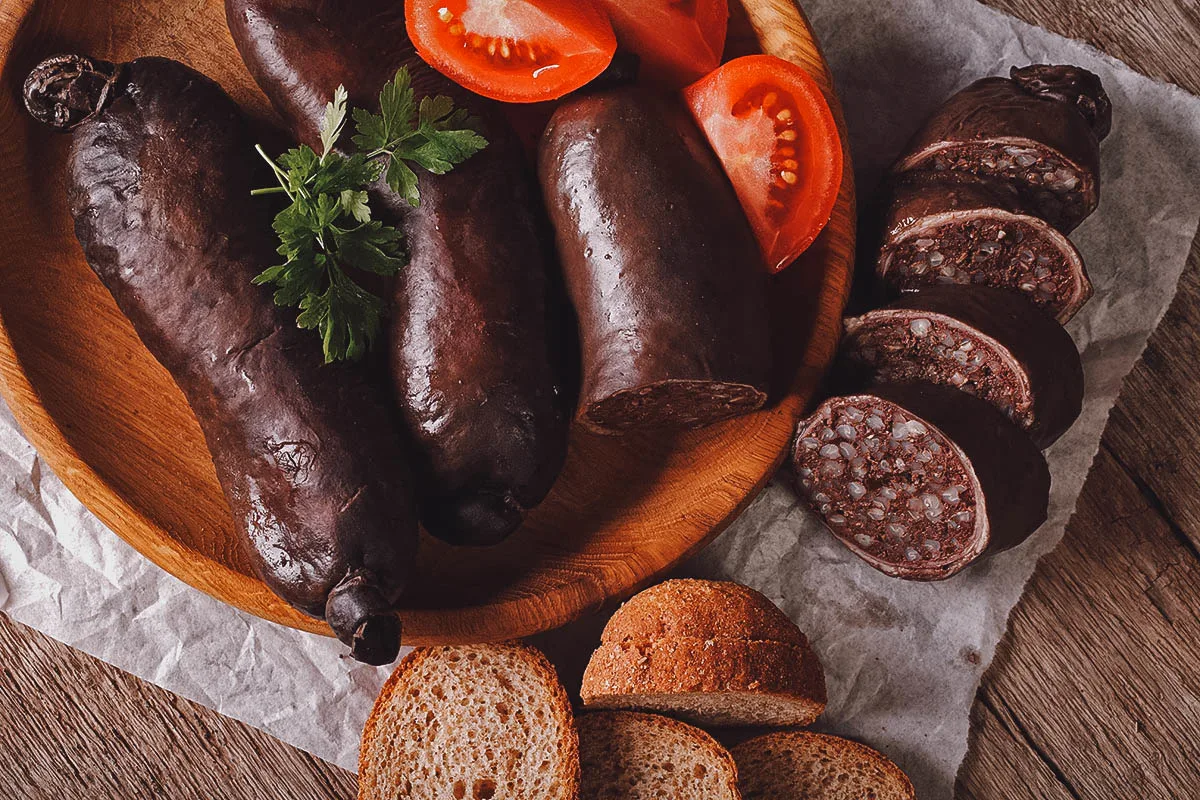 7. Pirukas - is a type of Estonian pastry made with a minced and spiced filling. When pirukas became popular among Eastern European countries in the 19th century, it didn't quite catch on in Estonia. When it did finally become popular, the pastry was most commonly made from rye flour.
8. Kringel - Kringel can be found at many parties and celebrations, often accompanying or replacing cake. This popular Scandinavian pastry is made from braided bread that's shaped into a circle or a figure eight. Kringel can be either sweet or savory, making it either a main dish or a dessert. Sweet kringel is classically filled with raisins and almonds and is topped with chocolate. However, many variations can be found. Savory kringel is often cheesy and filled with ham, though more and more plant-based alternatives are being introduced into the market each year.
9. Kirju Koer - means "colorful dog" or "spotted dog" and is a guilty pleasure among kids and adults. It's a nostalgic Estonian dessert that's near and dear to the hearts of many locals. It's been known to steal the hearts of foreigners as well! Kirju koer is made from classic vanilla-flavored biscuits, marmalade cubes, cocoa powder, butter, and condensed milk. The cookies are ground before being mixed with melted butter and the remaining ingredients. The dough is then rolled up into a big sausage or block and placed in the refrigerator to set overnight.
10. Küpsetatud õunad - Apples are the most popular fruits in Estonia. In autumn, during the apple season, many Estonian dishes are made from apples like apple jam, apple juice, and apple cakes. Küpsetatud õunad literally means "baked apples" and is a delicious and healthy addition to the list.To prepare, apples are washed and hollowed out. They're then filled with a mixture consisting of sugar or honey, raisins, cinnamon, and hazelnuts before being baked in the oven until hot.
11. Vastlakukkel - astlakukkel is a type of sweet bun filled with whipped cream and jam and coated with powdered sugar. Who wouldn't enjoy that? Also known as semla, it's also popular in the cuisines of other Scandinavian countries like Norway, Finland, Denmark, and Iceland. Vastlapäev is a Christian holiday celebrated at the start of a 7-week long fast before Easter. Although most Estonians don't fast on this occasion, Vastlapäev is viewed as a fun day full of winter activities and good Estonian food. After hours of sledding and skiing, vastlakukkel is something many Estonians look forward to. Cardamom, marzipan, and jam are often added to the bun.
The Bottom Line
I do hope the above information will help you to visit Tallinn and Estonia more easy. If you wish to extend your stay and see more of Estonia; its other cities or to see the beautiful nature that it has to offer - click here to discover more about Estonia. Their is also one very good thing about visiting Estonia, you can also take a Boat Crouse to Finland, Sweden or even go and visit Latvia with a not that long of a car ride.


For Weekly Travel Updates Follow My Instagram Page @siggyblog