When I was growing up, apple pie was something that played a major role in my childhood. My grandmother used to make it every fall, so it is always a bit nostalgic for me. There's just something about warm gooey pieces of apple and cinnamon paired with a flaky fresh baked crust that warms my heart. A classic holiday and a autumn dessert, made vegan! This recipe is perfect for fall, easy to make and so delicious. The perfect pie is equal parts science and art. The crust is made by using vegan butter, which results in a perfectly flaky pie crust to surround the sweet and juicy apple filling. Get ready to fall in love with this vegan dessert!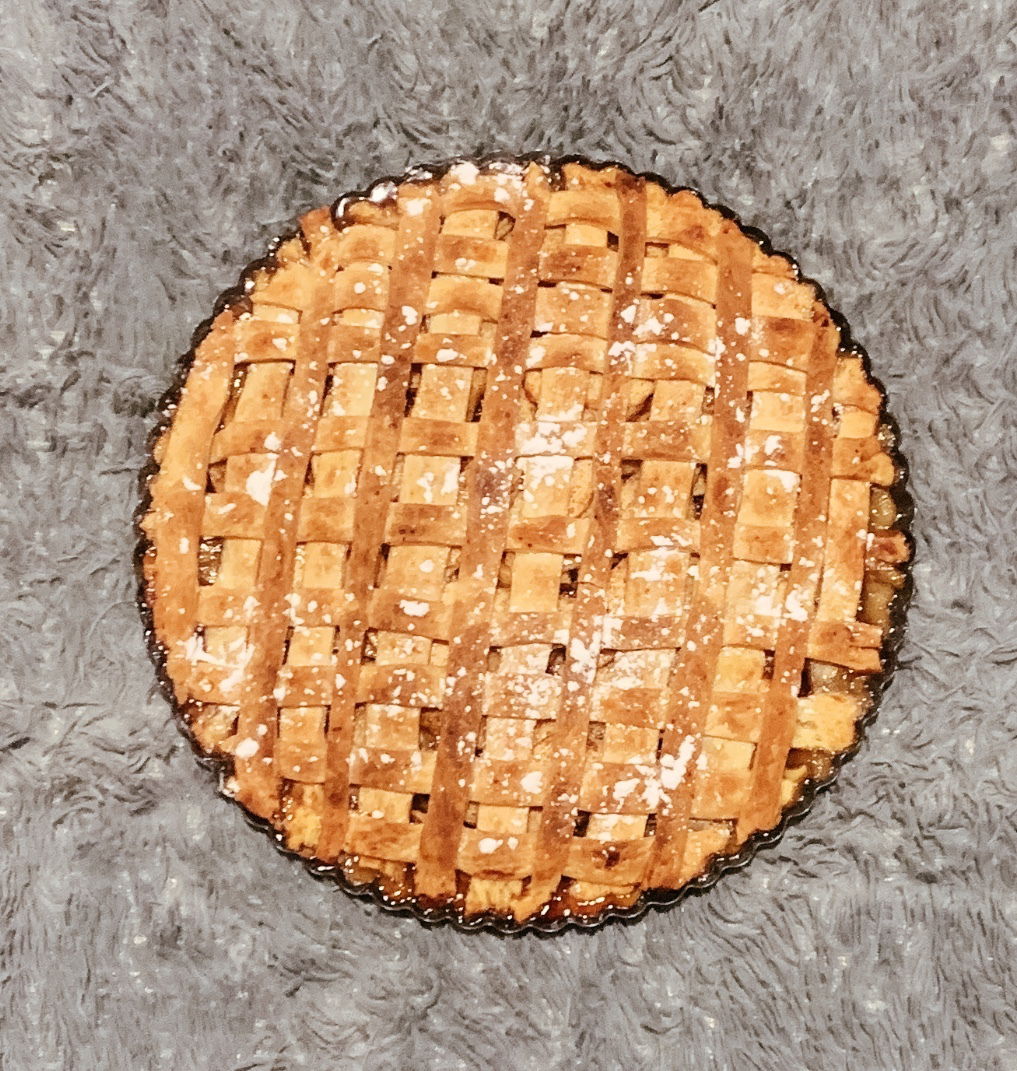 The Crust (23 cm pie form)
2 ½ cups all-purpose flour or gluten - free flour
1 tablespoon of caster sugar or coconut sugar
1 teaspoon of sea salt
1 cup vegan butter, cut into cubes and chilled
( if you do not wish to use vegan butter you can replace it with 1 cup of solid coconut oil)
6 tablespoons ice water
The Filling
7 apples ( use some sweet and some firm apples )
2 cups of caster or coconut sugar (400 g)
1 lemon, zested
5 tablespoons cornstarch
2 teaspoons of vanilla powder
fresh lemon juice form 1 lemon
1 tablespoon of melted coconut oil (plus some more for later to oil the pastry)
1 teaspoon lemon salt
5 teaspoons of cinnamon powder
2 teaspoons of mixed spice powder (nutmeg, cinnamon, cloves)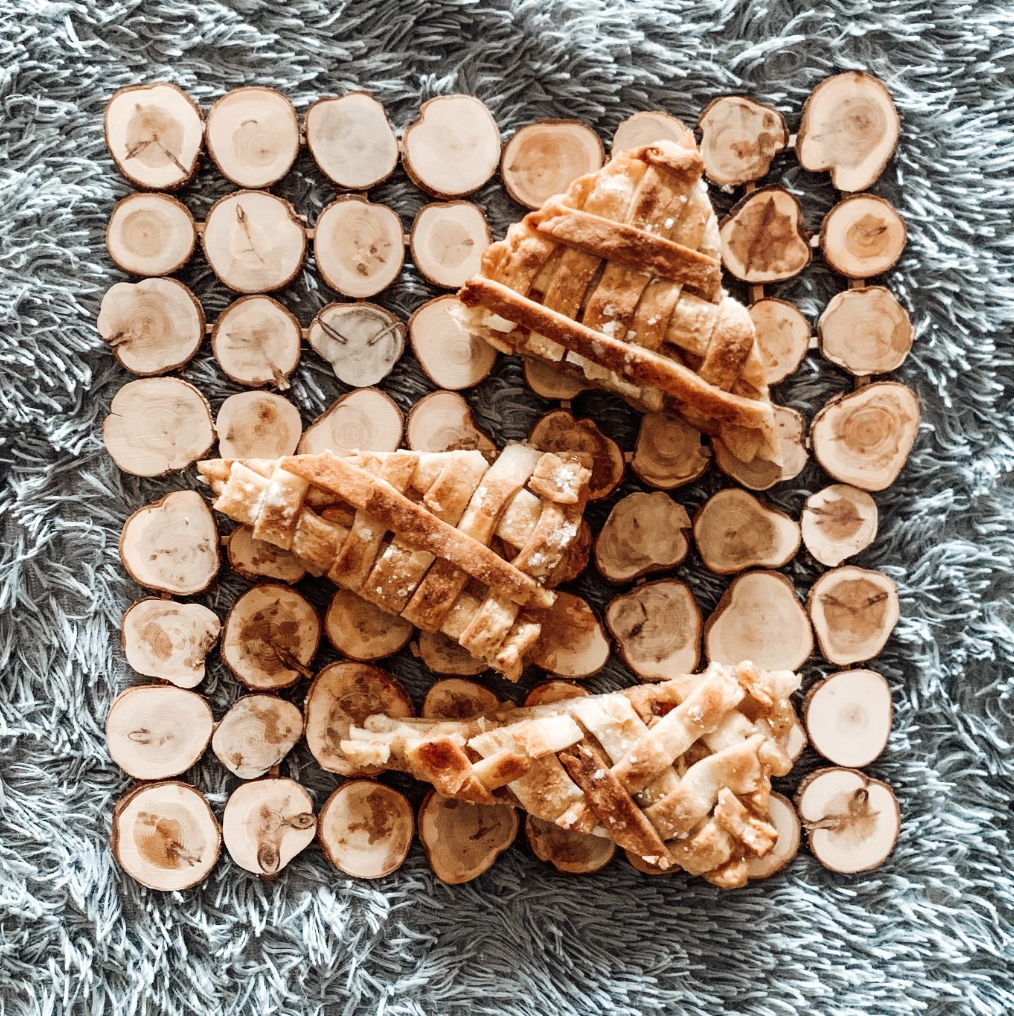 We start by making the crust first. In a large bowl, combine the flour, sugar, and salt. Add the cubed butter, a bit at a time, and use a fork to work it into the flour with a fork until it breaks down to dime-sized pieces and has a sand – like consistency. Gradually add the ice water and mix just until the dough can be pressed together. Divide the dough in half and shape into balls. Wrap in plastic wrap and chill in the fridge for 1 hour.
While the dough sets in the fridge, we will be doing the apple pie filling. Peel and core apples, then thinly slice (try to make sure all slices are the same thickness – if needed use a slicer). Transfer the apple slices into a large bowl. In a separate bowl mix together all the dry ingredients – sugar, spices, vanilla powder etc. Then add the dry ingredients mixer into the bowl where you have the apple slices. Now add the coconut oil, fresh lemon juice and lemon zest. Toss until the apples are well-coated (I use my hands to make sure all apples are evenly covered). Set the mixture aside to set for about 30 minutes, after that drain the liquid from the apples. You can use the extra liquid for a nice applesauce dressing if you wish.
Preheat the oven to 180 degrees. On a lightly floured surface, roll out one of the dough balls to about 1 inch (2 cm) thick. Transfer one round to a greased 9-inch (23-cm) pie dish and gently press against the bottom and sides. Trim the excess dough around the edges, then prick the bottom of the pie crust all over with a fork. Pour the apples into the bottom crust and cover start to cover with the top crust. Roll out the second half of the dough as you did with the first, but then using a sharp knife or a pizza cutter, cut it into ½-1" strips. Create a lattice (woven pattern) on top of the pie by weaving the strips over the pie. Tuck in the edges of the strips and press them into the bottom crust. Crimp the edges as best you can to ensure that the crusts stick together. Trim the excess dough around the edges, then crimp the top and bottom crusts together with a fork.
Using a pastry brush, brush the pie crust with a thin layer of melted coconut milk. Sprinkle a small mixture of sugar and cinnamon (or a mixture of other spices) on top of the pie – this step is optional; personally, I like to add the extra sugar powder after the pie has baked. If you do choose to sprinkle onto of your pie some flavor powder. Then make sure you cover the rim of the pie with a pie ring or foil to ensure that the crust does not burn. Bake for 45 – 60 minutes hour, or until crust is starting to turn golden brown. Let cool for 10 minutes, then slice and serve. Decorate with icing sugar or with cinnamon and sugar.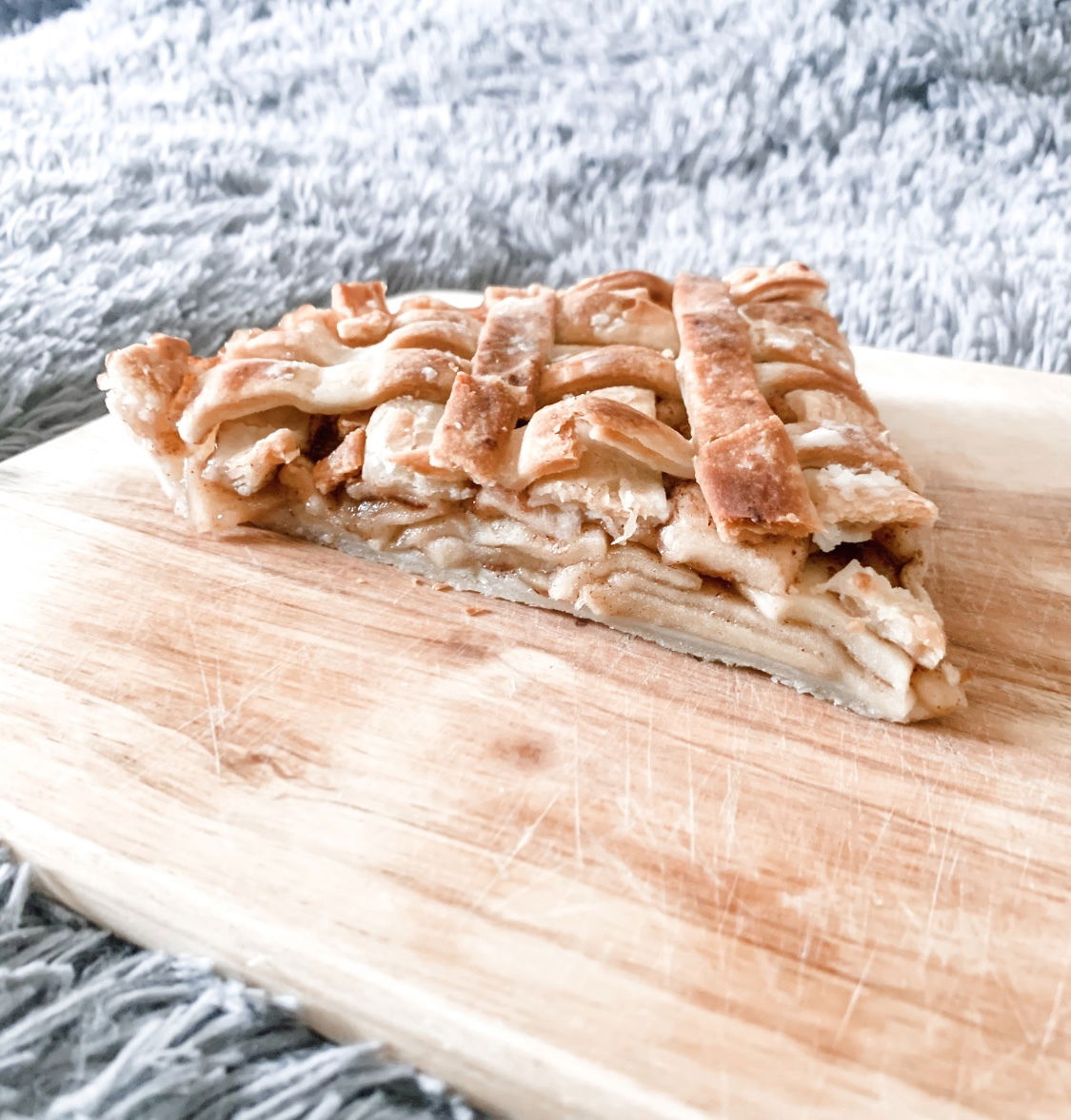 ' Use firm apples — some sweet, and some tart '
Texture and taste are both important when choosing apples for your pie. The best baking apples are firm. This will help them keep their shape — you don't want to make applesauce pie, after all. When it comes to taste, using only one kind of apple is a mistake: A combination of sweet and tart apples makes for a more balanced pie filling. Granny Smith and Jonagold apples are ideal tart apples for baking, while Pink Lady, Gala, and Honey Crisp apples are sweet. Also make sure that all your apple slices are with the exact same thickness – use a slicer if needed.
' Toss the apples with the seasoning mixture, then drain '
This works the same way as pre-cooking the apples, but it's much faster and the apples maintain their shape. After peeling and slicing the apples, toss them with the seasoning mixture and set them aside to soften ( for about 30 minutes), then drain and discard the liquid (or save it for an applesauce!). This step makes the apples more tender and gets rid of excess liquid (which prevents a soggy crust).
' Brush the inside of the crust with coconut oil '
Consider this your secret weapon for avoiding soggy pie crust. Whether you made your own crust or start with store-bought, brush a layer of coconut oil over the inside of the crust before adding the apple filling. The coconut oil creates a protective layer that keep the apple's juices from softening the crust.
' Don't dump the apples in. Layer them '
I know layering apples sounds a little fussy, but it makes a big difference. This smart step helps you avoid large gaps, which means you're less likely to get a shrunken filling and domed (or collapsed) crust. It will cook more evenly, and each bite will be full of apple goodness. All you need to do is keep layering until the apples are slightly taller than the pie pan, and then put the top crust on.
' Coconut oil and ice water '
If your coconut oil is not solid, place it into the refrigerator for about 30 minutes before using, mixing halfway through. For easy ice water, we just place a glass half full of water into the freezer for about 30 minutes before using. Or fill one glass half full of cold water and add few ice cubes to chill the water into an ice water. It is the perfect temperature!
' Oil the pie dough '
When placing your apple pie into the oven – make sure you evenly oil with coconut oil the top dough level. Repeat the same thing again after 30 minutes of baking – this will give you a even golden color to your pie and makes it flaky.
' Keep the crust ingredients cold '
For the flakiest, most tender crust, it's essential that you keep all of your ingredients and equipment cold as you work. See, flaky layers in the crust are formed when chunks of vegan butter are pressed out and flattened in between layers of gluten (the protein network that forms when flour and water mix). These alternating layers are the key to the perfect apple pie. If your butter gets too warm, it'll end up mixing with the gluten layers, and rather than forming distinct flakes, you'll end up with a single, greasy, shortbread-like crust. To prevent this, make sure that your butter stays in the fridge until you are ready to use it. Keep your water ice cold. Chill your flour if your kitchen is particularly warm, and if necessary, place everything in the freezer in between steps to chill them down.
' Let It Rest! '
Hot apple pie fresh out of the oven might sound appealing, but letting it rest for a couple of hours will give you better results in the end. For one thing, most recipes are designed for optimum texture at room temperature. Slice that pie while it's too hot, and it'll be runny and wet instead of perfectly glazed and juicy. Pie crust also fares better at room temperature, where it'll have a flakier, crisper texture.
' Storage & Nutrition '
You can keep this apple pie in an airtight container in a fridge up to 5 days. You can freeze an unbaked version of this pie and bake it in the future. After assembling the pie, cover it up (or slip it into an airtight freezer bag) and pop it into the freezer. Be sure the pie is upright so that no filling spills out before it solidifies. When you are ready to bake it, preheat the oven to 180 degrees. Unwrap the pie and set it on a cookie sheet. Put the pie in the oven and bake for 45 - 60 minutes. Remove from oven and cool.
Servings: 12 pie pieces (one medium size pie)
Calories: 484 cal
I truly hope that you will find the above apple pie recipe as delicious as I do. Enjoy this beauty!
- SiggyBlog -