I have been a massive sweets fan my entire life. However, if you are a sweets lover like me – there are many healthy recipes out in the world to ease our cravings. Today, I would like to share one of my favorite vegan and healthy blueberry muffins recipe. These muffins are vegan, gluten free, soft, sweet, perfectly moist, and filled with fresh blueberries in every bite. Like most of vegan muffin recipes what you can find in the web, including this one this recipe is super simple to make!
I have included in the ingredients many alternative options, so anyone can make it at home whatever items they have in their kitchen. It just requires a little bit of whisking, folding, and baking. If you think you can do that, then let us make some vegan muffins!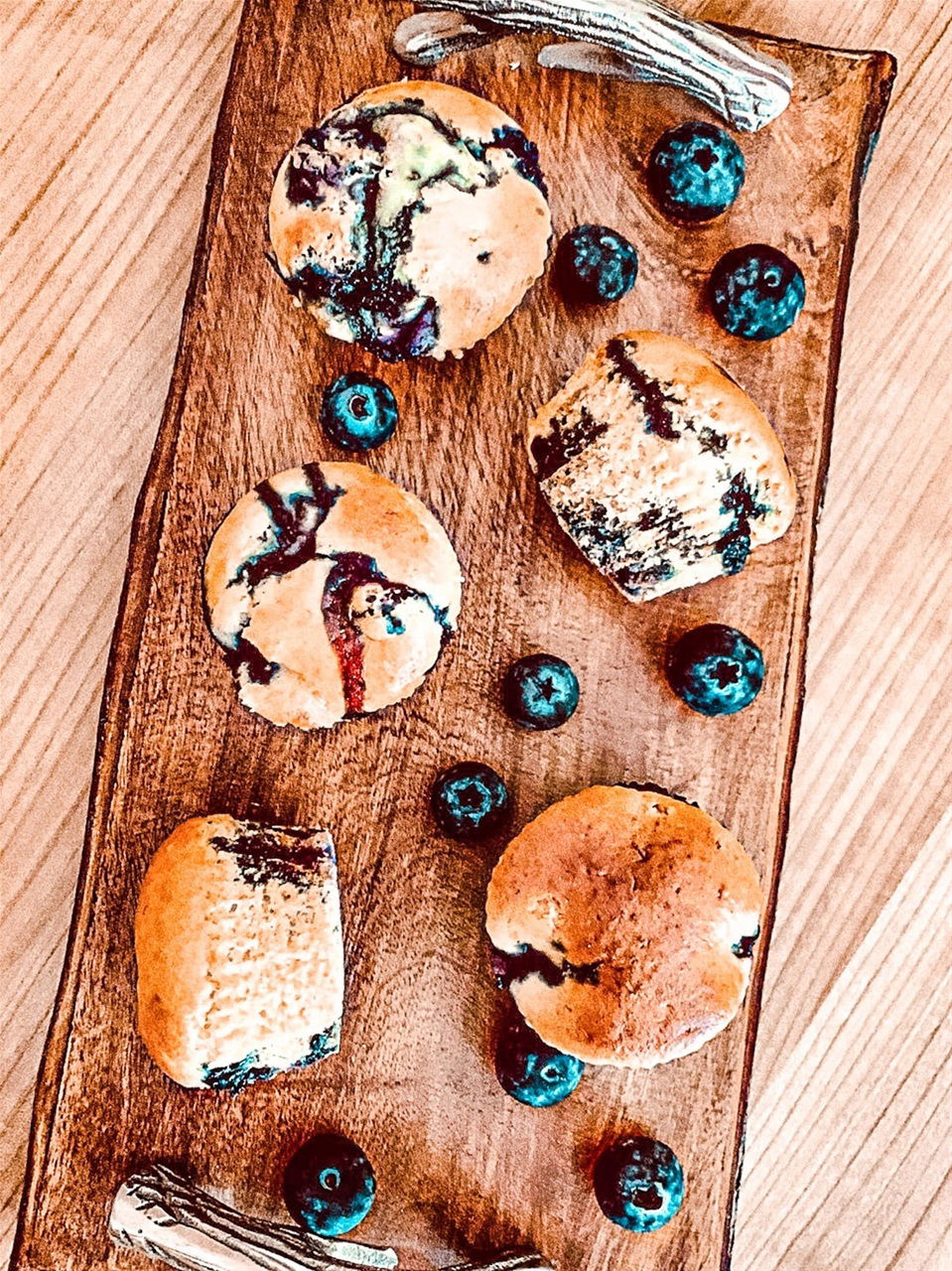 Muffins Ingredients


1 cup of almond milk (or any other plant – based milk)
1 teaspoon apple cider vinegar
2 cups of coconut flour (or use gluten-free all-purpose flour)
2 ½ teaspoons of baking powder
¼ teaspoon baking soda
½ teaspoon of salt
½ cup + 2 tbsp. coconut sugar (or use granulated sugar)
¼ cup + 2 tbsp. coconut oil (or use virgin olive or canola oil)
1 teaspoon vanilla powder (or use vanilla extract)
1 zest of lemon
1 ½ - 2 cup fresh blueberries (or use frozen ones)
Preheat the oven to 375F (190 degrees). Spray a muffin tin with cooking spray and set aside (if you do not have a cooking spray, no harm – you can still do these awesome muffins. The spray is mainly to prevent the mixer from sticking to the tin.). Add 12 pieces of muffin/cupcake cases to the muffin tin holes. In a small bowl combine almond milk and apple cider vinegar. Make sure you give it a good whisk. Set aside to allow milk to curdle. In a larger bowl combine flour, baking powder, baking soda, salt, and vanilla powder (if you are using vanilla extract, this we will add later to a different mix. Make sure you do not add the vanilla extract to the dry ingredients mix). Set the mix aside.
In a separate bowl, mix coconut sugar, coconut oil, lemon zest, and vanilla extract. Make sure you mix it well. Add almond milk/vinegar mixture to the sugar/oil mix and stir well to combine. Stir in slowly the dry ingredients until well incorporated. Once the batter is made, we want to gently fold in the blueberries. The goal with folding is to get the blueberries fully incorporated into the batter without overmixing the batter or breaking apart the berries. To do this, use a wooden spoon or plastic spatula and fold the batter from bottom to top in a "C" shape. Spoon into muffin tins, filling each cup about ¾ full. Bake for 20-25 minutes until a knife or a toothpick inserted in the middle comes out clean. Remove from heat and allow muffins to cool down before removing from pan.
You can add additional fresh blueberries as a decoration, or you can make a super easy fresh blueberry jam to glaze the muffins. For the fresh blueberry jam just use around 1 cup of blueberries, put into a blender together with 1/4 cup of coconut sugar (or any other sugar). Blend until the mixture is smooth and even. If you want to bake other flavor muffins, you can simply just replace the fresh blueberries with any other fruit or berry (keep the overall quantity the same as in the above recipe). You can use fresh or frozen raspberries, cranberries, blackberries, strawberries - the list goes on and on, so just pick your favorite and get baking.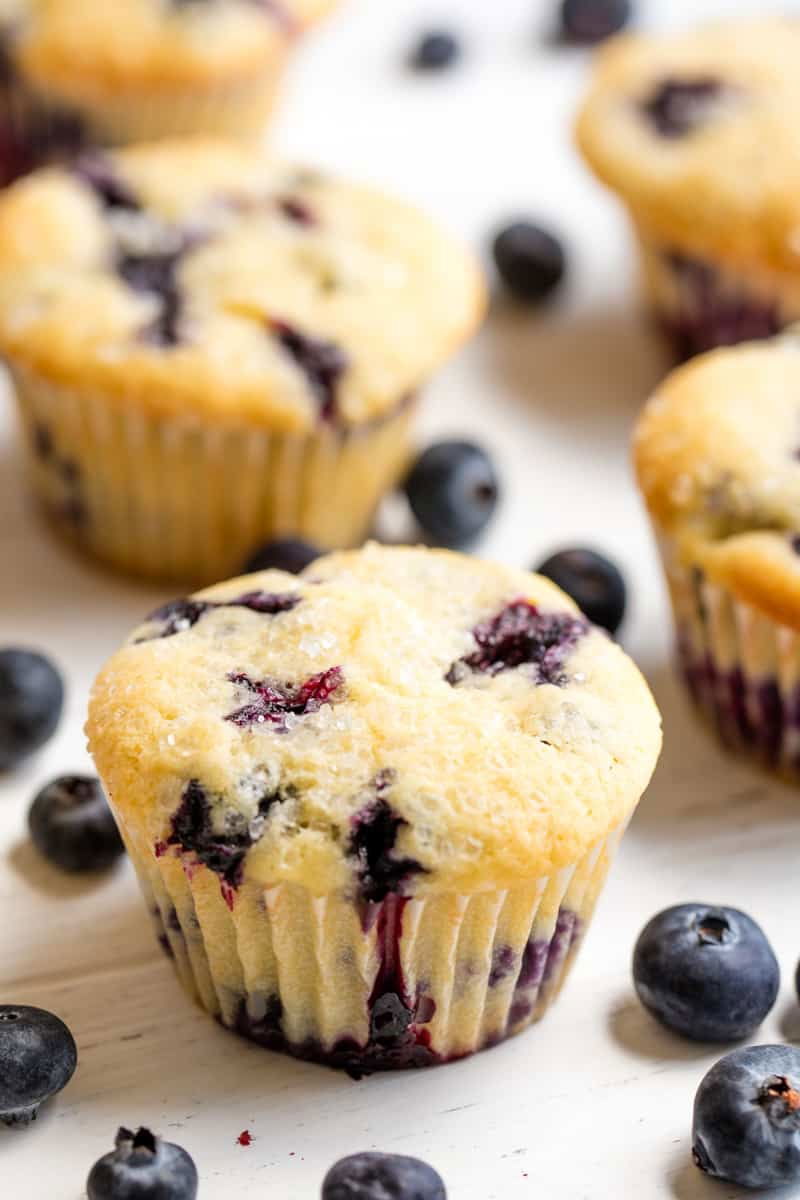 ' If you are using frozen berries or fruits '
If you are using frozen blueberries, put the berries in a colander by running them under room temperature water. Let the berries sit for 30 minutes for any excess water and juice to run off them. Dry them softly with a paper towel before adding them to your batter. This method is not only for frozen blueberries - you can use the same trick for any frozen berries or fruits.
' Add a flavorful sprinkle '
Once the muffin cups are all filled, you can choose to sprinkle the tops with more fruit, nuts or a crumble topping for even more flavor. As the muffins rise these flavorful toppings will cook into the tops of the muffin.
' Fill up the pan '
If there isn't enough batter to fill all the cups, half fill the empty ones with water. This will help the muffins bake evenly and will protect the pan from buckling. Bake the muffins until a toothpick inserted in the middle comes out clean and the tops are golden brown.
' Let it cool down '
Once you remove the muffins from the oven, let them sit in their pan for 5 minutes before removing to a wire rack. This is especially important for muffins that aren't in a paper liner, as it will help them from falling apart. However, remove them after five minutes otherwise you risk them going soggy as they cool in the pan.
' Mix wet and dry ingredients separately '
To prevent the mix from being overworked, first mix the wet ingredients together in one bowl and mix the dry ingredients in another. Make a well in the dry ingredients, carefully pour in the wet ingredients, then stir the mix a couple of times to roughly combine.
' Don't over stir or mix '
The most important rule of muffin making is to not over stir the mix. Instead, what you really want is to just moisten the ingredients. Resist the temptation to stir or beat the batter until it is smooth and lump free. You want the final mix to be lumpy, thick and floury.
' Add your berries and fruits last '
While spices should be added with all the other dry ingredients like fruit and nuts should be added last. Give the batter one more light-handed stir once you've added them in to combine.
' Line the muffin pan '
You can choose to either grease the muffin tin or line it with paper liners. If you choose to forgo the liners, make sure you grease the base and sides of the cups with oil spray or a little melted butter. If you're not going to eat the muffins for a while, consider using paper liners as these will keep the muffins fresher for longer.
' Use an ice cream scoop and don't over fill '
Try using a soup ladle or small ice cream scoop to transfer your mixture into muffin cups without making a mess.As well this will give you even muffins so they all will be the same size. Aim to fill the cups ¾ full to get muffins with nice round tops and to prevent them from spilling out over the top of the cups.
' Storage & Nutrition '
Store leftover muffins in an airtight container at room temperature for up to 5 days. You can also freeze these muffins for up to 2 months. To defrost, pull the muffins from the freezer and let them defrost at room temperature for several hours.
Servings: 12 muffins
Calories: 160 kcal
I truly hope you will find the above vegan muffin recipe as delicious and healthy as I do. Enjoy these beauties!
- SiggyBlog -