Bursting with vitamin-packed carrots and slathered with a mut-rich frosting, carrot cake is essentially the world's most delicious health food. Okay, we're lying to you and ourselves. But it is one of the best special occasion cakes batter can make. It's also less fussy than many other layer cakes, making it ideal for beginners. I fell in love with a traditional carrot cake when I was on my USA trip, and now I would love to share my vegan carrot cake recipe with all of you. As many cake recipes have their secret ingredients, their tips and tricks for baking – I will be also sharing those with you all. My recipe calls for applesauce, which makes my carrot cake super moist and light. Using applesauce, you can veganize carrot cake relatively easily. Along with the shredded carrots, it adds enough moisture to eliminate the need for flax eggs or other unconventional ingredients. As a result, the cake batter comes together with pantry ingredients like all-purpose flour, baking powder, baking soda, spices, sugar, and melted coconut oil. The result is fantastic. The cake is moist, tender, and filled with warm, spiced flavor from cinnamon, nutmeg, mixed spices and vanilla extract. Enjoy it on its own or take it to the next level by slathering it in rich, creamy vegan frosting. I think you all are going to love this carrot cake!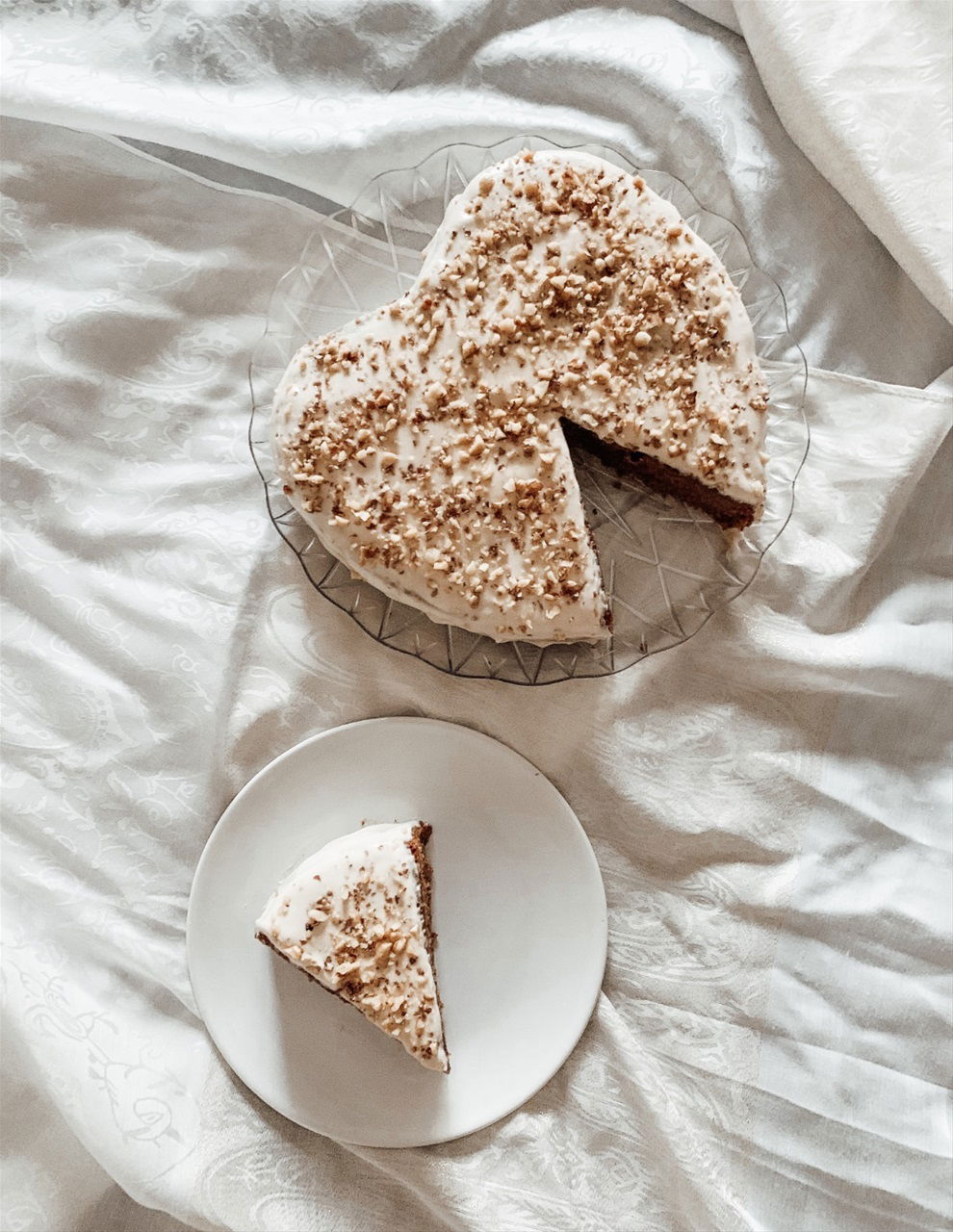 Applesauce Recipe
4 apples - peeled, cored and chopped (make sure you use sweet and more softer apples)
¾ cup of water
¼ cup of white granulated sugar
1 teaspoon of cinnamon powder
In a saucepan, combine apples, water, sugar, and cinnamon. Cover, and cook over medium heat for 15 to 20 minutes, or until apples are soft. Allow to cool, then mash the apples in a food processor or in a mixer – until smooth and creamy. This makes around 1/3 cups of applesauce. If you want to make of applesauce in an amount, just double up the ingredients in the above recipe.
Cake Ingredients


1 + ¼ cups of all – purpose flour (for gluten-free option use gluten free all - purpose flour )
1 cup of wheat flour (for gluten-free option use almond flour)
½ cup of roasted walnuts
3 teaspoons of baking powder
1 teaspoon of baking soda
4 teaspoons of cinnamon powder
zest of 2 oranges
2 teaspoons of mixed spice powder (coriander, cloves, nutmeg, ginger) or you can use just nutmeg powder
1 teaspoon of peanut butter powder (I use Tru-Nut Powdered Peanut Butter; optional to use)
1 teaspoon lemon salt (or use sea salt)
½ cup of applesauce
1 cup almond milk (or use any other plant-based milk)
2 teaspoons of vanilla powder
2 teaspoons of vanilla extract
1 cup cane sugar
½ cup melted coconut
2 cups of grated carrots
Macadamia & Cashew Frosting Ingredients
½ cup of raw macadamia nuts (soaked overnight in water, drained and rinsed)
½ cup of raw cashews (soaked overnight in water, drained and rinsed)
¼ cup of almond milk
¼ cup of maple syrup
2 tablespoons of coconut oil
2 teaspoon of vanilla extract
½ cups of granulated sugar
2 teaspoons of fresh lemon juice
½ teaspoon of salt
1 tablespoon of coconut powder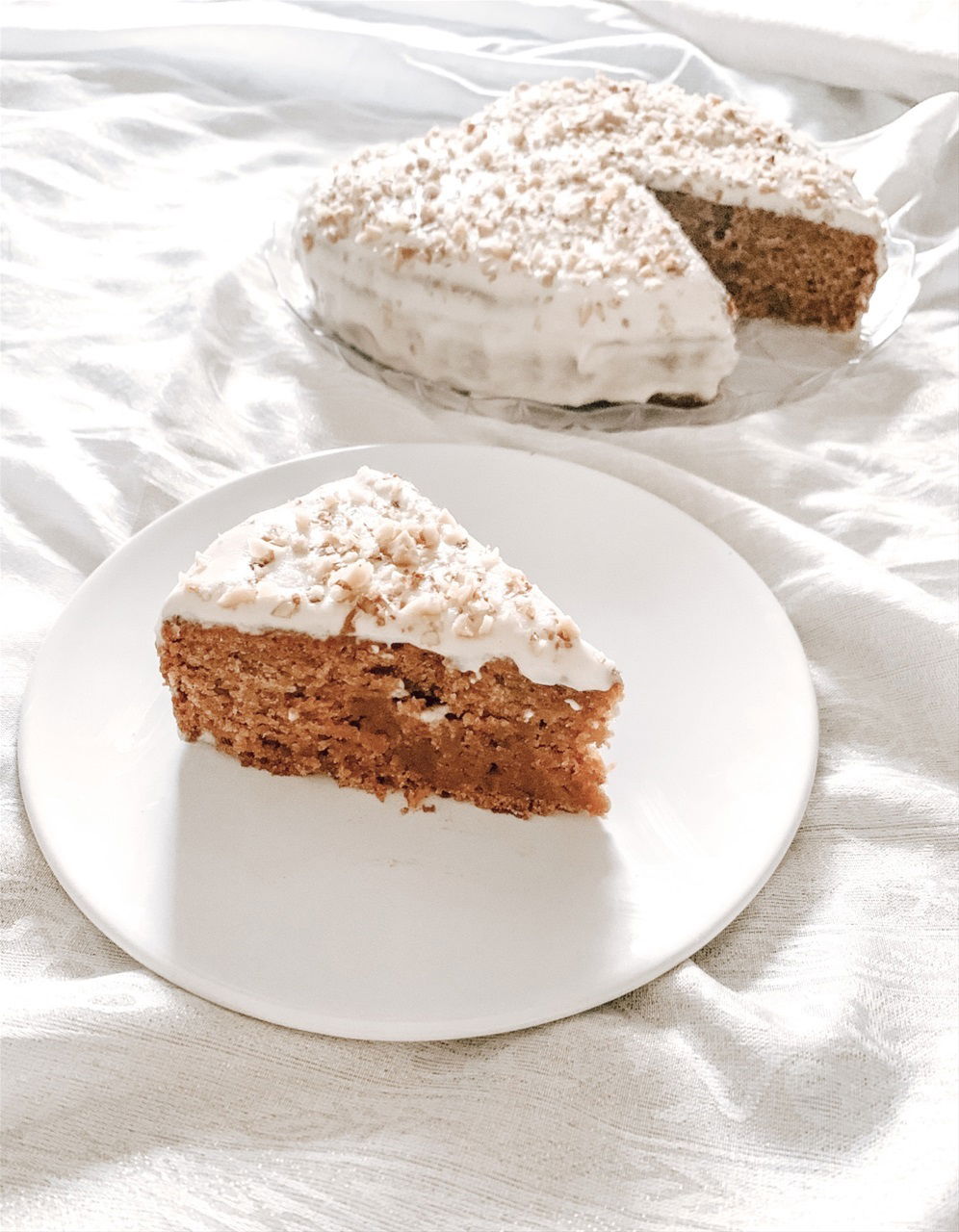 Preheat the oven to 160 degrees and grease with vegan butter a baking pan (or any other baking pan shape or size you wish). Firstly, let us make the applesauce – please see the recipe and the instructions in the above. While you are doing the applesauce; you can also toast your walnuts for better taste in the carrot cake. Simply place a baking paper on an oven pan, place the walnuts on it and keep in the oven for 8 minutes – oven temperature to be set for 150 degrees. After the walnuts are roasted – let them cool down. You can either cut the walnuts into thin pieces with a knife or put them into a food processor (I personally prefer making the mixture in the food processor as it mixes with the ingredients better in the cake) and make them even thinner – up to you, how you wish the nut size to be in your carrot cake.
Now it is time to grate your carrots and oranges – separately. In a large bowl, whisk together the flours, baking powder, baking soda, cinnamon, nutmeg, vanilla powder, peanut butter powder and lemon salt. In a separate bowl, whisk together the applesauce, almond milk, vanilla extract, sugar, and coconut oil. Next step is to mix the dry ingredients into the bowl with the wet ingredients – do not over mix! Slowly fold into the mixture the shredded carrots and orange peels. Once the mixture is mixed well together – give it a quick taste if it is to your liking, you can always add more sugar or any other flavor if you wish. Pre heat your baking pan in the oven for 3 minutes – this technique helps to make sure the cake cooks evenly. Pour the mixture into the baking pan. Bake for 30 to 40 minutes or until a toothpick inserted comes out clean.
While the cake is baking – let us make the frosting. Combine all frosting ingredients into a high-speed blender. Blend until the mixture is exceptionally smooth for 1 to 2 minutes or more, scraping down the sides occasionally. You can add an extra tablespoon of almond milk if necessary, to get your blade moving. Then put the frosting into a bowl and chill for at least 30 minutes in the fridge before spreading on the cake (the frosting cream will firm up a bit more in the fridge). Let cake cool down completely before frosting. Decorate the carrot cake with the frosting as you wish, you can also add extra garnish like roasted walnuts, cinnamon and sugar powder mix – whatever you fancy.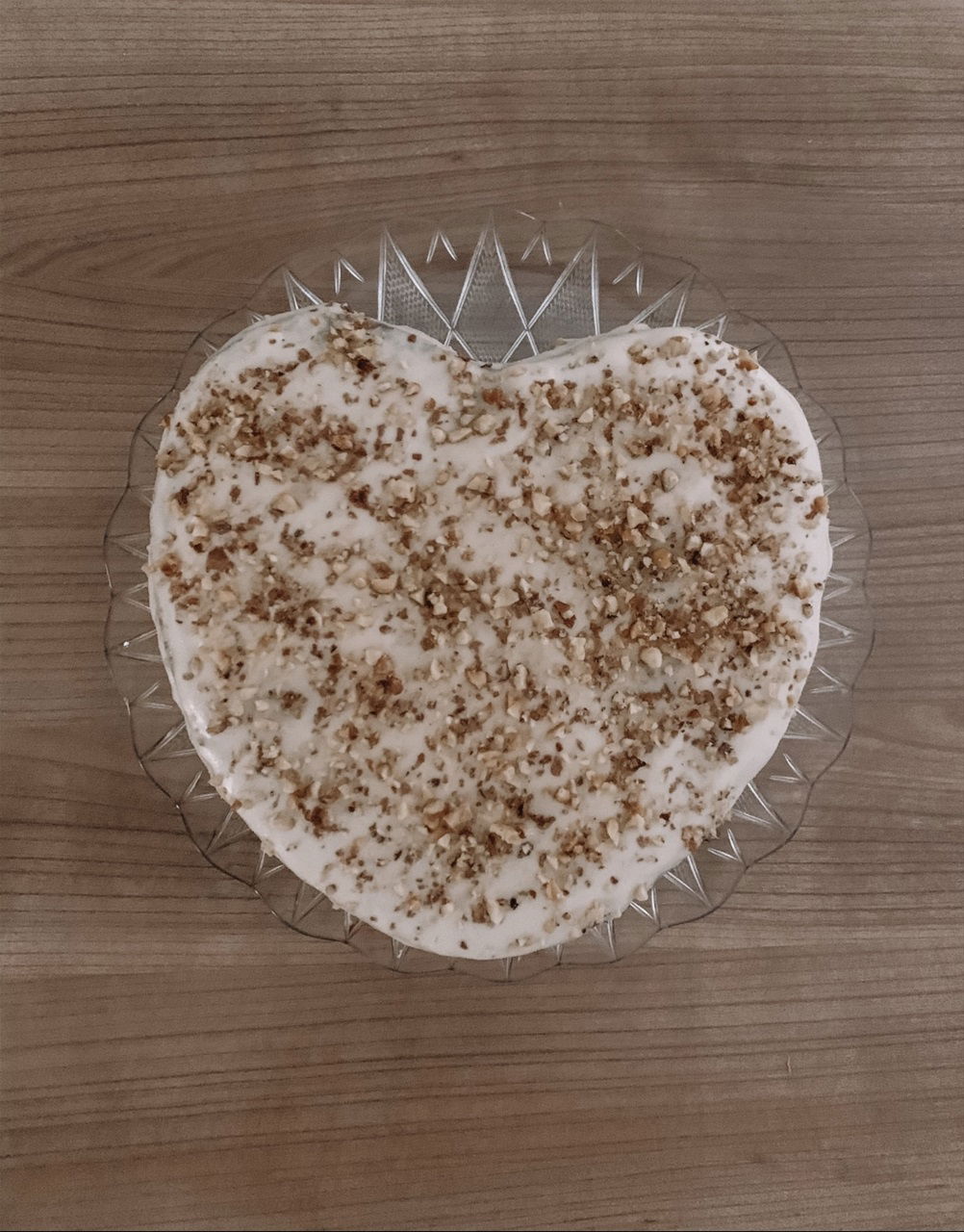 ' Grating The Carrots '
The baking time for this cake is relatively short (just 30-45 minutes at 160 degrees). This isn't enough time to cook the carrots in the oven, especially when hidden in flour and oil. For that reason, the carrots should be grated finely enough to be suspended throughout the batter. They serve to moisten the cake and add texture—but despite the name, they should not be the starring player in the recipe. Finely grated carrots meld seamlessly into the cake, while larger pieces create a chunkier, less uniform texture. Use a smallest setting of your box grater or food processor's grating attachment to turn the carrots into fluffy pieces. Aim for light and airy, not large and chunky (you're not making a crudité platter). The word "crunch" belongs nowhere near any carrot cake.
' Spicing The Cake '
Carrot cake is ultimately a spice cake - the heady flavors and scents of baking spices like ground cinnamon, ginger, and nutmeg should take center stage, so do not be shy. Make sure your spice powders are fresh — if the canister has been sitting in your spice rack since the last presidential election, it's time to buy a new one. Do not hold back on the spices in this carrot cake!
' Adding too many Mix - ins '
Raisins are controversial in a carrot cake - whether or not you add them is up to your tolerance for the chewy little nuggets—same goes for chopped walnuts (just be sure to toast them first for better flavor). Adding too many mix-ins will muddy the flavor of the warming spices and could compromise the structural integrity of your ultra-tender cake. Keep the extra nuts and, god forbid, coconut out of things, and definitely don't add pineapple—it'll make the batter too moist.
' Slicing & Separating The Layers '
Many layer cakes are assembled by baking two 9 inch cakes, letting them cool, then slicing each cake in half. The resulting four cakes are then layered and coated with frosting; this makes for a towering and impressive stack. You're off the hook when it comes to carrot cake, though. It's supposed to be rustic and homey - the moist texture that makes it so tasty also makes a clean slice impossible. Avoid a crumbly mess and stick with a simple two-layer cake. If you must have a taller cake, divide the batter between three 9 inch pans, and layer the three finished cakes. I prefer my carrot cake to be as a one-layer cake, and just decorate the cake with any extras I wish to have. Also I have had no trouble cutting my carrot cake into perfect slices.
' Frosting the Cake While Warm '
A proper frosting is essentially butter and cream cheese spiked with powdered sugar. However, as we are doing a vegan frosting, we are using other ingredients – not cream cheese or eggs. Therefore, we need to make sure we let our frosting to cool down in the fridge properly before using it on the cake. It's tangy, sweet, and heavenly—and will quickly become a melty mess if heated. A still-warm cake will turn the frosting into a runny liquid, not the thick and lush topping worthy of your gorgeous cake. Let the cakes cool completely on racks before assembling and frosting.
' Don't over mix! '
This rule applies to baked goods across the board. Mix your batter until just combined – and not any longer – or your cake will be dense. There is no need to leave your mixer running - it doesn't make the cake any better. Once all of the wet ingredients are added and you are ready to incorporate your flour, stir or beat the flour in until it is just incorporated. Over mixing the flour will make for a tough and less appetizing cake.
' Toast Nuts and Coconut for More Flavor '
Toast the nuts and coconut in the recipe. The rich nutty flavors of pecans, walnuts, and coconut are enhanced with a little heat. Gently toasting them in the oven for a few minutes (until they are fragrant) makes the aromatic oils in these ingredients stand out, and this will add an extra layer of complexity and flavor to your cake.
' Always Measure Accurately '
I can't stress this tip enough: carefully measuring your ingredients is a major factor in the success of any recipe. In baking, extra sugar or leavening will cause a cake to fall, whereas too much flour makes it dry. To ensure an accurate measure of flour, never scoop the flour directly from the flour sack. Instead, spoon flour into the measuring cup, and then level it off with the back of a knife.
' Get Zesty '
Add a healthy pinch of orange zest to really pop the carrot flavor (I use the zest of 2 oranges in my recipe). You will see how orange and carrot bring out the best in each other.
' Storage & Nutrition '
Store this cake in an airtight container in the refrigerator for up to 5 days. Place the cake pieces in an airtight freezer-safe storage container in the freezer for up to 3 months.
Servings: 12 cake pieces (one medium size cake)
Calories: 412 cal
I truly hope that you will find the above vegan carrot cake recipe as delicious as I do. Enjoy this beauty!
- SiggyBlog -