Since I was a kid, I have loved simple oatmeal cookies. I found my grandmothers recipe and I managed to adjust it to a delicious vegan oatmeal cookie recipe, and they came out so chewy and delicious. Made with oats, vegan butter, and coconut sugar, you are guaranteed the softest and chewiest oatmeal chocolate chip cookies ever. Use this perfect oatmeal cookie as the base for other add-ins such as raisins, dried cranberries, and nuts. Cinnamon and a touch of molasses add that little something extra. These are the best oatmeal chocolate chip and coconut cookies! Soft and chewy vegan oatmeal cookies. These super easy cookies are brown sugar sweetened, coconut and cinnamon infused and make a perfect treat or snack. I love the look of these vegan oatmeal cookies. They have such a wholesome vibe! These vegan oatmeal cookies are as hearty and delicious as they look. Sweetened with brown sugar and packed with rolled oats and dried coconut, there is not much that can beat a good oatmeal cookie!
Three characteristics I look for in oatmeal cookies? Slow bend, chewy goodness, and ultra soft. Check, check, and check! These oatmeal chocolate chip cookies have a slightly crisp edge with a soft center and enough chew that it won't immediately break when you bend it. A "slow bend cookie" as I like to call them– and this is what makes a regular oatmeal cookie a really great oatmeal cookie. They're also: Super soft and hearty. Supremely buttery and flavorful. Using more brown sugar than white helps guarantee a more flavorful base. Super chewy thanks to old-fashioned oats. Thick old-fashioned whole rolled oats, not quick oats, guarantee a chewier cookie. Quick oats are thinner and more powder-y; you simply don't get the same texture. Loaded with extra chocolate chips! I like to use both regular size and mini chocolate chips. This guarantees more chocolate in every single bite. And for my fellow raisin lovers: try subbing in half raisins with the chocolate chips. Taste just like how grandma used to make them.
So let me know what you think of these vegan and gluten - free oatmeal chocolate chip and coconut cookies in the comments section below -thanks so much! In order for you to stay updated with all my latest vegan recipes and baking posts – give a follow to my Instagram account https://www.instagram.com/siggyblog/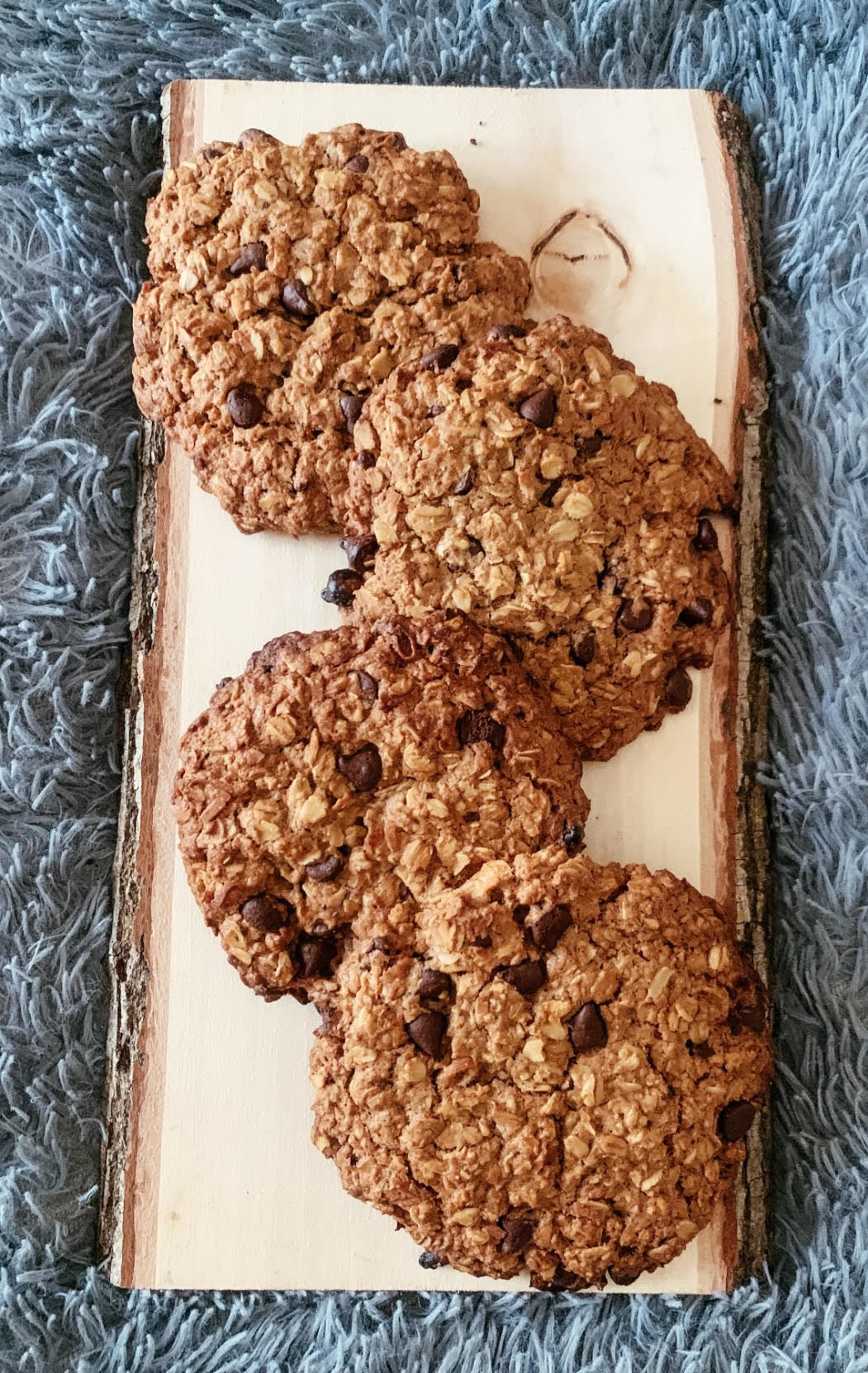 The Recipe
1 and 1/2 cups (190g) coconut flour ( for non-gluten – free option use all-purpose flour )
1 teaspoon ground cinnamon (optional)
1 teaspoon baking soda
1 teaspoon lemon salt (or normal salt )
1 cup ( 230g) vegan butter (room temperature)
1 cup (200g) coconut sugar or muscovado sugar
1/2 cup (100g) vegan granulated sugar
2 flax eggs ( 2 tablespoons of flaxseeds and 6 tablespoons of water) on room temperature - you can also
use 2 smashed bananas instead of flaxseeds
2 teaspoons pure vanilla extract
3 cups (240g) old-fashioned whole rolled oats
1 and 3/4 cups semi-sweet chocolate chips
1 cup (200g) sweetened shredded coconut flakes (optional)
2 tablespoons of maple syrup ( or agave syrup)
1 tablespoon unsweetened almond milk
Prep Time: 1 hour, 10 minutes
Cook Time: 12 - 14 minutes
Total Time: 1 hour 24 minutes
Yield: 10 big cookies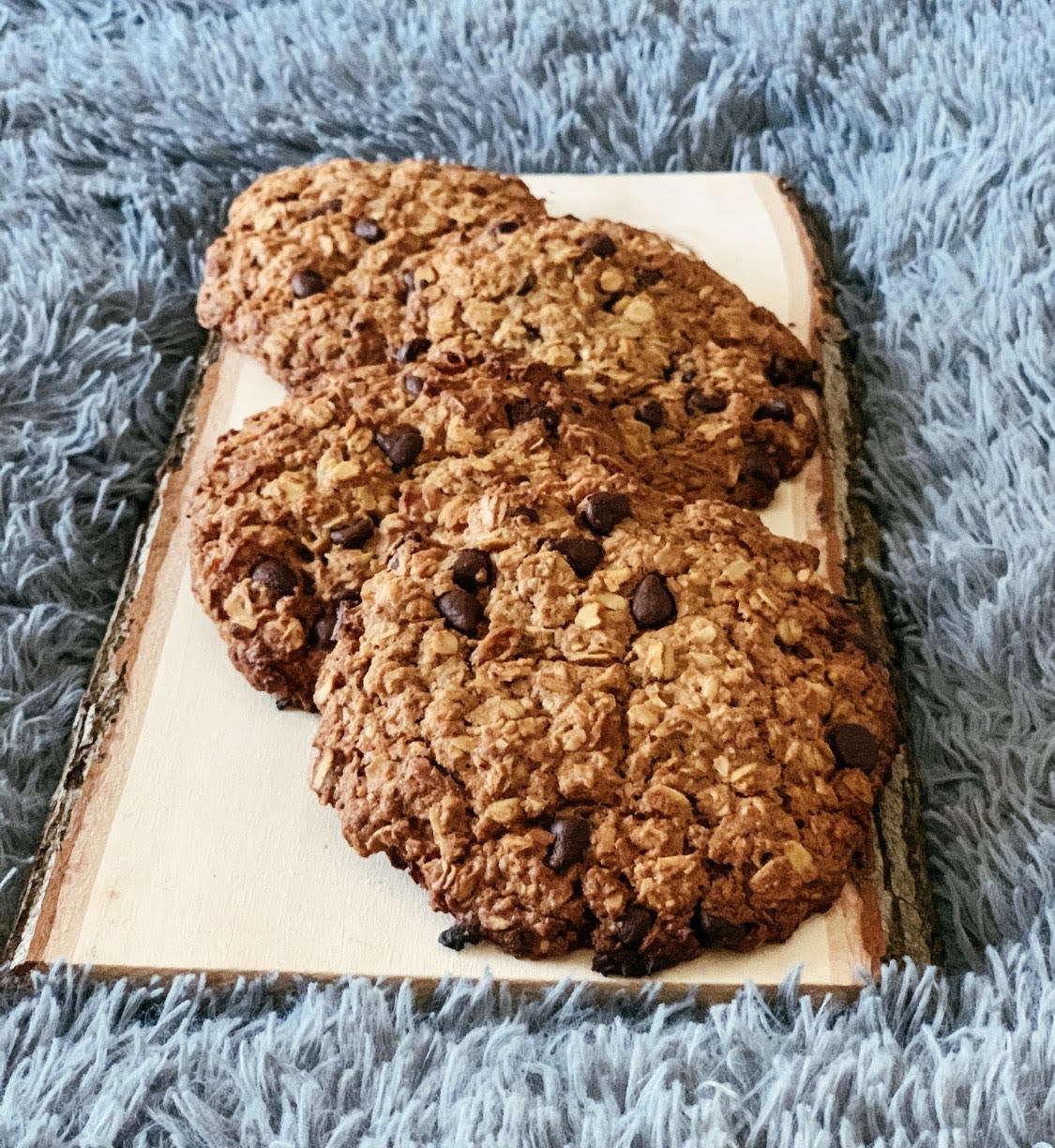 First, we start by prepping the flax eggs. To make 2 flax eggs, mix two tablespoons ground flaxseed meal (you can blend into fine sand like texture just simple flaxseeds to make a flaxseed meal) with six tablespoons of water. Mix together in a bowl and put into the refrigerator to thicken for 30 minutes and then take out to bring back to room temperature. Whisk the flour, cinnamon, baking soda, and lemon salt together in a medium bowl. Set aside. In a large bowl using a hand mixer or a stand mixer fitted with a paddle attachment, beat the vegan butter (room temperature) on medium-high speed until smooth, about 1 minute. Add the coconut sugar and granulated sugar and beat on medium-high speed until creamed, about 2 minutes. Add the flax eggs, maple syrup and vanilla extract and beat on high speed until combined, about 1 minute. Scrape down the sides and up the bottom of the bowl and beat again as needed to combine.
Add the dry ingredients to the wet ingredients and mix on low until combined. With the mixer running on low speed, beat in the oats, coconut flakes, almond milk and both types of chocolate chips. Dough will be thick and sticky. Cover and chill the dough for at least 45 minutes in the refrigerator (and up to 4 days). If chilling for longer than a few hours, allow to sit at room temperature for at least 30 minutes before rolling and baking because the dough will be quite hard. Preheat oven to 350°F (177°C). Line baking sheets with parchment paper or silicone baking mats. Set aside. Use a large cookie scoop to scoop the cookie dough, about 3 Tablespoons of dough per cookie, and place 4 inches apart on the baking sheets. Bake for 13-14 minutes or until lightly browned on the sides. The centers will look very soft. Remove from the oven and allow cookies to cool on the baking sheet for 5 minutes before transferring to a wire rack to cool completely. While the cookies are still warm, I like to press a few more chocolate chips into the tops– this is only for looks! Cookies stay fresh, covered or in a sealed container at room temperature for up to 1 week.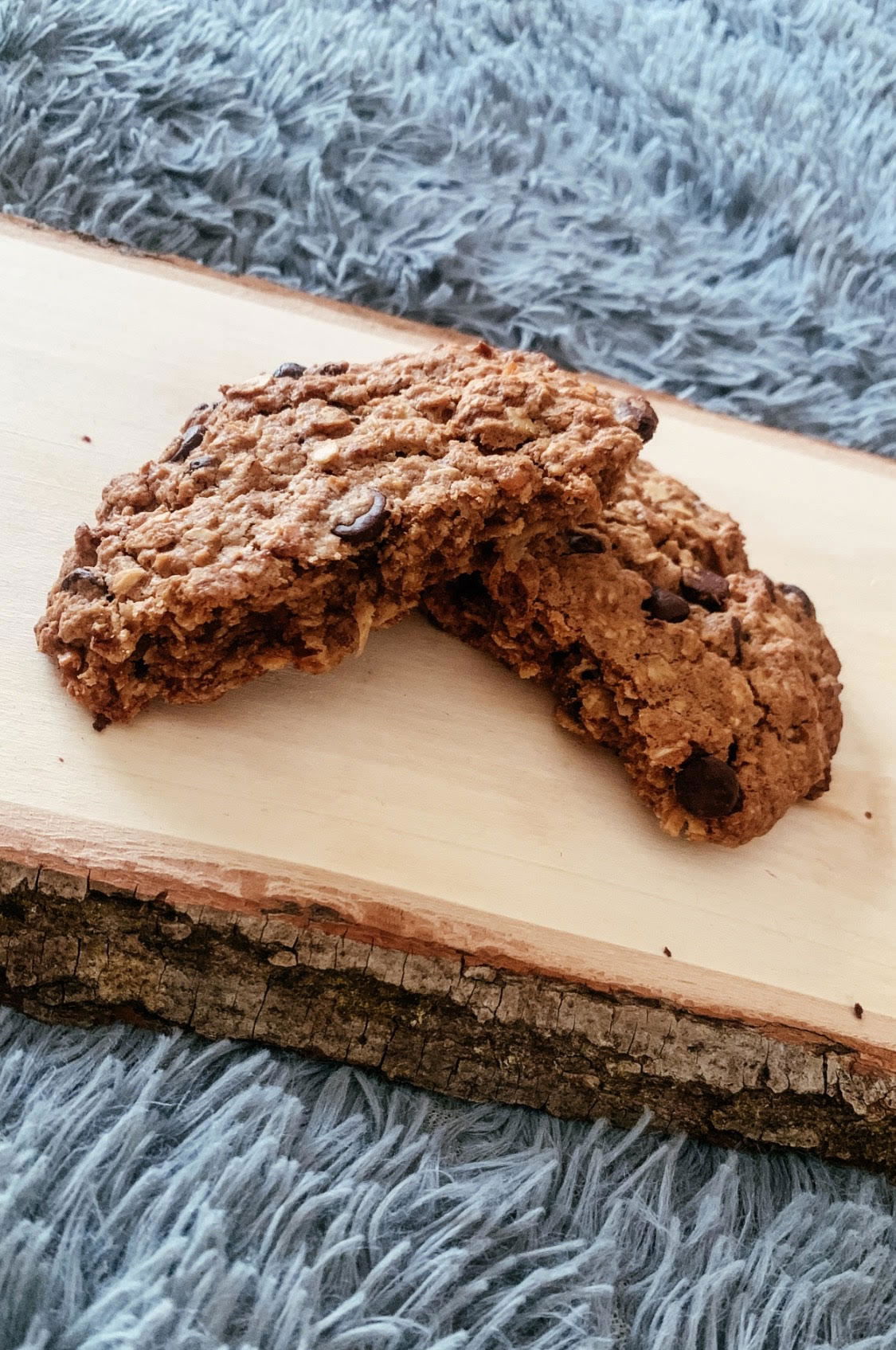 ' You can prebatch this oatmeal cookie dough '
You can make the cookie dough and chill it in the refrigerator for up to 4 days. Allow to come to room temperature then continue to bake it as instructed. Baked cookies freeze well for up to 3 months. Unbaked cookie dough balls freeze well for up to 3 months. Bake frozen cookie dough balls for an extra minute, no need to thaw.
' Use different chocolate chips '
I like using 1 and 1/4 cups regular size vegan semi – sweet chocolate chips and 1/2 cup dark chocolate chopped into pieces. Varying sizes ensure more chocolate in each bite. You can, of course, just use 1 and 3/4 cups regular size chocolate chips. You can even try 1 cup chocolate chips and 3/4 cup raisins.
' Silicon baking sheets '
The baking sheets you use will directly affect the outcome of your cookie. I recommend none – stick silicon baking sheet. They are easy to come by and last forever. I don't recommend 'nonstick' aluminum baking or glass sheets, as they conduct heat at a higher level and leave you with a darker underside of your cookie. Silpat - get used to this word, when I purchased these silicone baking sheet liners, my cookie game changed significantly. I have one liner on every half sheet pan I own.
' Check your oven temperature and cookie dough portions '
The number one component of any baked good: a trustworthy oven. If you bake often, you can tell by the heat radiating out of the cracked oven door whether or not the oven is to temperature or not. You can purchase an oven thermometer to leave in your oven, so you know when it is at the correct temperature. Check your oven temperature by setting it to 180 degrees and then after 10 minutes measure the actual heat using a thermometer. This will help you know whether your oven runs a bit hotter or cooler and so you can adjust baking times and temperatures accordingly. Always pre-heat your oven so items go in at the right temperature. Size matters, and consistency is key. Purchase ice cream scoops to help get perfect portions of dough. I recommend a 1/4 cup or 4 oz. cookie. This is the perfect size. Tip for big cookies: gently flatten the tops slightly for the perfect bake on this size of cookie.
' Ingredients '
Chances are, if you bake frequently, this doesn't apply. But if you are an infrequent baker and haven't made cookies in a year… don't leave your once-a-year batch up to some ingredients that have been hanging out in your pantry for more than 6 months. Flours can take on flavors from those spoiling bananas you meant to use for banana bread, and so on. Keep those baking ingredients up to date, especially leavening ingredients like baking soda. Fresher ingredients, (butter that hasn't been frozen), nuts that haven't been frozen, etc. will always make a better cookie!
' Make a crunchy dough '
The key thing for these oatmeal cookies, starts out innocuously enough, with a super-simple dough. Cream butter and sugar until light and fluffy, In a stand mixer, beat your vegan butter and sugar until the mixture is light and fluffy. Then, slowly add in your flax in 3 batches – don't try to speed this process up, or you'll end up with a goopy mess. Then add a sifted mix of coconut flour, baking powder, and salt to the bowl and beat until just combined. Then put your cookie dough to chill in the fridge for 45 minutes – do not skip this step!
' Use room temperature ingredients '
Certain recipes call for ingredients like plant-based yogurt, vegan butter, and plant – based milk to be at room temperature but many people ignore this step. No! Don't! Room temperature isn't listed next to ingredients for fun. Recipe authors aren't trying to make your life difficult. There's science and legitimate reason behind the importance of temperature. Which brings me to my number one baking rule - if a recipe calls for room temperature ingredients, use room temperature ingredients. There is no way around this and if you use, say, cold butter or cold milk when they should be room temperature– your recipe won't live up to its potential. And it most certainly won't taste the way it should. When at room temperature milk, butter, and other ingredients form an emulsion which traps air. While baking in the oven, that trapped air expands and produces a fluffy baked good
' Storage & Nutrition '
These cookies will last up to 7 days in the refrigerator. It's best to keep it in an air tight container. Baked cookies freeze well for up to 3 months. Unbaked cookie dough balls freeze well for up to 3 months. Bake frozen cookie dough balls for an extra minute, no need to thaw.
Servings: 10 big cookies
Calories: 350 cal
So let me know what you think of these vegan and gluten - free oatmeal chocolate chip and coconut cookies in the comments section below -thanks so much! In order for you to stay updated with all my latest vegan recipes and baking posts – give a follow to my Instagram account https://www.instagram.com/siggyblog/
I truly hope that you will find the above chocolate chip and coconut oatmeal cookie as delicious as I do.
Enjoy this beauty!
- SiggyBlog -