There is nothing quite like devouring vegan cookie dough straight from the bowl! Edible cookie dough is simple to make, it's very similar to baked cookies. Today I am sharing with you my recipe for the best edible cookie dough and cookie dough bliss balls (plus few cookie dough variations tips & tricks). This ultimate cookie dough recipe will help you make the most delicious edible (and safe) cookie dough.
This is the healthiest, easiest cookie dough you'll ever throw together in a moment of need. With these vegan ingredients, you might already have everything you need on hand. I wanted to come up with a healthy vegan cookie dough recipe, egg-free, and dairy-free, and a dough that would have the perfect cookie dough texture. It tastes just like the real thing while still being free of eggs and butter. I believe this recipe is a edible cookie dough magic. This really is the best vegan chocolate cookie dough recipe! Full of chocolate flavor, soft, creamy, super tasty and delicious. You will want to eat this raw cookie dough all over again and again!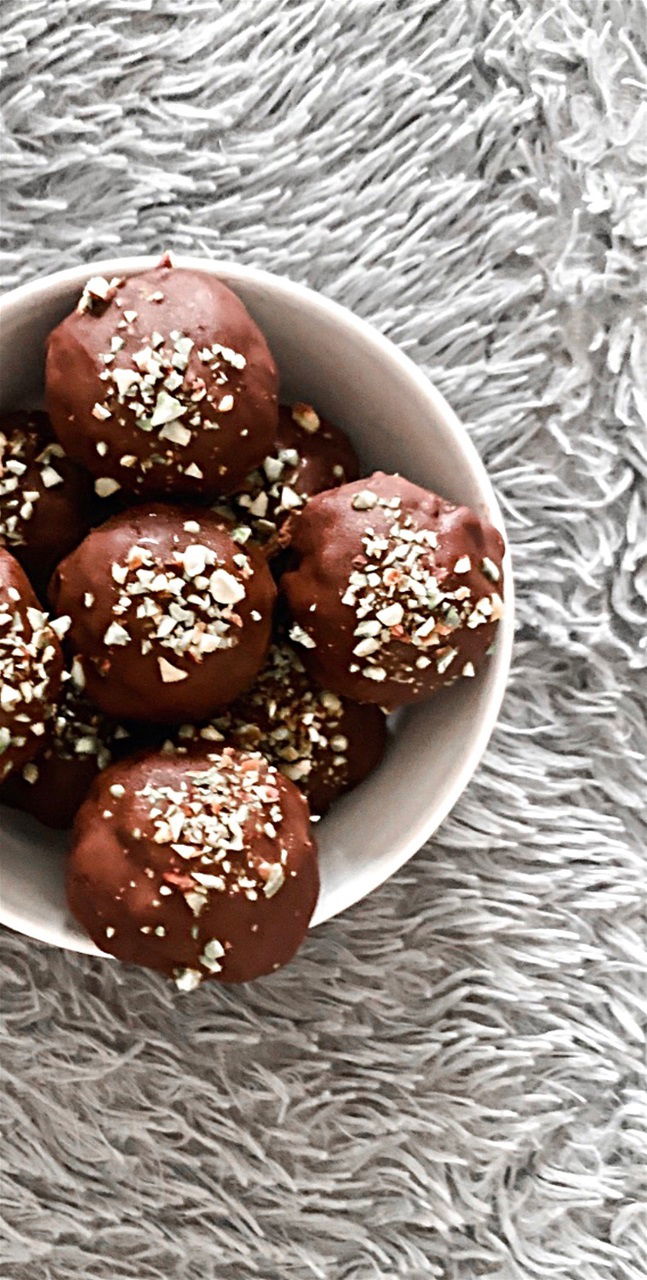 Ingredients
½ cup peanut butter (you can also use vegan or almond butter)
½ cup light brown sugar
3 tablespoons of granulated white sugar
1 teaspoon of vanilla extract
1 cup of all – purpose flour ( swap the all purpose flour for a mix of gluten free oat flour and coconut/almond flour half half to make it gluten free )
1 teaspoon of sea salt
4 tablespoons of coconut milk (or any other plant-based milk)
3 tablespoons virgin coconut oil
½ cups of vegan dark chocolate chips
1 tablespoon of unsweetened cocoa powder (optional; if you want to make a full chocolate flavor bliss balls)
Bliss Balls Glaze
180 g dark chocolate (70%)
handful of pistachios (chopped)
We start off with treating the flour that you will be using in your raw cookie dough. Because of the possibility of e-coli being found in flour it's now a good idea to heat it in the oven to kill off any possible bacteria before consuming for things like cookie dough. Heat treating flour to be suitable for this recipe is incredibly simple. You can either do it in the microwave or in the oven. Microwave method - in a microwave-safe bowl, place your flour in it. Heat in 30-second increments, stirring each time (to avoid it burning). Use a thermometer to check the flour is at 70-75 degrees throughout. Oven method - similar to the microwave method, you will need to stir regularly and check the temperature of the flour to ensure it is 70 - 75 degrees. Preheat oven to 160 degrees. Spread flour on a baking pan lined with parchment paper. Bake for 10-12 minutes, stirring every 2 minutes and checking the temperature of it . Flour must be cooled completely before using it for the cookie dough.
For the next step we will be mixing our dry ingredients – make sure you allow the flour to cool down completely after the heat treatment before mixing with other ingredients. In a bowl add together the flour and sea salt, put aside. Bring a bowl of water to a boil (I used a number 4 temperature, if you are using a 6 digit one). Now slowly start to melt the peanut butter on top of the slightly boiling water, once you see that it has a creamy texture add the measured light brown and white sugar. Mix a bit and then add only 1 tablespoon of coconut milk (or any other plant - based milk) and 1 teaspoon of vanilla extract. Mix the mixture above the boiling water until the sugar has evenly melted and the mixture is smooth, fluffy, and creamy.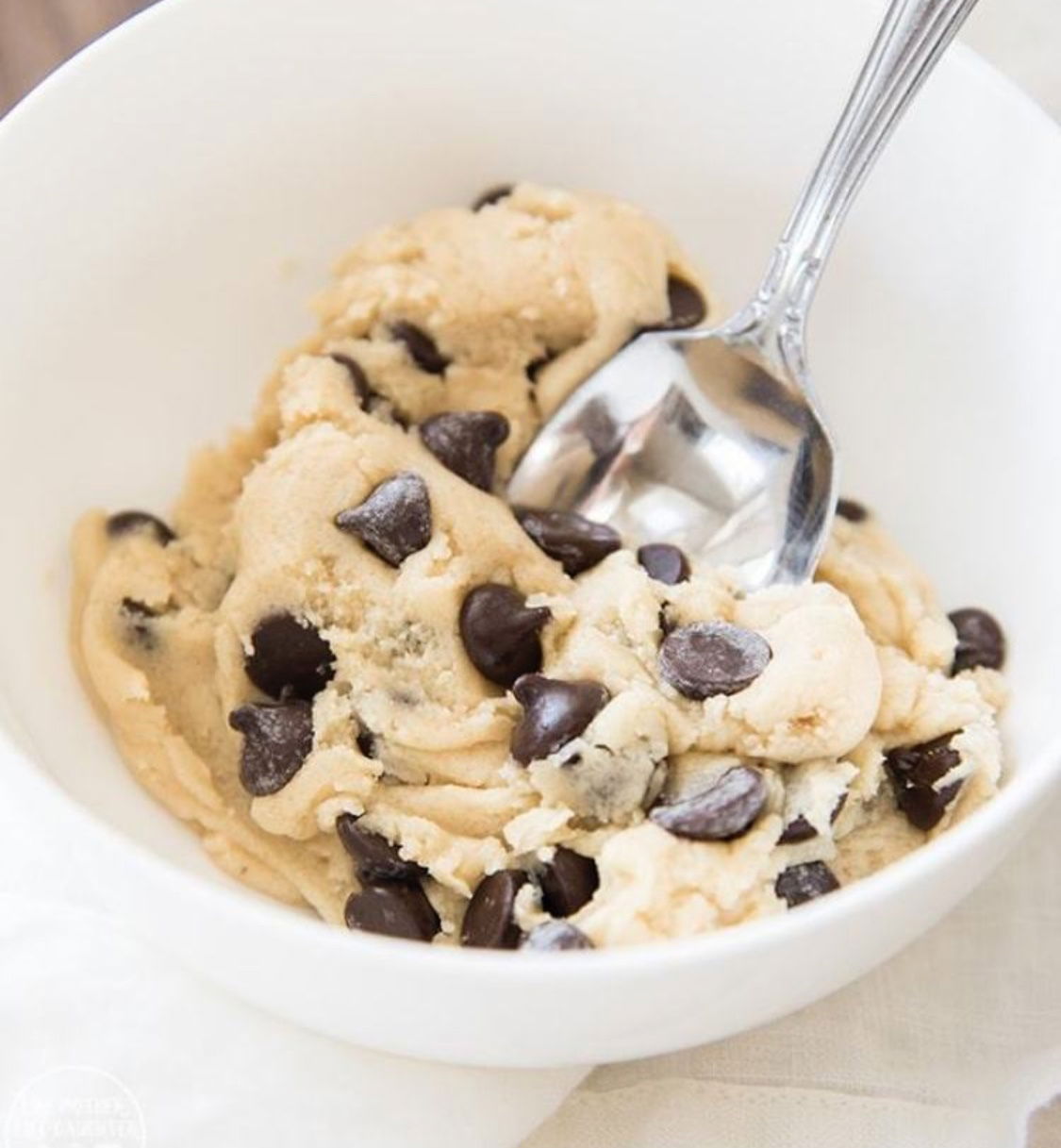 Remove the mixture from the heat, leave it to cool on room temperature for about 2 – 3 minutes. Now slightly add in the flour mixture (you can mix it with a hand mixture or by your hand – I do it by hand then you can really feel the dough consistency). Once mixture now you can add the remaining amount of 3 tablespoons of coconut milk and 3 tablespoons of coconut oil – mix the mixture until it starts to look and feel like cookie dough. If you want to have more chocolate flavor cookie dough – then now is the right time to mix into the mixture the cocoa powder (if the dough dose not look or feel like cookie dough, you can add one tablespoon by tablespoon more flour until the dough is smooth and creamy). Make sure you allow the dough mix to cool to room temperature until adding in the chocolate chips ( if the dough is warm and you add chocolate chips into it they will melt immediately, therefore wait till it cools a bit before adding the chips). Once you have mixed into the dough your chocolate chips – then your delicious cookie dough is ready! You can either eat it on its own or you can make delicious cookie dough bliss balls.
To make vegan chocolate chip cookie dough bliss balls - prepare a baking pan lined with parchment paper. Now slowly between your hands start to roll the raw cookie dough mixture into even size balls and place them on the baking pan (this recipe makes around 12 bliss balls). Once you have finished the balls, put them into your fridge for 30 minutes for the cookie dough to firm up a bit.
While the cookie dough is in the fridge, we can start to make the bliss balls chocolate glaze. Bring a bowl of water to a boil and put around 180 grams of dark vegan chocolate to start to melt slowly (make sure you use dark chocolate as it really gives a amazing flavor to the cookie dough as if you use sweet chocolate it will make the balls too sweet). While the chocolate is melting, we will be chopping the pistachios into thin pieces as we will be using them for garnish later (or you can use any other nuts you fancy as your garnish). Once the chocolate has melted and the pistachios are ready, prepare a baking paper on top of your kitchen table and take out your cookie dough balls from the fridge and place them one by one on a oven rack (the one that has lines, so the melted chocolate which you will be covering the balls can fall nicely on a baking paper and your bliss balls will be evenly covered). One by one take one cookie dough ball and dip it into the chocolate sauce and make sure you use a spoon to help you to cover the ball with all the melted chocolate (do not remove the melted chocolate from the heated water – keep it on their as the balls are a bit cold from the fridge and your melted chocolate needs to be heated the whole process so the chocolate doesn't crumble). After this place, the covered chocolate cookie dough bliss ball on your metal rack and sprinkle the pistachios on top of it while the cholate is still warm and has not settled yet. Once you have finished glazing all the bliss balls with chocolate, put them back into the fridge for the chocolate to settle for around 20 minutes.
Once you have the basic recipe down, you can play around to make different variations. Here are five delicious edible cookie dough flavors. They all use the basic recipe as a base: 1. Chocolate Chip Cookie Dough — This takes the basic dough from above and adds chocolate chips. 2. Double Chocolate Chip Cookie Dough — Add unsweetened cocoa powder and chocolate chips to the basic recipe. 3. Peanut Butter Cookie Dough — for the basic cookie dough recipe with peanut butter add crushed peanuts. 4. Oatmeal Cookie Dough — Swap a bit of the flour called for in the basic recipe with old-fashioned rolled oats and add ground cinnamon. For oatmeal raisin cookie dough, mix in raisins.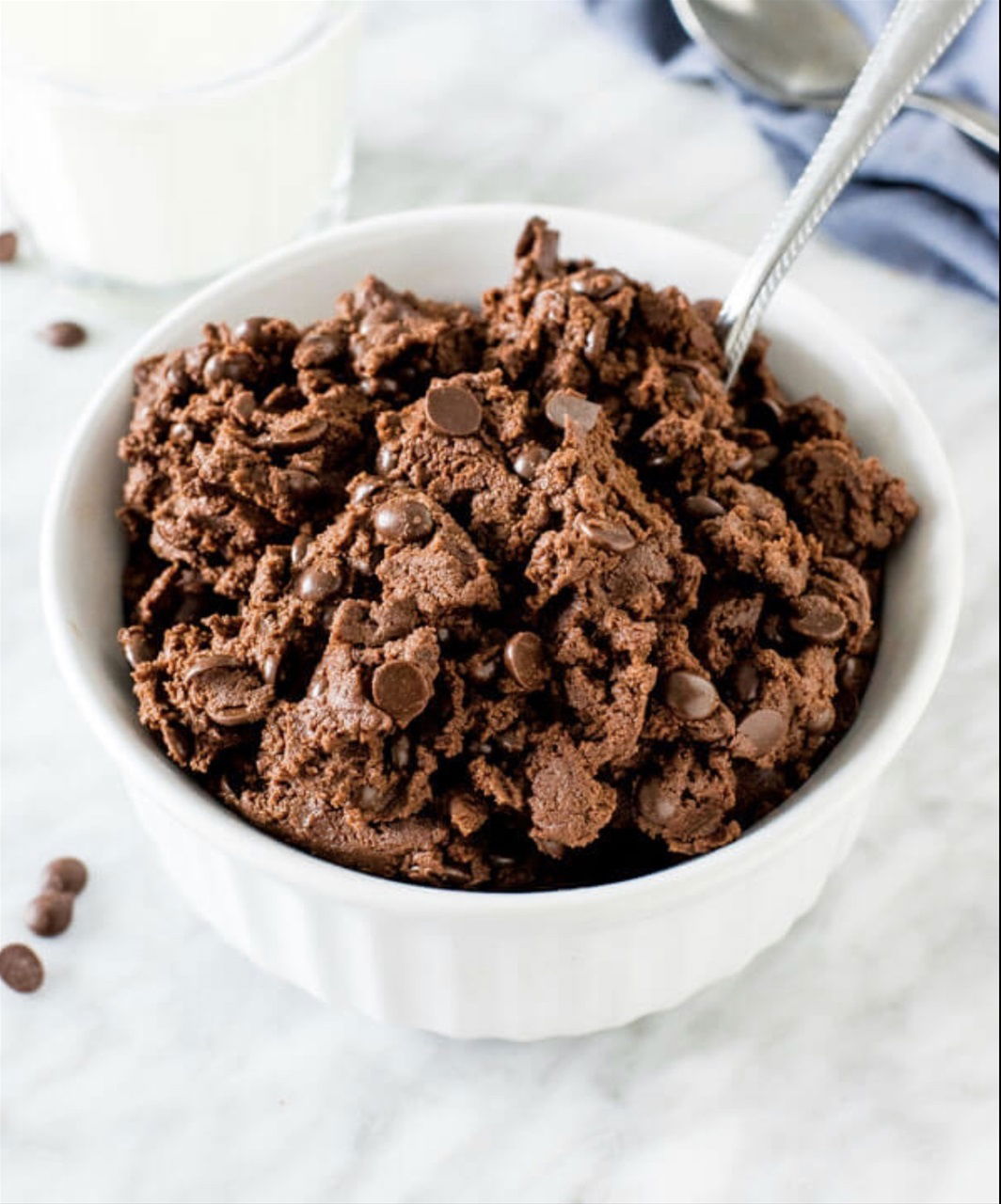 ' Creaming the peanut butter '
Beating together peanut butter and sugar is almost always the first step in a cookie dough recipe. Start with butter that's softened and use a mixer to beat in the sugar until the mixture is light and fluffy. This usually takes about 3 to 5 minutes; just keep beating until it's no longer grainy when you rub it between your fingertips. As you cream the butter, you force in tiny air bubbles, which create the structure of the dough and will later help the dough to be smooth and creamy.
' Measure your flour correctly '
Ask two people to measure out one cup of flour, and chances are they'll be slightly (or a lot) different by weight, and that can greatly affect the results of your recipe. For the most accurate flour measurement, spoon it lightly into a dry measuring cup, then level it off with a knife. Never dip the measuring cup into the flour or tap the knife against the cup — you'll pack too much flour into the measuring cup, and end up with tough, dry cookies.
' Add your dry ingredients in batches '
If the flour is added all at once, the dough would be too stiff and difficult to mix together. The more the flour and liquid are mixed, the more gluten will develop, creating a dense cookie dough. Adding the flour in batches also ensures the dry ingredients get evenly dispersed.
' Fold in chocolate chips by hand '
Folding the chocolate chips, and other cookie add-ins, in by hand reduces the chance of over mixing the dough, which can result in a tougher cookie.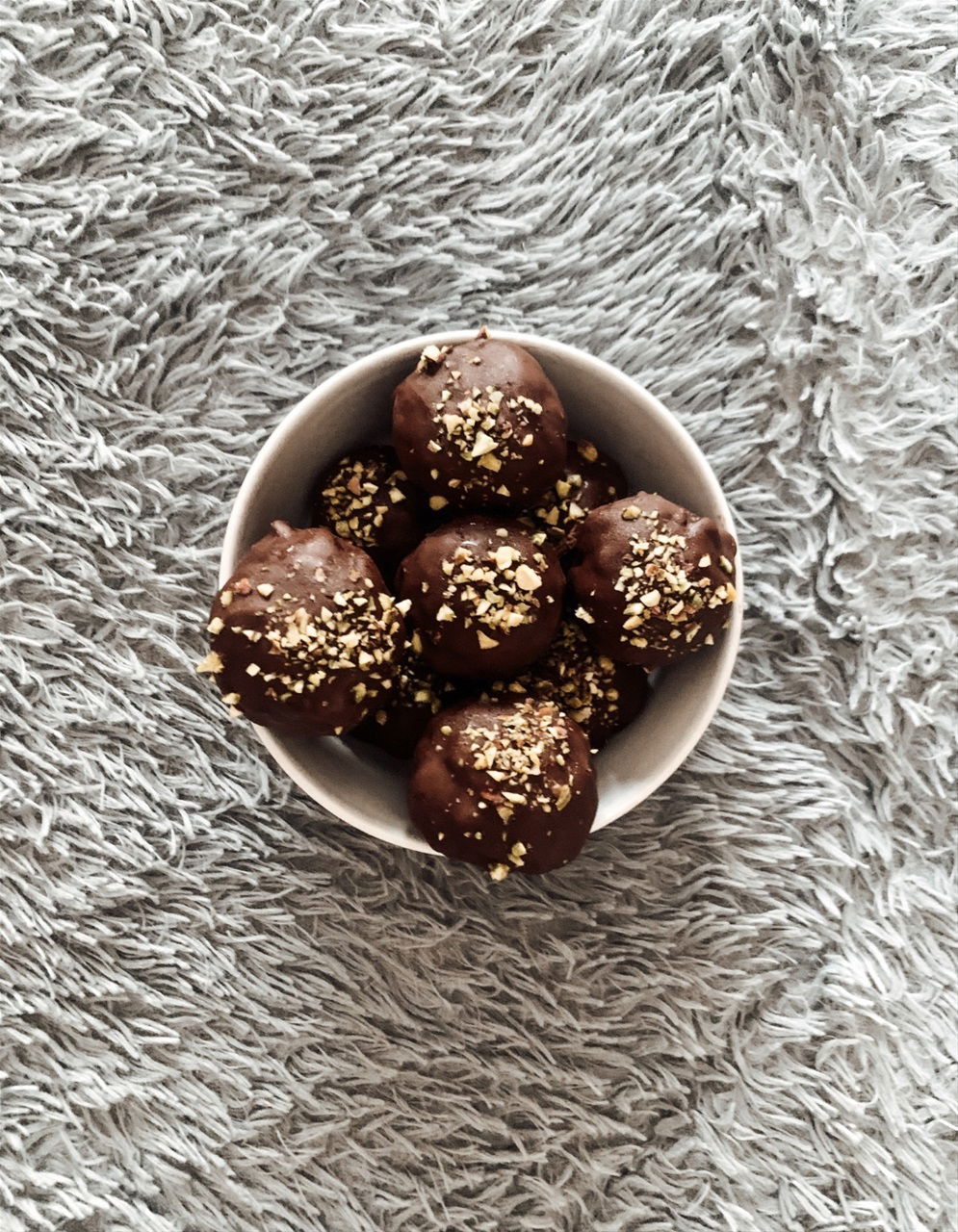 ' Vegan edible cookie dough eating and modification ideas '
This vegan cookie dough is great for so many different things! You can use it as a dip, to stuff in between cookies, or just to eat by the spoonful. Changing the flavor for this cookie dough is easy! All you need to do is put in different add ins. The main dough is a blank slate for basically anything! Here are a few ideas for what you can add inside: • Swirl in any of your favorite peanuts (or any nut and seed butter) • Sprinkles • Pretzels • Potato chips (yep!) • Raisins • Nuts of any kind • Dried fruit • Shredded coconut • Candied ginger or other fruit • Crushed up toffee • Mix it into ice cream • Put it in hot cocoa • Roll it into balls and dip in chocolate to make truffles • Roll into balls and eat it as a protein ball • Use it as frosting on cupcakes
' Make sure you kill the bacteria in the flour '
Traditional flour is made from raw wheat grains, because it is raw it has the potential of carrying harmful bacteria that can make you sick. You need to heat the flour to 160 degrees to kill off any of that potentially harmful bacteria. Because most things using flour is baked, you are good to go. But when it comes to raw cookie dough, you need to make sure to heat the flour (in the microwave is an easy way) before you would be considered safe to eat it raw.
' Tips for picking your ingredients '
• Brown Sugar– Gives the cookie dough the authentic flavor. Avoid using dark brown or muscavaco sugar, otherwise, it will be overpowering! • White Sugar– When paired with the brown sugar, it provides the cookie dough color and flavor. • All-purpose flour– You can use any flour of choice. • Vanilla Extract– A MUST for anything involving cookies! • Salt – Brings out the sweetness! • Vegan butter– Use a good quality vegan butter brand, as cheaper brands contain added water to bulk up. • Dairy Free chocolate chips– Use a mix of mini chocolate chips, standard chocolate chips and chocolate chunks for all the textures! • Use vegan or almond butter instead of creamy peanut butter if you wish. • Virgin coconut oil is just magical. It melts in your mouth and doesn't taste too terribly coconut-y. The temperature of the oil makes a big difference on the consistency here. I consider coconut oil a healthy fat.
' How long does this cookie dough last '
This will last in the refrigerator for 5-7 days after making. I wouldn't keep it much longer than that as you don't want any bacteria to form that could make you sick. Also, the flavor and texture begin to decline after about the 4th day. So the sooner you eat it the better! The best thing to do is to freeze the cookie dough you don't think you will eat right away. Then defrost on the counter when you want more! You can freeze this cookie dough up to 2 months. You should store this raw cookie dough in an air tight container in order to keep it best. If freezing, I like to wrap it in plastic wrap first to reduce the chance of freezer burn.
' Is vegan cookie dough safe to eat '
Yes! This is one of the best perks of vegan cookie dough. Because there are no eggs, there isn't anything that can make you sick. The only catch is the flour that you use to make the cookie dough.
' Can I bake this cookie dough '
No, please don't try to bake this cookie dough. With its lack of egg and leavening (baking soda/baking powder) the cookies would spread and be flat, and you wouldn't end with a soft and chewy cookie.
' Storage & Nutrition '
Serve the cookie dough or the bliss balls right away or chill in refrigerator in an airtight container up to one week. You can freeze this cookie dough up to 2 months. You should store this raw cookie dough in an air tight container in order to keep it best. If freezing, I like to wrap it in plastic wrap first to reduce the chance of freezer burn. I put the wrapped cookie dough in an airtight container. This will last about 3 months in the freezer for best results!
Servings: 12 bliss balls or 4 cookie dough portions
Calories: 265 cal
I truly hope you will find the above vegan cookie dough bliss balls delicious and healthy as I do. Enjoy these beauties!
- SiggyBlog -