Chocolate chip cookies have been one of my favorite desserts for as long as I can remember. Chocolate chip cookies are a classic and seemingly simple sweet treat, but the perfect batch can be surprisingly difficult for some bakers to master. With just one little change to the recipe or baking time, these sugary snacks can come out of the oven looking or tasting completely different. These vegan chocolate chip cookies are everything you could ever want in a chocolate chip cookie recipe – soft, chewy, and melt-in-your-mouth delicious!
These are vegan cookies that taste just like regular chocolate chip cookies – by not using any flaxmeal, chia seeds, chickpeas (we love those ingredients on daily bases but by the end of the day can't put them into all dishes we eat), I have also added additional notes of ingredients for people who would like to make them gluten – free. This is my tried-and-true (I will be honest it took me a while to come out with a simple and balanced vegan cookie recipe) best vegan chocolate chip cookies recipe that both vegans and non-vegans love. They're super easy to make, basic ingredients and they are great for lunchboxes or parties. How is it possible that these secretly vegan cookies taste so much like traditional chocolate chip cookies? It is because they are made with only traditional chocolate chip cookie ingredients! No one can ever believe these soft and classic chocolate chip cookies are vegan!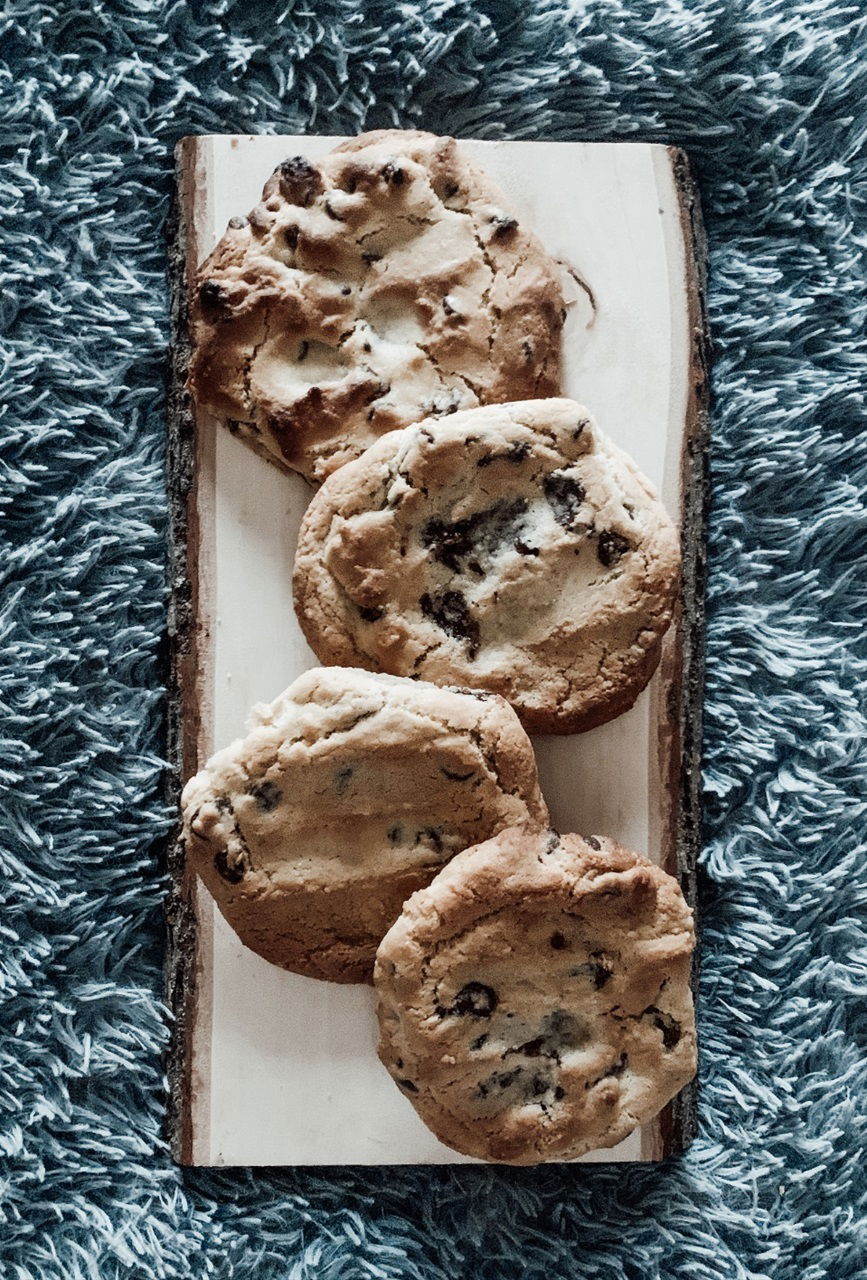 Ingredients
1 cup all purpose flour (for gluten-free recipe use almond or coconut flour)
1/4 teaspoon of baking powder
1/4 teaspoon of salt
1/4 cup of white sugar (unrefined)
1/4 cup brown sugar or coconut sugar
3/4 or 1 cup of vegan chocolate chips (you can put as much as you wish)
4 tablespoons of coconut milk (or any other plant-based milk, unsweetened)
3 tablespoons of refined coconut oil
1 teaspoon of vanilla powder (optional)
2 tablespoons of coconut milk powder (optional; if you want your cookies to be extra chewy)
1/3 cups of cacao powder (use if you want to do chocolate flavored cookie)
Combine all dry ingredients in a bowl - flour, baking powder, salt, and vanilla powder (and cacao powder, if you are doing chocolate flavored cookies); make sure you combine them all well. In a separate bowl (in a plastic one if possible) mix the sugars; put some water in a pot and bring the water to a boil. Once the water is boiling, turn it off from the heat and place the sugar bowl on top of the hot water. In a separate boil mix together room temperature coconut milk and coconut oil (if any of those ingredients are cold the coconut oil will crumble, and you will not be able to mix with the sugars correctly). Make sure to use refined coconut oil, as virgin coconut oil has a strong flavor (unless of course you want a strong coco-nutty flavor in your cookie).
Now add the oil and milk into the sugars – stir frequently until all ingredients are well combined and you can see that the sugar is slowly melted. Stir until everything well combined – about 5 - 8 minutes. Do not turn on the heat to boiling again – as this might burn the sugar and coconut oil, which might give a burned flavor to the cookies later. Once you have completed the mixing of the sugars, oil, and milk – make sure you removed it from the heated water before mixing in the flour mixture. Slowly start to add the flour into the sugar mixture. You can do it by hand or use a food processor to mix it. The dough will be dry at first, so keep stirring until a cookie-dough texture is achieved (should be a bit sticky and wet-like looking). If needed, add 1-2 tablespoons extra milk of choice.
Once you have completed the dough, form the dough into one big ball in a bowl, cover it with cling-film, then either refrigerate at least 2 hours or freeze for 30 minutes until the dough is cold – do not skip this step, it is important to cool down the dough. Once the dough is chilled, preheat the oven to 160 degrees. Prepare an oven plate with a baking paper on it. Form dough balls by your hand (or use an ice cream scoop to get even sized cookies), place them on the tray leaving enough room between cookies for them to spread. I use a small trick when I have finished my dough rolling into even balls – I use a spatula to press down each ball a bit (that will give me nice flat cookies; if you do not wish to have flat cookies keep them as even balls). Bake 11 minutes on the center rack – or bake them if they turn slightly golden-brown from the top. They will look underdone when you take them out (that is perfectly fine as we want nice gooey cookies). If you wish to have more baked cookies; fully cooked inside and out leave them in the oven for about 15 minutes.
Once you haven taken out the cookies from the oven - let them cool on the baking tray for 10 minutes before touching, during which time they will firm up. If for whatever reason the cookies do not spread enough (climate can play a huge role), just press down with a spoon after baking. You can also choose to make extra cookie dough balls and freeze them to bake later. If you'd like to freeze the dough to have on hand whenever a chocolate chip cookie craving hits, simply roll into balls and freeze in an airtight container for up to three months. When ready to bake, there is no need to thaw the cookie dough first. Just add an additional 1-2 minutes to the cooking time.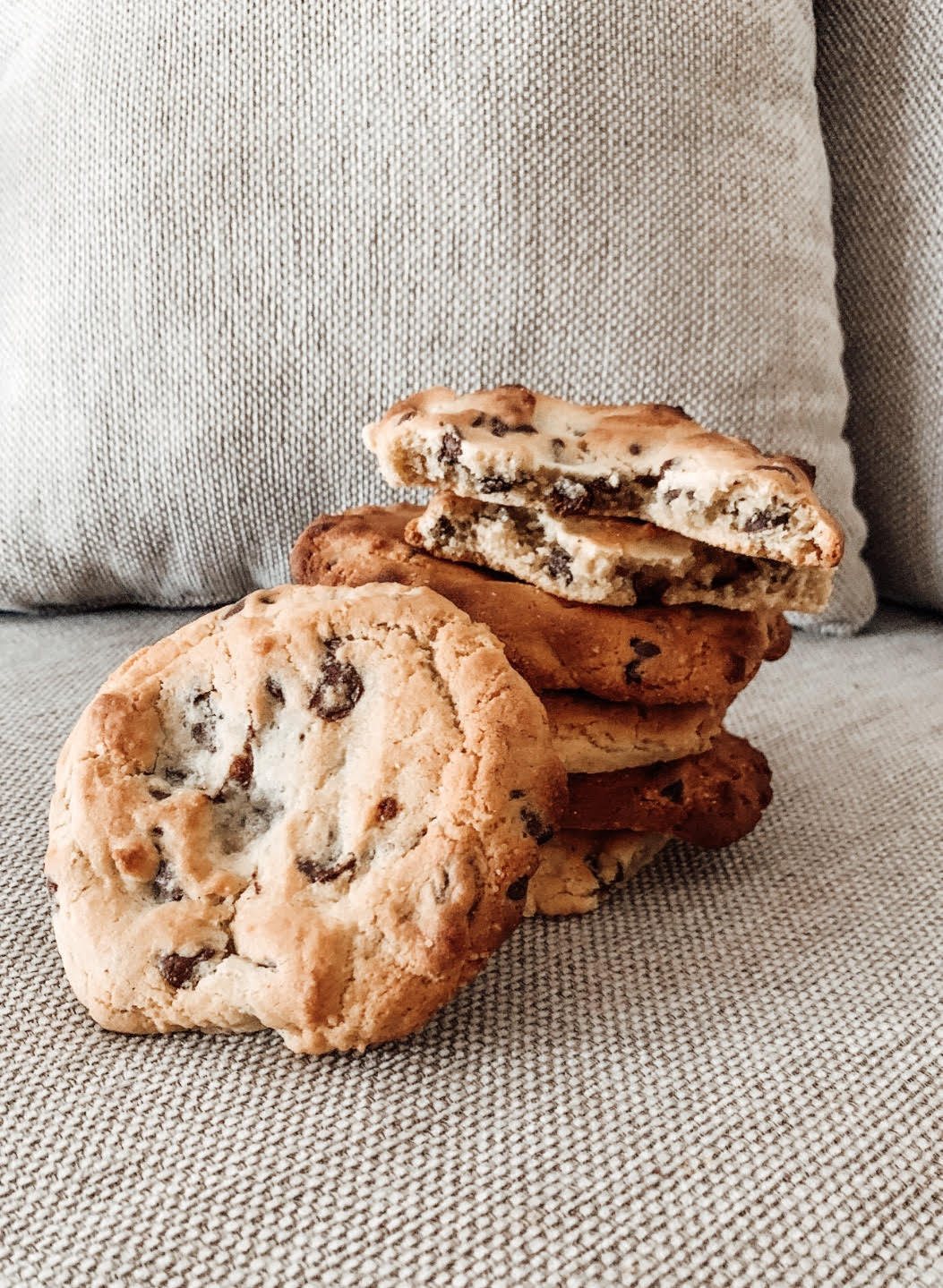 ' Refrigerate the dough '
For the recipe in this post, cooling the dough is a must – do not skip that step or your cookies will not come out as they should. For the recipe in this post. Refrigerating or freezing the dough helps all the ingredients to stay together better – especially as we are not using egg, and these are vegan cookies.
' Shape your cookies by hand '
I've spooned dough without shaping, I've used a special cookie dough scoop to get the rounded top, and yet the thing that works best for me is shaping them by hand. Like, literally, rolling them in between my palms to get a perfect round ball.
' Strategically place your chocolate chips '
Sometimes I put tons and tons of chocolate chips in the dough, but then still in the end the tops of my cookies just look plain white. We want chunky, chocolaty cookies here. So I take a few chocolate chips from the dough bowl intentionally press a few extra into the top to make it look extra chocolate chippy.
' Mix and match your vegan chocolate chips '
At least two, possibly ten different chocolate chips. I love texture, so having at least two types or two shapes of vegan chocolate in my cookie is a must. The slightly different tastes of the chocolate and the varied shapes and sizes of the chips make a more interesting cookie.
' Add powdered milk for an extra-chewy cookie '
This is one of my secrets when I'm just making a vegan chocolate chip cookies at home. Adding two tablespoons of vegan milk powder to your recipe will make your cookies extra - chewy. You can use soya milk powder, rice milk powder, nut-based powder, or coconut milk powder. I am using coconut milk powder that combines well with all the other ingredients.
' If you like 'em thin and crispy or more of a rich, caramel-y flavor '
By adding more white sugar than brown (white sugar has less leavening power than brown), these cookies end up spreading instead of rising, which creates a thinner, crisper treat. Use more brown sugar than white to get a rich, caramel-y flavor. Aside from giving cookies a more cake-like texture, brown sugar can also add a richer, more intense flavor.
' Invest in an oven thermometer '
Many vegan recipes are baked for a bit longer compared to traditional recipes and at a slightly lower temperature, so it's important to know what temperature your oven is actually at. Most ovens run hot or cold, and a drastic difference in temperature can cause your cookies to turn out messed up. A simple way to avoid that is to invest in an oven thermometer and hang it from the grates of your oven. That way, you can check that your oven is actually at the temperature you want it to be at.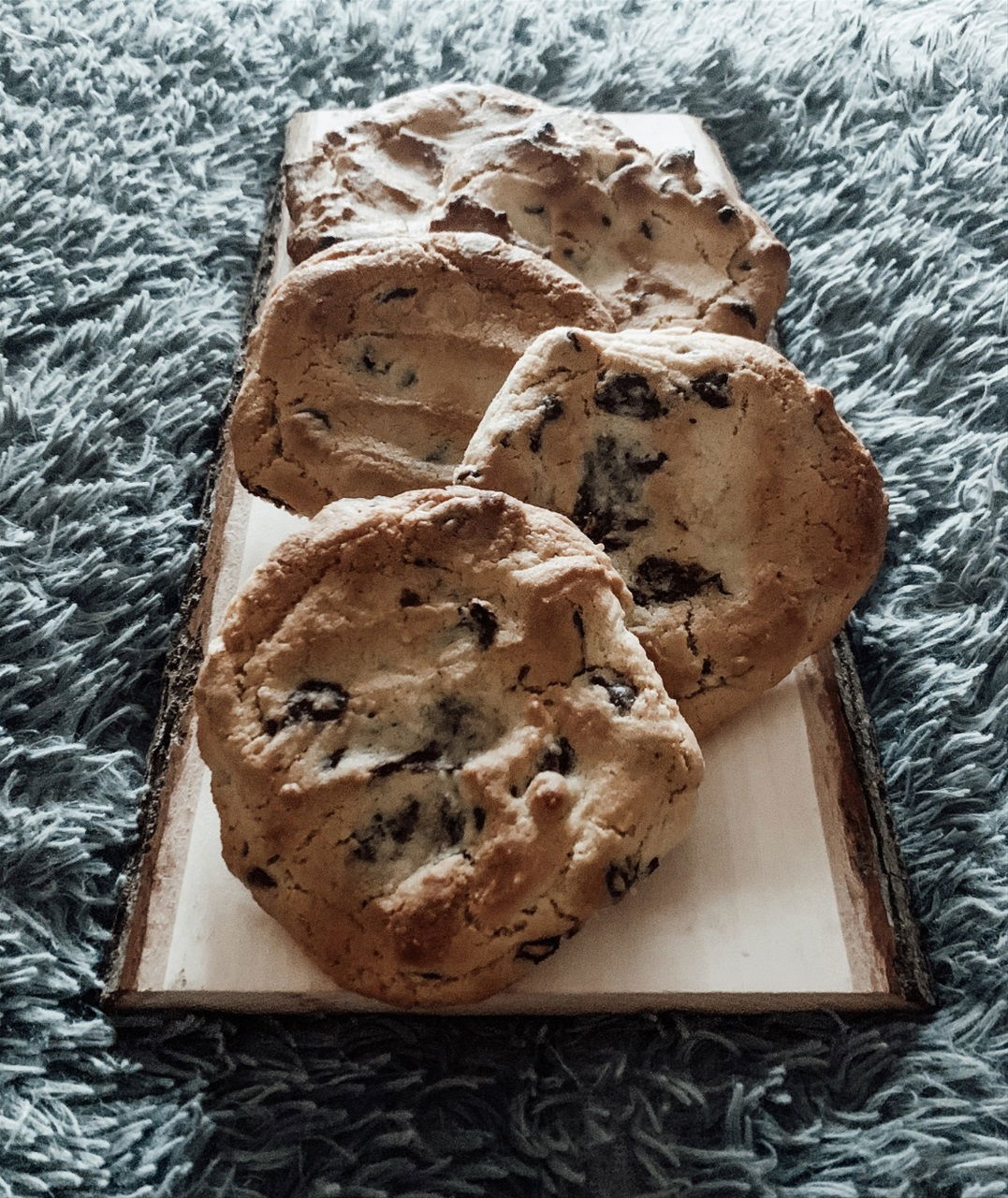 ' Chop your own chocolate chunks to make your cookies more rich and dynamic '
When you chop your own chunks of chocolate, the pieces come out in all different sizes. The variety of these chocolate chunks means a surprise in every bite — plus the pieces often melt more and end up better distributed throughout the cookie than standard chips, which are designed to retain their shape when baked.
' Sprinkle cookies with salt to create a more complex flavor '
Adding a pinch of salt is an excellent way to bring out the flavor of your cookies. Sprinkling salt on a sweet treat like cookies sounds counterintuitive, but science says it actually might make your cookies taste better. Salt helps you to better taste the intense sweetness of sugar.
' When using plant-based milk in your cookies, double check that it's unsweetened '
This will ensure your cookies don't turn out too sweet and give you more control over the finished product. Also keep in mind that not all non-dairy milks are equal — almond milk is thin and acts more like skim milk while coconut milk is thick and has a texture more similar to heavy cream.
' Swap out processed white sugar with sugar that's labeled "evaporated cane juice/sugar '
Some commercial white sugars are processed with bone char, making them not suitable for vegan baking. An easy way to get around that is by using sugars that are labeled vegan or ones called "evaporated cane juice"/"cane sugar". These sugars are usually slightly darker in color but can be substituted cup for cup in most cookie recipes. This also applies to powdered sugar, which is sometimes processed with bone char, so just make sure you're buying brands that are labeled "vegan."
' Don't over bake your cookies — there's no need to worry about raw eggs, so as soon as they're set, take 'em out. '
The disadvantage of baking with eggs is that you have to bake the cookies until the eggs are safe to eat, which means some people over bake theirs due to fear of consuming raw eggs. With vegan cookies, this is not an issue so you can pull them out of the oven as soon as they're set. Nobody wants a dry cookie, and timing them perfectly is the only way to assure that the center is chewy while the outside remains crisp.
' Storage & Nutrition '
For softer cookies, store in an airtight plastic container, and add about 1/4 slice of bread if you have one, which helps keep the cookies soft. For crispier cookies, store in a glass container. Baked cookies will last for 2-3 days in these conditions. You can freeze the cookie dough up to 3 months.
Servings: 8 cookies
Calories: 230 cal
I truly hope that you will find the above vegan chocolate chip cookie recipe as delicious as I do. Enjoy this beauty!
- SiggyBlog -