You know what hits the spot absolutely every single time? Brownies. They are the great dessert fail-me-not. These super fudgy, melt-in-your-mouth, and outrageously chocolaty vegan brownies are the brownies of the moment. For a couple of weeks now, I have tried several vegan brownie recipes – all in a attempt to create the most perfect vegan brownies recipe. I will be honest – it was a bit of a struggle. Either they were too fudgy, or too cake-like; or one batch that cooked fine on the outside but wouldn't fully cook near the middle and so on.
I had to do some serious brownie research, read about ingredients, what makes a brownie cake-like, what makes them more fudgy, how to create the right balance for what I was looking for, and then think about the best vegan swaps for the result I wanted to achieve. Finally, just a few days ago, I made one more batch of vegan brownies, after carefully creating the recipe. I was so excited as the batter tasted incredible, and after baking they looked gorgeous in the pan. When I took the first bite, I knew, I had finally created the perfect vegan brownies recipe! They are thick and hold together when you slice them. Fudgy, but not overly so, chewy, rich, gooey-gooey and full of chocolatey goodness. No one would guess they're vegan!
This really is the best vegan chocolate peanut butter brownies recipe! Fudgy, gooey, super tasty, perfect squares of chocolate that cut easily and are easy to make. You will want to bake them all over again and again!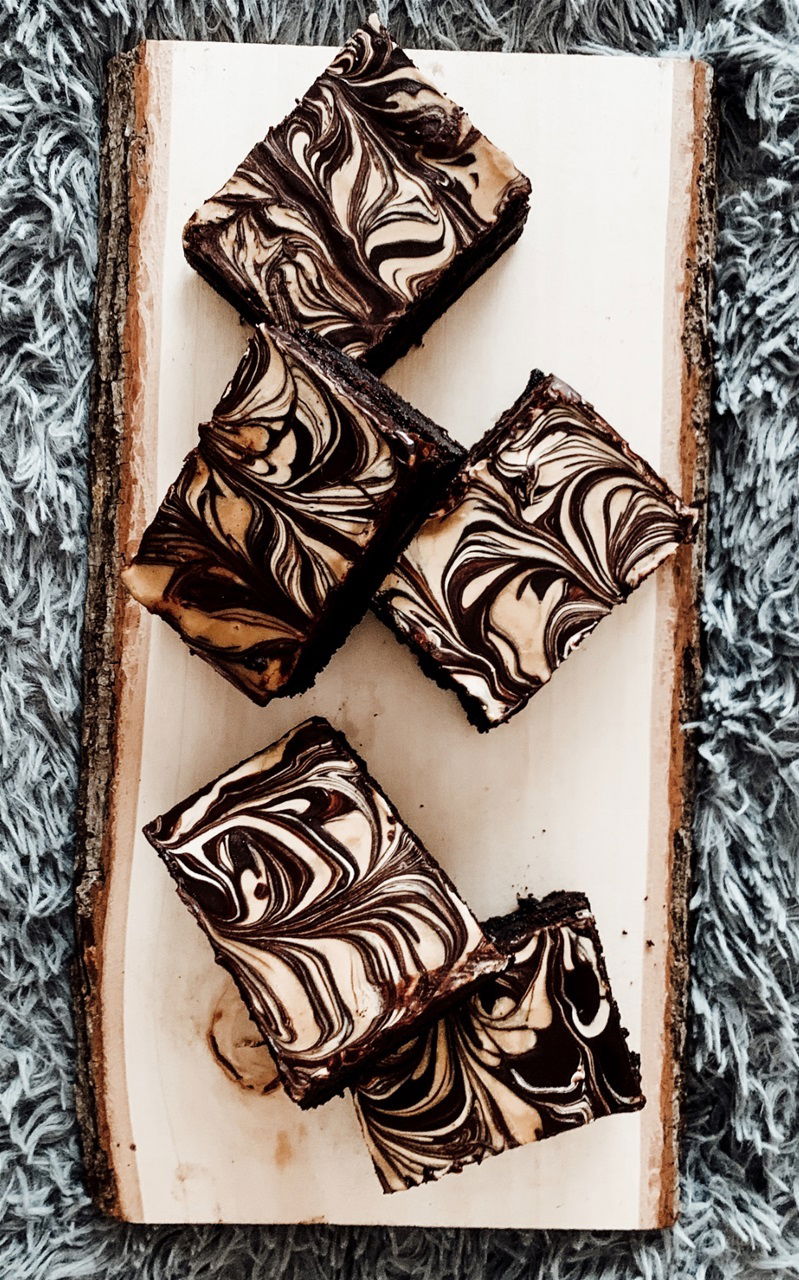 Ingredients
½ cup of almond or coconut milk (unsweetened) or 1/3 cup brewed & cooled coffee (for the most chocolaty flavor)
½ cup of peanut butter
1 cup of granulated sugar
1 cup muscovado sugar
1 tablespoon of vanilla powder
1 cup of all-purpose flour (or use almond or coconut flour for gluten - free option)
1 cup unsweetened cocoa powder
1 teaspoon of sea salt
1 teaspoon of baking powder
1 cup of vegan chocolate chunks (70% cacao; optional if you want more chocolaty and gooey brownies)
4 teaspoons of baking soda & 4 tablespoons apple cider vinegar
(or use 4 tablespoons ground flax by mixing with ½ cup of water)
Chocolate Peanut Butter Topping
¼ cup of peanut butter
200 g vegan dark chocolate (70% cacao)
We start off by mixing apple cider vinegar and baking soda in a bowl, then set aside for 5 minutes. There's a science project-worthy reaction that happens when you combine baking soda and vinegar: It bubbles up and increases in volume. That's what happens when you add it to dough or batter, too: It'll fluff up your baked goods, sort of like eggs do - therefore a perfect replacement for eggs. You can also use flax eggs if you wish. Make the flax eggs by stirring the ground flax and water in a small bowl. Set aside for 5 minutes to thicken.
In a separate bowl mix together all-purpose flour, vanilla powder, baking powder, sea salt and cocoa powder (I use Hintz Cocoa Powder – it is unsweetened and 100% natural; super good for baking and gives amazing flavor). Make sure you mix everything well together – especially the cocoa powder, make sure no lumps are in the dry ingredients mix.
Bring a bowl of water to a boil. In a large separate bowl, mix together muscovado sugar, granulated sugar, coffee (or coconut milk) and peanut butter (make sure you melt the peanut butter first in the bowl; then add the sugars). Stir the mixture above the boiling water until the sugars have dissolved. Now add the vinegar baking soda mix (or the flex seed mixture) - stir until everything is combined and you can see the texture getting fluffy (about 3-5 minutes). Remove from heat once the mixture is ready. Over the wet ingredients bowl, sift in slowly the dry ingredients mixture. Stir with a large wooden spoon until just combined, do not over mix. If you wish to have more chocolate flavor brownies, you can now add melted chocolate chunks into the batter mix.
Preheat the oven to 160 degrees and line a baking pan with parchment paper. Pour the batter into the prepared pan and smooth out the top with a spoon or your hands. Bake for 20-30 minute, I would advise to check the brownies every once and a while by sticking in the middle a wooden toothpick and see if the mixture is still raw. Pick the baking sheet up about halfway through the baking cycle and give them a gentle but firm rap against the oven rack: this causes the brownie to "fall", keeping it dense and with just the right texture. The brownies may still be bubbling and not look done, but they will firm up a lot as they cool. Remove from the oven, allow to cool in the pan for 15 minutes, then pull the brownies out, using the parchment paper and let cool for another 15-30 minutes before we start to glaze the top of it. The longer you let them cool, the easier and cleaner cutting will be. For now we will only cut the edges of the brownie – for cutting, use a big, heavy knife. Run it under hot water for 30 seconds, dry it quickly and cut the brownies. Clean off the knife in between cuts, and you will have clean brownie squares.
For the chocolate peanut butter topping start by melting the peanut butter above on a bowl of hot water. Stir until it is creamy and smooth. In a separate bowl above the hot water you do the same process with the chocolate (make sure both ingredients are in a separate bowl as we will be mixing them together later). I use vegan 70% cocoa chocolate, as it gives a wonderful dark chocolate taste and the texture is really good as well. Now pour the melted chocolate on top of the brownie, spread it evenly everywhere. To make the ripple pattern, draw 4 lines with the peanut butter and then use a knife to drag in through the chocolate in a perpendicular direction to the lines. Once you have completed the topping put the brownie to the fridge for about 30 minutes for the topping to set. Once the topping has settled, you can cut the brownies into even squares. For cutting, use a big, heavy knife. Run it under hot water for 30 seconds, dry it quickly and cut the brownies. Clean off the knife in between cuts, and you will have clean brownie squares.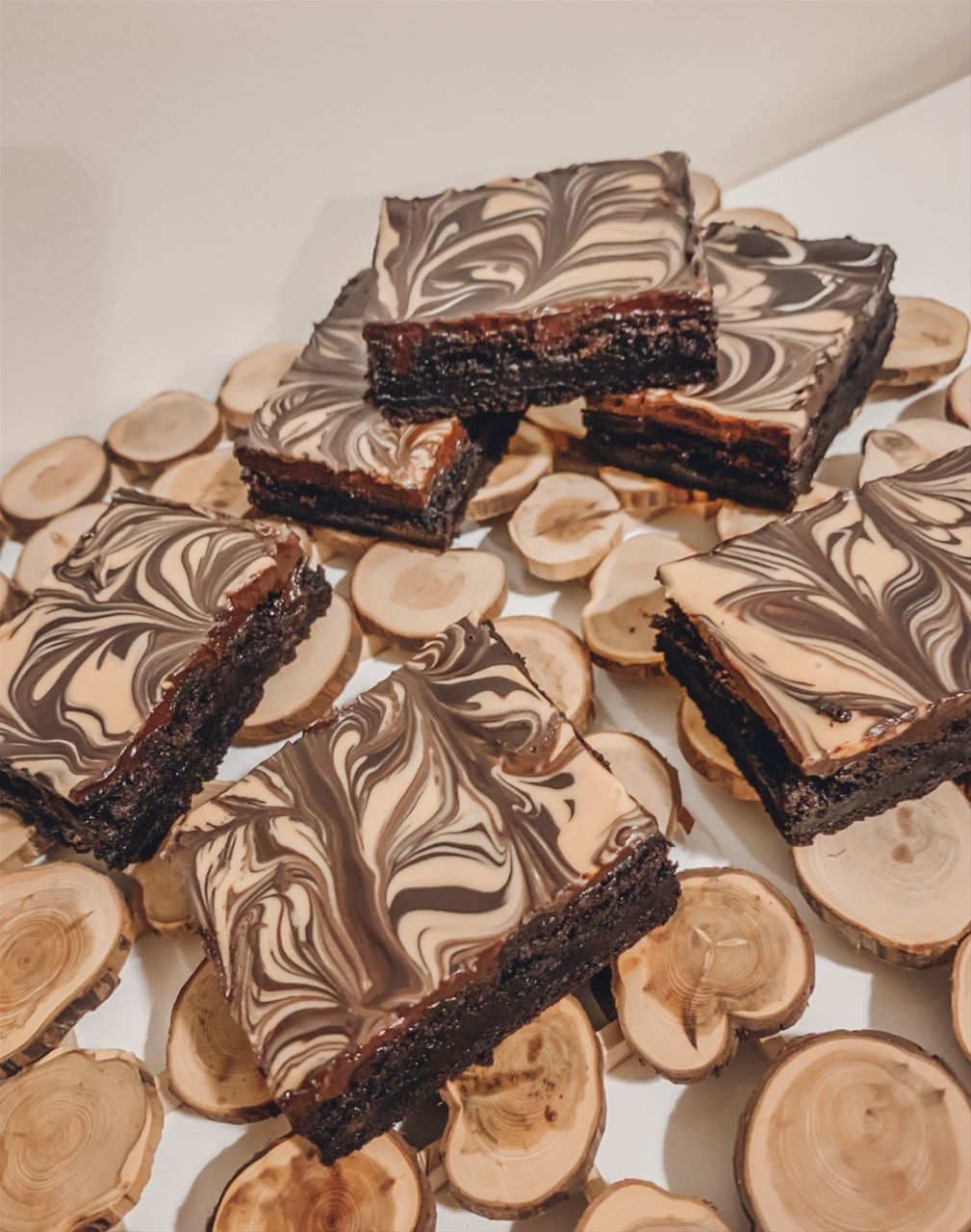 ' Good quality ingredients '
There aren't a lot of ingredients in good brownies, so use the best ingredients you can afford. • Chocolate: Dark is best and should be of a good quality. No baking or compound chocolate here. The darker your chocolate the richer and fudgier your brownies will be as the chocolate sets as the brownies cool. • Cocoa: Use Dutch processed chocolate if you can. It has a smoother flavor and gives a nice dark color. • Coffee: use quality espresso shots for your brownie , Nespresso brand for example, do not use instant coffee as the taste is not the best and neither is the texture. Fresh espresso has a good crema which gives a good balance of bittersweet to your brownie mix. Make sure you cool down the coffee before mixing it with other ingredients.• All-purpose flour: Flour used for brownies is usually unbleached, all-purpose. Cake flour, which is lower in protein, results in a light, crumbly texture that's too delicate for brownies.
' Make a surprise center '
For an unexpected crunch in your brownies, put half the batter in the tin, top with a layer of your favorite biscuits (whole bourbons or crushed amaretti work well), then smooth over the remaining batter and bake.
' Choose the right recipe '
Some people love light, cakey brownies, others prefer fudgy, denser ones. If you fall into the first camp, use the recipe above that uses cocoa powder instead of melted chocolate. If you're after a gooier confection, use in your recipe extra melted chocolate and butter (vegan, peanut or almond).


' Sift in the dry ingredients '
Sifting the flour and cocoa directly into the wet ingredients will remove any lumps making it easier to mix into the brownie batter without removing any air.
' Best way to cut brownies '
If you are making vegan brownies for a party or to serve to others, it's important to follow a couple of steps to get really nicely cut brownies. This is true whether they are vegan brownies or not! It is helpful to line your pan with parchment paper that hangs out the sides for easy removal. After baking, let the brownies cool off for 15 minutes in the pan, then lift them out of the pan with the parchment paper and let cool 15-30 minutes more on a cooling rack. The longer you let them cool, the easier and cleaner cutting will be. To cut, use a big, heavy knife. Run it under hot water for 30 seconds, dry it quickly and cut the brownies. Clean off the knife in between cuts, and you will have clean brownie squares.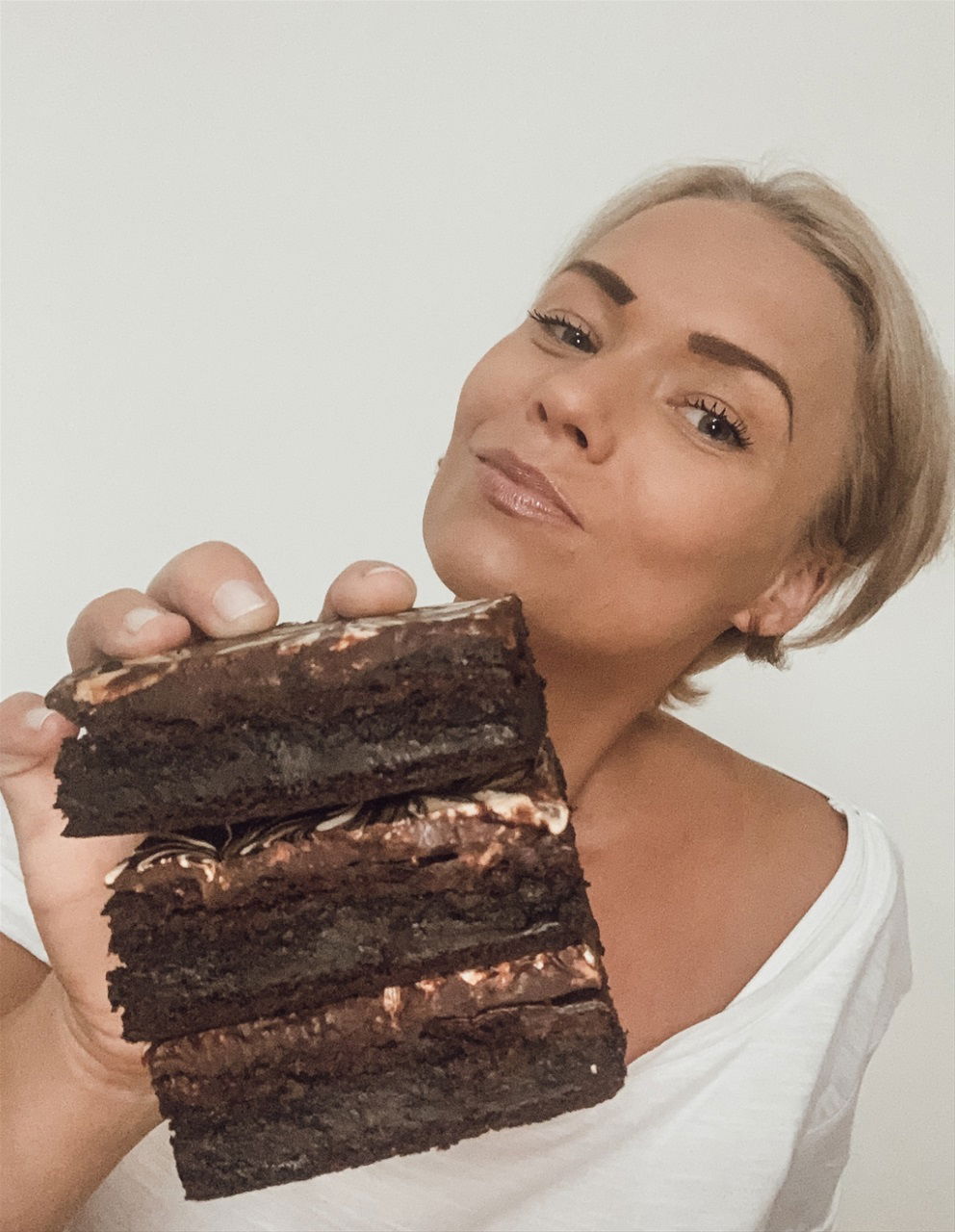 ' Check the brownies in the oven '
Different recipes will have different cooking times but always test them a few minutes before the cooking time is up. Even if a recipe tells you the brownies will take 20-30 minutes, check them at 18 minutes and then again at 25 minutes. Everyone's oven differs as do their cooking vessels. Brownies will continue to cook after they're removed from the oven, so they are always best under-cooked than overcooked. If you do over-bake them, don't worry. Slather the top with chocolate spread or ganache before cutting, or, if they're beyond eating whole, crumble them into an ice cream sundae or use as the base for a trifle.


' Choose the right pan '
Choose the right pan Light-colored, shiny pans produce the best results as they conduct heat more evenly. If you must use glass or dark colored pans, reduce the oven temperature by a couple of degrees as they can cause the edges to over-bake or burn. Brownies in glass or ceramic dishes will take longer to cook than those in metal tins.
' Baking tips '
Don't bake 2 sheets of brownies at the same time, brownies must be baked in the middle of the oven to cook through and brown evenly. To prevent burning the bottoms of your brownies, place the pan on a preheated cookie sheet. Pick the baking sheet up about halfway through the baking cycle and give them a gentle but firm rap against the oven rack: this causes the brownie to "fall", keeping it dense and with just the right texture. To improve the texture of brownies, place the unbaked batter (in the prepared pan) in the refrigerator for several hours or even overnight.
' Use room temperature ingredients '
Make sure all your ingredients are at room temperature. If your flour is too cool or your coffee, milk being used straight from the refrigerator or your water is too cold, or the chocolate too hot, you'll "shock" the ingredients and affect the brownie's density and texture.


' What can I use instead of peanut butter in my brownie '
If for any reason you do not wish to use peanut butter in your brownie batter, there are other ingredients you can use instead of it. Coconut oil does not work very well in place of the peanut butter; it makes them very oily, so I don't recommend it. You could use either applesauce, banana, vegan butter or almond butter if you are oil free.
' Storage & Nutrition '
Store brownies in an airtight container at room temperature for up to 3 days. You can also store them in the refrigerator for up to 5 days. Place brownies in an airtight freezer-safe storage container in the freezer for up to 3 months. Let thaw in the refrigerator overnight.
Servings: 12 brownies
Calories: 260 cal
I truly hope that you will find the above vegan chocolate peanut butter brownie recipe as delicious as I do. Enjoy this beauty!
- SiggyBlog -