Cheesecake is a sweet dessert consisting of one or more layers. The main, and thickest layer, consists of a mixture of soft, vegan cream cheese, coconut cream and sugar. If there is a bottom layer, it often consists of a crust or base made from crushed cookies, graham crackers, pastry, or sometimes sponge cake. Who doesn't love cheesecake? I absolutely love cheesecakes and I can never get enough of it. A creamy, dreamy cheesecake is always perfect – no matter what time of the day it is. If you agree with me and you love cheesecake, I am sure you are going to love this classic vegan cheesecake recipe too! It is super easy to make with few ingredients and it tastes out of this world. Really, it tastes exactly like a classic New York cheesecake – and its vegan! This cheesecake is super creamy, absolutely delicious, full of vanilla, and topped with a berry sauce! It's a easy cheesecake recipe, full of all the delicious flavors - its egg-, dairy-, and gluten - free!
Cheesecakes can be intimidating to make, but once you've made a homemade cheesecake you'll see that it's really not scary at all – just maybe a little time consuming. Leaky pans, cracks and fallen centers are all things that can make a cheesecake go awry, but I am going to share my tips for how to make a perfect cheesecake - which can help you avoid those pitfalls. The trick is in the little details. Be sure to take your time as you get comfortable with baking a vegan cheesecake, use these helpful tips and make the best cheesecake ever! Let's get started!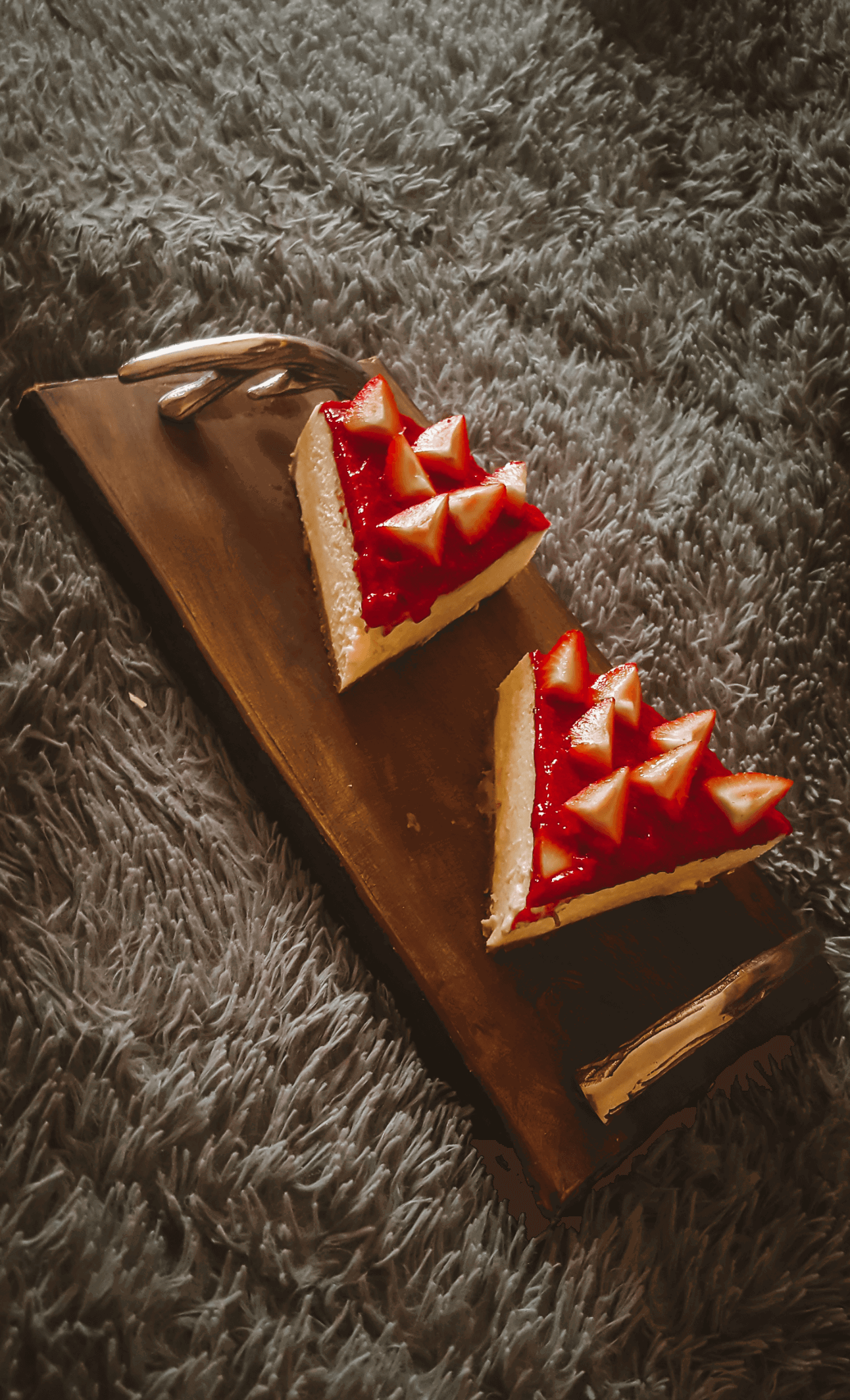 The Cookie Crust (20 cm pie form)
250 g Biscoff cookies or use Graham crackers gluten - free
100 g Earth Balance Vegan Butter Sticks
The Cheesecake Filling
850 g Daiya Cream Cheese ( or use the same amount of firm tofu )
400 ml Earths Finest Organic Coconut Cream
200 g Nutova Organic Coconut Sugar
4 tablespoons of cornstarch
2 Vanilla pods
Fresh lemon juice from 1 lemon ( fine strained )
The Berry Sauce
100 g frozen strawberries
100 g frozen raspberries
100 g frozen cranberries
2 tablespoons of cornstarch
2 tablespoons of water
2 tablespoons of coconut sugar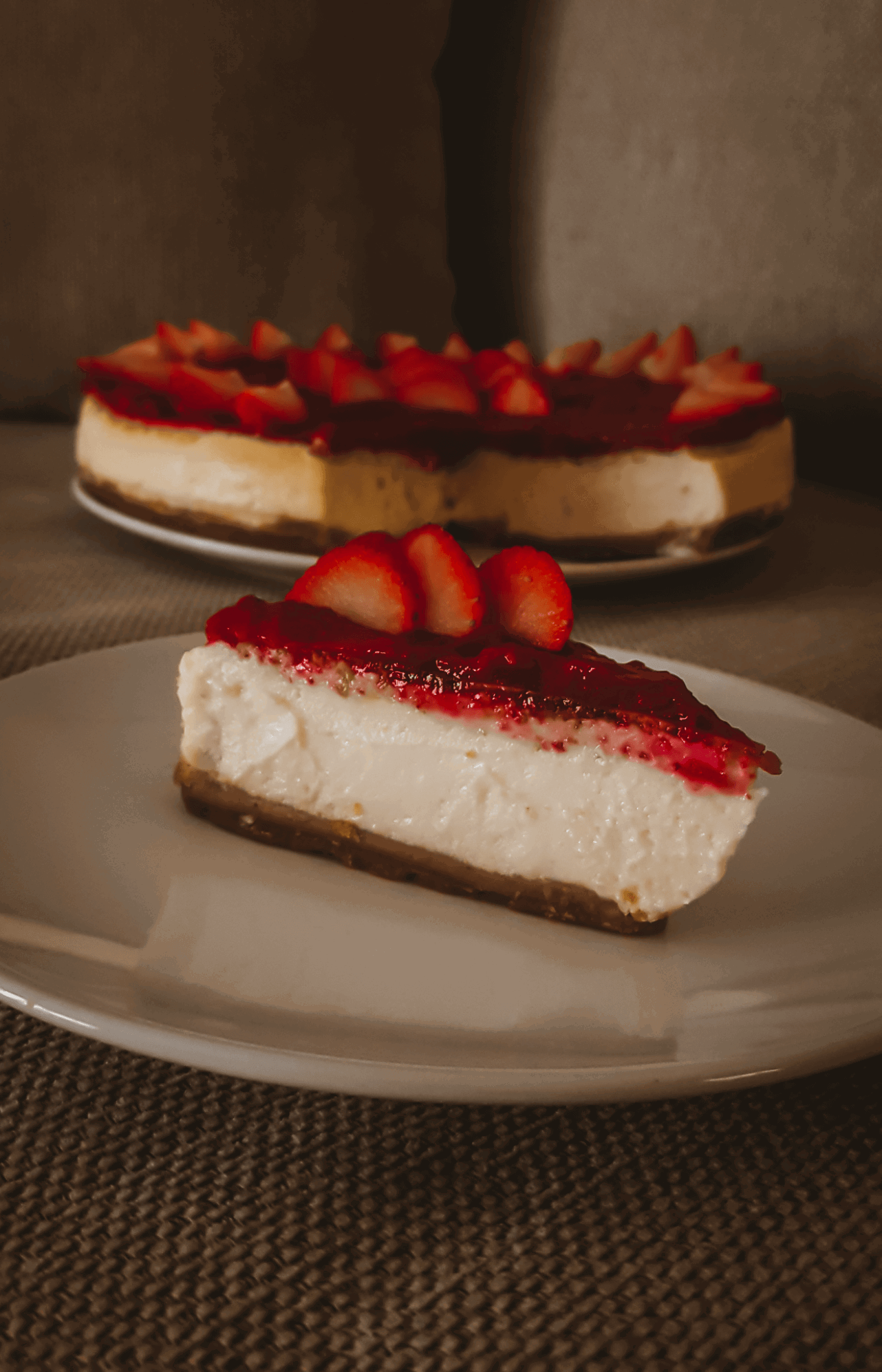 Before we get started make sure all your ingredients (including butter and cream cheese) are on room temperature. Preheat the oven to 175 degrees. Lightly grease or use coconut oil cooking spray on a 20 cm springform pan and line the bottom and sides with parchment paper - then set aside. We start by making the crust first. Add the cookies into a food processor and crush until fine. Or place the cookies into a freezer bag, squeeze the air out, seal the bag, and crush the cookies with a rolling pin. Combine the crumbs in a bowl with the melted vegan butter - mix well till everything is well combined. Transfer the mixture into your prepared springform pan and press firmly with your fingers into the bottom of the pan, make sure all the bottom is well covered evenly. Set it aside while you make the filling. Now take the 2 vanilla pods. Splitting the vanilla pods and removing the seeds helps to release their flavor. With a sharp knife, slit the vanilla pod length-ways. Scrape the seeds out with the knife tip.
In a mixing bowl, beat the cream cheese with an electric hand mixer until smooth and creamy. Then mix in the coconut cream, sugar, cornstarch and lemon juice. Beat until smooth, scraping down the side of the bowl as needed. Once the mixture is well combined, add in the vanilla seeds - stir until well combined. Take the springform pan and wrap the outside of the pan with a double layer of aluminum foil, covering the bottom and the sides. Place the wrapped pan in a large baking pan. Pour the cheesecake filling over the cookie crust, spreading out evenly. Now pour in the large baking pan about inch of hot water. Place the pan in the oven and bake for 1 hour. Keep an eye on the cheesecake top, if it look like it is too brown - simply cover the top of the cake with a baking paper. After 1 hour baking turn off the oven and let the cheesecake sit in the oven another 1 hour. Then open the oven door and allow to cool to room temperature. Don't worry if the cheesecake is still wobbly because it will set in the fridge. Remove the cheesecake from the water bath and, carefully, remove the foil. Place in the fridge overnight to set completely before removing from the pan. Please do not skip any of the mentioned steps - as those are important steps to follow for you to have a silky smooth and creamy cheesecake.
Now we will prepare the berry sauce. In a pot, thaw and puree the frozen fruits or use a food processor for the berry puree. Add the sugar and bring to a boil. Dissolve the cornstarch in a little water, then stir into the berry sauce. Bring to a boil again while stirring, and cook for 1-2 minutes until thickened. Let cool as it will thicken up more. You can garnish your cheesecake with the berry sauce and with fresh fruits. Enjoy!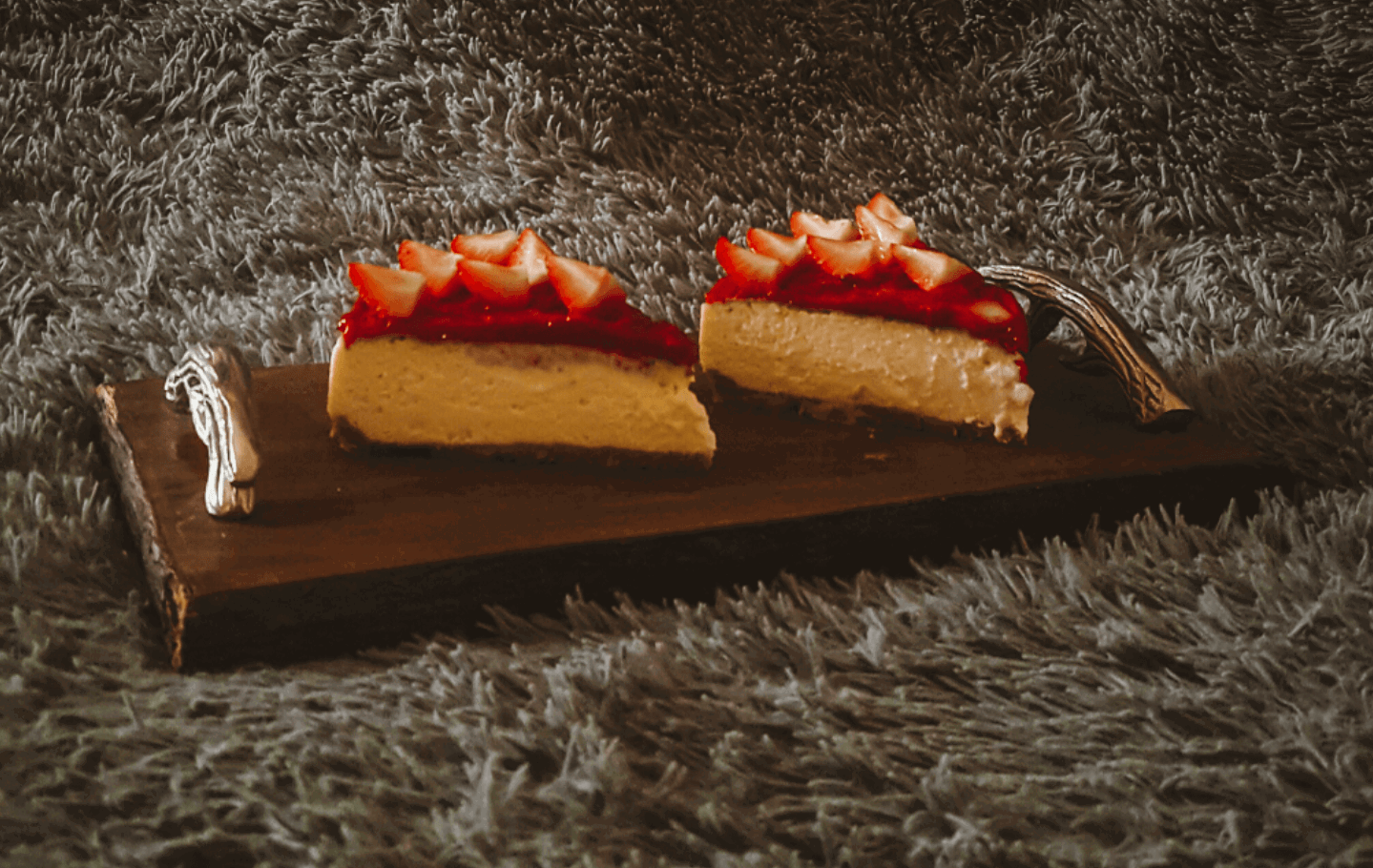 ' Your vegan cream cheese and coconut cream should always be room temperature '
This one is really all about making sure that your cheesecake isn't lumpy and that the ingredients combine smoothly. Cream cheese that is too firm won't mix well and will leave you with a lumpy mess, so it needs to be room temperature. Make sure your coconut cream is also on room temperature before using it. It is always a good think to shake well the coconut cream can before use to make sure the liquid is evenly mixed. Also, as far as coconut cream goes, the full fat regular stuff is going to give you the best cheesecake. More fat means more creamy, plus you don't have any fillers or anything that is made to replace fat. For your cheesecake texture to be on point, you don't want anything funky going on.
' Use cornstarch '
I am a believer that a little cornstarch makes a difference in a cheesecake. The starch prevents the proteins from over-coagulating, giving you a creamier texture and helping you prevent any cracks. If you are looking for a gluten free alternative, cornstarch is perfect for that as well.


' Don't over mix the filling '
Both over mixing and mixing on a high speed add more air to a batter. Too much air in a cheesecake can cause cracks a few ways. One – big air bubbles can rise to the surface and create cracks or little craters. Two – adding air causes things to rise and too much rise in a cheesecake isn't a good thing. It can rise too much or too quickly and then fall and crack.
' Use a water bath '
This is a step that most people want desperately to avoid, but trust me – the extra time it takes is totally worth it. The benefits are many. First, the water bath generates steam that helps keep the cheesecake from drying out and cracking. Second, the water bath keeps the sides of the cheesecake from baking more quickly than the middle. It helps bake more evenly, also helping prevent cracks. A water bath is a pan of heated water that surrounds the pan with your cheesecake. It acts as a buffer for heat so your custard bakes gently and evenly. If you want to be cheffy about it you can call a water bath a bain-marie. The pan you use for your water bath needs to be bigger than the springform pan for your cheesecake. It also needs to hold enough water to come halfway up the side of the springform pan. If you forgo the water bath, you are often left with a cheesecake that falls in the middle, browns too much around the edges and cracks. All are some of the worst culprits to a perfect cheesecake. Make the time for the extra step and you won't regret it!
' Leak - proof your water bath '
It's such a bummer to go through all the trouble of baking a cheesecake and then have a soggy crust. As much as a springform pan is important to a great cheesecake, they are also the most unreliable pan ever. I've used many a springform pan and only ever found one that didn't leak (and the other 4 of the exact same pan did leak, this was just a lucky one). Springform pans aren't water-tight, and if water from your water bath penetrates your cheesecake, it'll be soggy and waterlogged. Bummer! That's why so many cheesecake recipes call for wrapping the bottom of the springform pan in multiple layers of foil.
' Water bath tips & tricks '
Make sure the water is boiling when you add it to the pan. Even very hot tap water will take a while to heat up, thereby prolonging your baking time and potentially causing uneven baking. Boil the water in a kettle, if you have one. It's a lot easier to pour the boiling water into the pan without spilling it if you are pouring from a kettle. For the water bath, use a 12" or 14" round cake pan that's at least 2" tall, or a rectangular roasting pan. If you don't own a large round cake pan, or a rectangular roasting pan you might need to improvise. You can buy a large foil pan to use as a water bath just make sure to set it on a rigid baking sheet to support all that weight.
' Use a springform pan '
Ok, so now that I've just said how unreliable springform pans are, I'm going to tell you that you still need one. To get that perfect looking cheesecake, you need a pan with removable sides. It's just the way it is. And if you're a lover of cheesecake, you'll use it plenty so it'll be a good investment.
' Don't open the oven and over bake the cheesecake '
If you open up the oven during baking, you'll let out all the good hot, steamy air. The change in temperature can possibly cause the cheesecake to fall in the middle or bake unevenly. In addition to the other things already mentioned, over baking a cheesecake can lead to cracks, much like with a custard pie. You'll know the cheesecake has baked enough when the edges of the cheesecake are well set and the inner few inches are set but still jiggly.
' Do the wobble test '
Set a kitchen timer to the minimum recommended baking time, and check for doneness only when the timer goes off. You'll know it's finished baking when the edges are slightly puffed and when the center wobbles slightly when you tap the side of the pan with a spoon. The retained heat will continue to cook the center while the cheesecake is cooling. Pro tip: Don't use a knife or a toothpick to test for doneness. Do that, and the top might—you guessed it—crack.
' Let the cheesecake cool down '
When the cheesecake has baked enough and is set, but still jiggly, it's time for the gradual cooling process. I typically let a cheesecake sit in the oven with the door closed for about another 1 hour. Then I crack the door of the oven about half way and let it gradually cool some more. This allows the cheesecake to cool slowly, while also finishing baking, which again helps avoid cracking. Just before putting the cheesecake in the fridge, you can run a knife around the edge to make sure it doesn't stick to the sides, or jiggle it around a bit to loosen it from the sides. Slice cheesecake while it's cold. Trust me, it's a lot less messy. To do this, dip a long, thin knife in very hot water, wipe the blade with a paper towel, then slice. Clean and rewarm the knife after each cut.
' Storage & Nutrition '
The cheesecake will last up to 5 days in the refrigerator. It's best to keep it in its original container, and tightly wrapped in plastic wrap if it has been opened. For best results, keep your cheesecake in the freezer until the night before you'd like to serve it. Or freeze it for up to two months by placing the entire cheesecake or individual slices on a baking sheet and freezing until firm. Wrap in heavy-duty plastic wrap and place in a freezer bag. Thaw in the refrigerator.
Servings: 12 cake pieces
Calories: 450 cal
I truly hope that you will find the above vegan New York cheesecake as delicious as I do.
Enjoy this beauty!
- SiggyBlog -