This cake was my childhood favorite when I grew up. Where I am from – Estonia, this cake is called "Kirju Koer" and is until this day extremely popular, so I decided to make delicious vegan version of it. If you ever have a last minute sweet to take for a gathering or for a kid's hangouts, then this is the perfect cake for it. You can put whatever you fancy into this cake extra and it will still taste amazing. You can make it in any shape or in any form. This super easy vegan cake is a none – bake dessert, extremely simple to make and full of lovely chocolate flavors – which are to die for. This is one of those desserts that everyone will love and would never believe it is vegan.
Cake Base Ingredients
1 tablespoon of walnuts
1 tablespoon of peanuts
1 tablespoon of almonds
200 g vegan biscuits (for gluten-free option use gluten - free biscuits)
2 tablespoons of unsweetened cocoa powder
200 g dark chocolate (70%)
113 g vegan butter (baking cubes)
1 teaspoon of instant coffee powder
2 tablespoons of creamy peanut butter (optional)
Cake Glaze Ingredients
1 cup unsweetened cocoa powder
2 tablespoons of vegan dark chocolate chips
1 + ½ cup vegan butter
1 teaspoon of vanilla powder
1 cup of powdered sugar or icing sugar
½ cups of coconut milk (or any plant-based milk)
1 teaspoon of instant coffee powder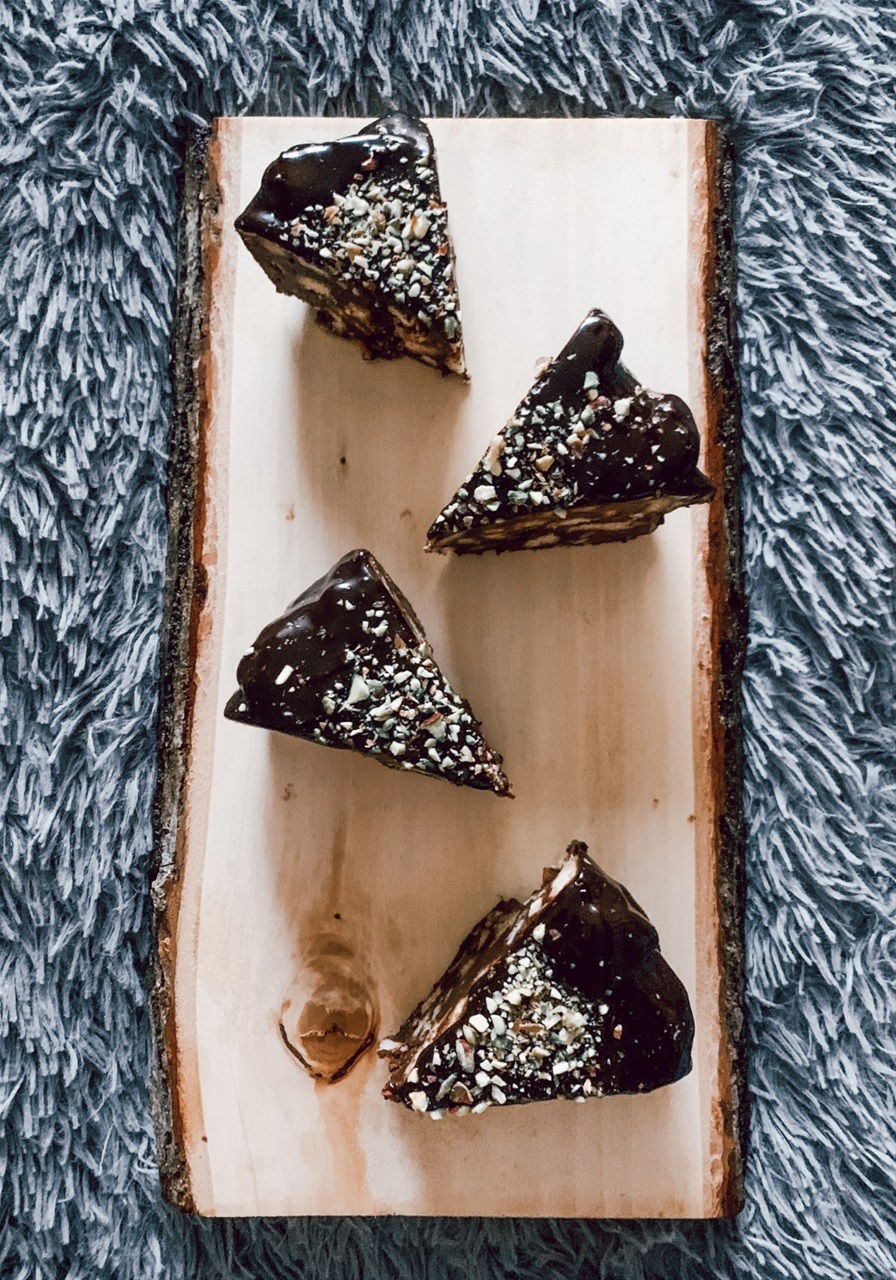 Firstly, slightly chop the walnuts, almonds and peanuts – mix together in a separate bowl and set aside. You can replace the nuts with any other ingredients that you fancy - either into dried fruits, or anything else that comes into your mind. Shred the cookies/biscuits into pieces between your hands, add into a separate bowl and put on the side. Make sure you shred the cookies into normal size pieces, if they are too small they will turn into biscuit powder. Prepare boiling water in a pot on a stove. While the water sets up to boil, prepare in a separate plastic bowl the vegan butter, coconut milk, chocolate, instant coffee powder and peanut butter. If you do not like peanut butter you can choose not to use it at all, or you can replace with another nut butter which you fancy. Stir constantly until everything is melted and the whole mixture looks dark chocolate color and is evenly mixed.
Once the mixture is ready remove it from the hot water and put a side. In a separate big bowl put together the nuts and the biscuits, then add the chocolate mixture into the bowl and mix gently until everything is well combined. Prepare any kind or any shape of a cake form with baking paper (no need to grease or spray it) – put the cake mixture into the form and spread it evenly. Put the cake into the fridge for 1 hour or keep it a bit longer until the cake is firmed. You can use any cake shape form to your liking.
Meanwhile let us prepare the glaze for the cake. Set up a pot with water on a stove and bring it to a boil. Prepare in an empty plastic bowl the vegan butter, chocolate chips, coconut milk (or any plant – based milk) and instant coffee powder. Mix everything together until well combined. Remove from the heat – put a side. In a bigger bowl mix together cocoa powder, vanilla powder, icing sugar – mix well everything. Slowly start to add the liquid mixture into the dry mixture, stir well until combined (you can also use a hand mixer). Once the mixture is fluffy and smooth put the glaze into the fridge for 10 – 15 minutes to cool down. Once the glaze has cooled down – you can decorate the cake with the chocolate glaze. You can add any other decorations on the cake if you wish (I used pistachios). Once you have finished decorating your cake - leave it in the fridge for another 15 - 30 minutes for the glaze to set and firm up.
If you are making this cake for a party or to serve to others, it's important to follow a couple of steps to get really nice and even cake cuts. Make sure you allow the cake glaze to firm up in the fridge for a while before you cut it. To cut, use a big, heavy knife. Run it under hot water for 30 seconds, dry it quickly and cut the cake. Clean off the knife in between cuts, and you will have clean cake slices. This recipe gives you a small size cake and around 8 cake slices. If you wish to make a bigger cake just double up the ingredients in the recipe.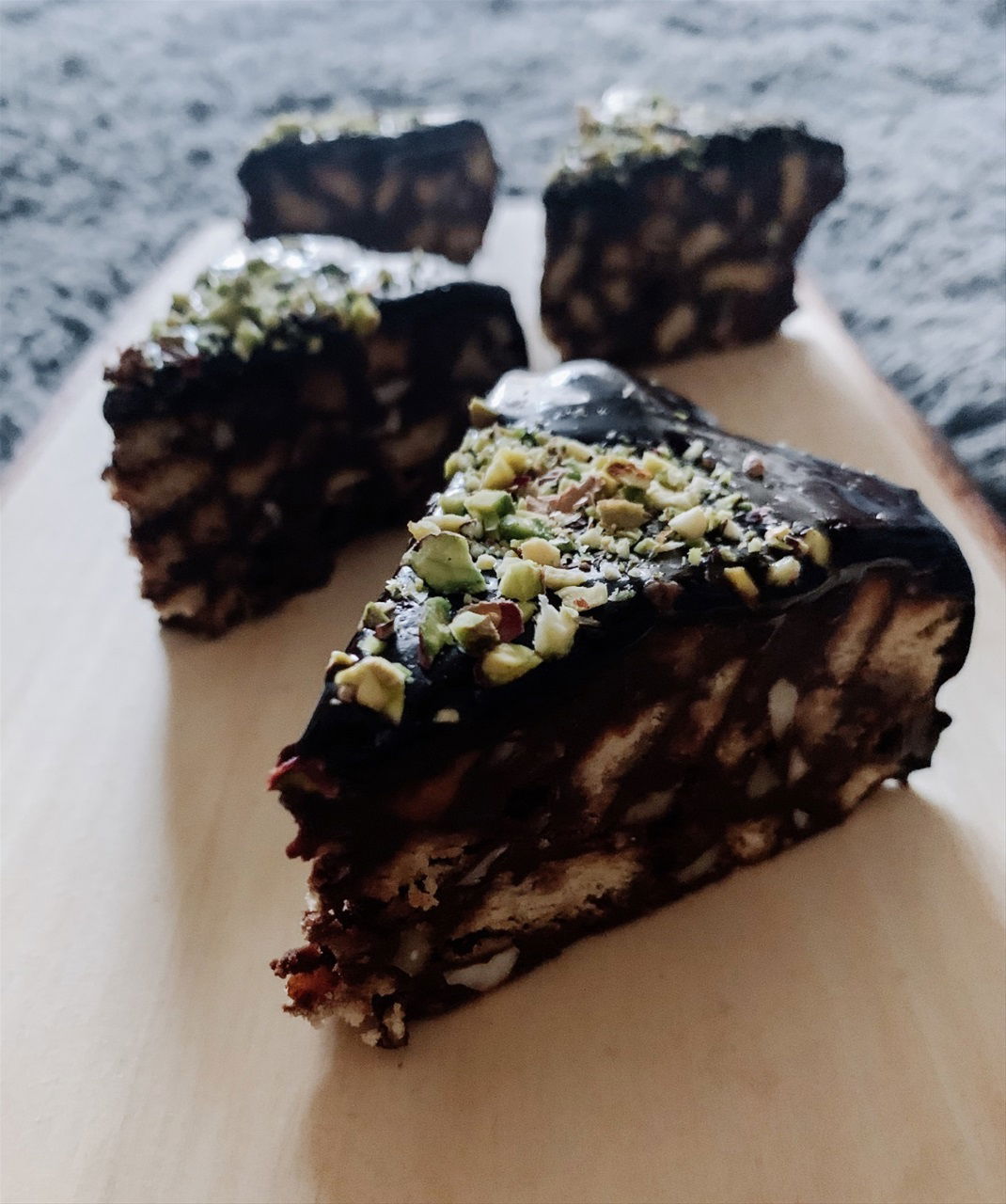 ' Storage & Nutrition '
Store this cake in an airtight container at room temperature for up to 3 days. You can also store the cake in the refrigerator for up to 5 days. Place the cake pieces in an airtight freezer-safe storage container in the freezer for up to 3 months. Let thaw in the refrigerator overnight.
Servings: 8 pieces (one small size cake)
Calories: 268 cal
I truly hope you will find the above no bake chocolate, nut & biscuit cake delicious and healthy as I do. Enjoy this beauty!
- SiggyBlog -