I love snacking on these simple no bake carrot energy balls. They taste just like carrot cake, but they're vegan, healthy, gluten-free, and easy to make! These lightly sweetened carrot bites are great for afternoon snack time or an on-the-go breakfast. They're more carroty than cakey – and by that, I mean that they're not cake-like at all and there's no baking. They're chewy little balls made from a mix of carrots, gluten – free oats, dates, coconut, and cinnamon. This recipe does include nuts as well, however if you wish to do these carrot bliss balls nut free – simply replace the macadamia nut in the recipe with sunflower seeds.
These Carrot Cake bliss balls are a must make. Moist and so full of flavorful thanks to the sweet spice of the cinnamon, spice mix and zesty orange. Honest to God I swear I am eating carrot cake when I eat these beauties. These Carrot Cake bliss balls come together quickly. This is a no bake recipe – hurrah! – though I do like to toast the in the oven first. I am trying to achieve a warmer, nuttier flavor by toasting the oats, however this is totally optional, and you can just pop everything in the food processor to speed up the recipe. If you will not use nuts in your carrot cake bliss balls recipe and decide to use sunflower seeds – make sure you toast the seeds in the oven for a short time to get a nice nutty flavor into the mix.
These are super simple to put together. Just pulse all of the ingredients in the food processor and roll into balls. If you like, you can roll them into some shredded coconut or dip them into vegan white chocolate (melted coconut butter) – they're delicious with or without the extra coconut. Pop them in the fridge for a convenient snack all week!
So let me know what you think of these vegan and gluten - free carrot cake bliss balls in the comments section below -thanks so much! In order for you to stay updated with all my latest vegan recipes and baking posts – give a follow to my Instagram account https://www.instagram.com/siggyblog/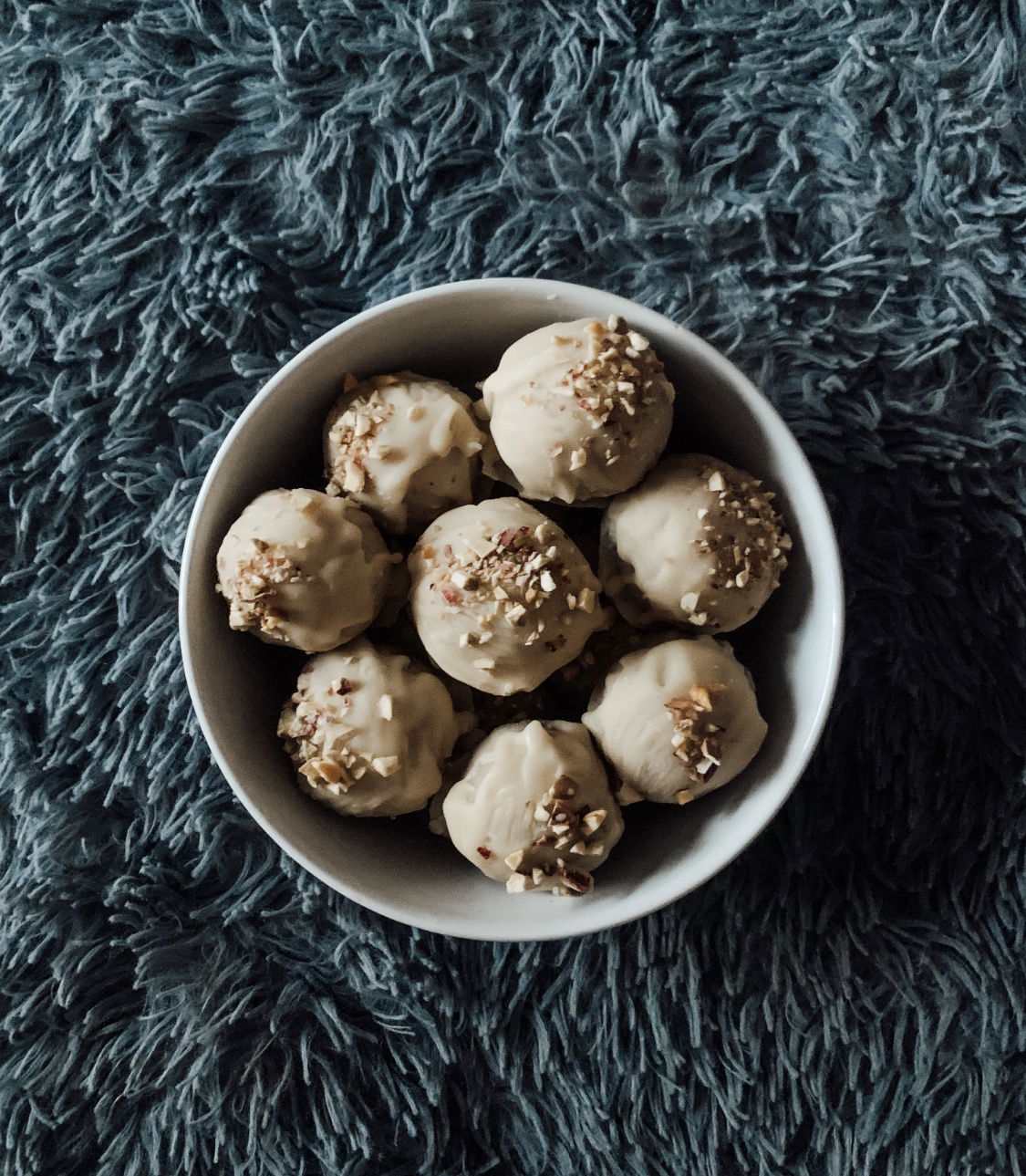 The Ingredients
1 cup of rolled oats lightly toasted
(for gluten-free option use almond flour or almond meal)
1/2 cup macadamia nuts shredded or sunflower seeds lightly toasted
1/3 cup dates paste or around 6 pitted dates
150 g (around 2 medium size) peeled grated carrots
1/4 cup of desiccated coconut
2 teaspoons of cinnamon powder
1.5 teaspoons of mixed spice powder (nutmeg, cardamom, nutmeg, ginger) - optional
1/4 cup of zested orange
2 teaspoon of maple syrup
Fresh juice of one orange
For decorating use desiccated coconut (for rolling) or 185 g coconut butter
Prep Time: 20 minutes
Yield: 12 bliss balls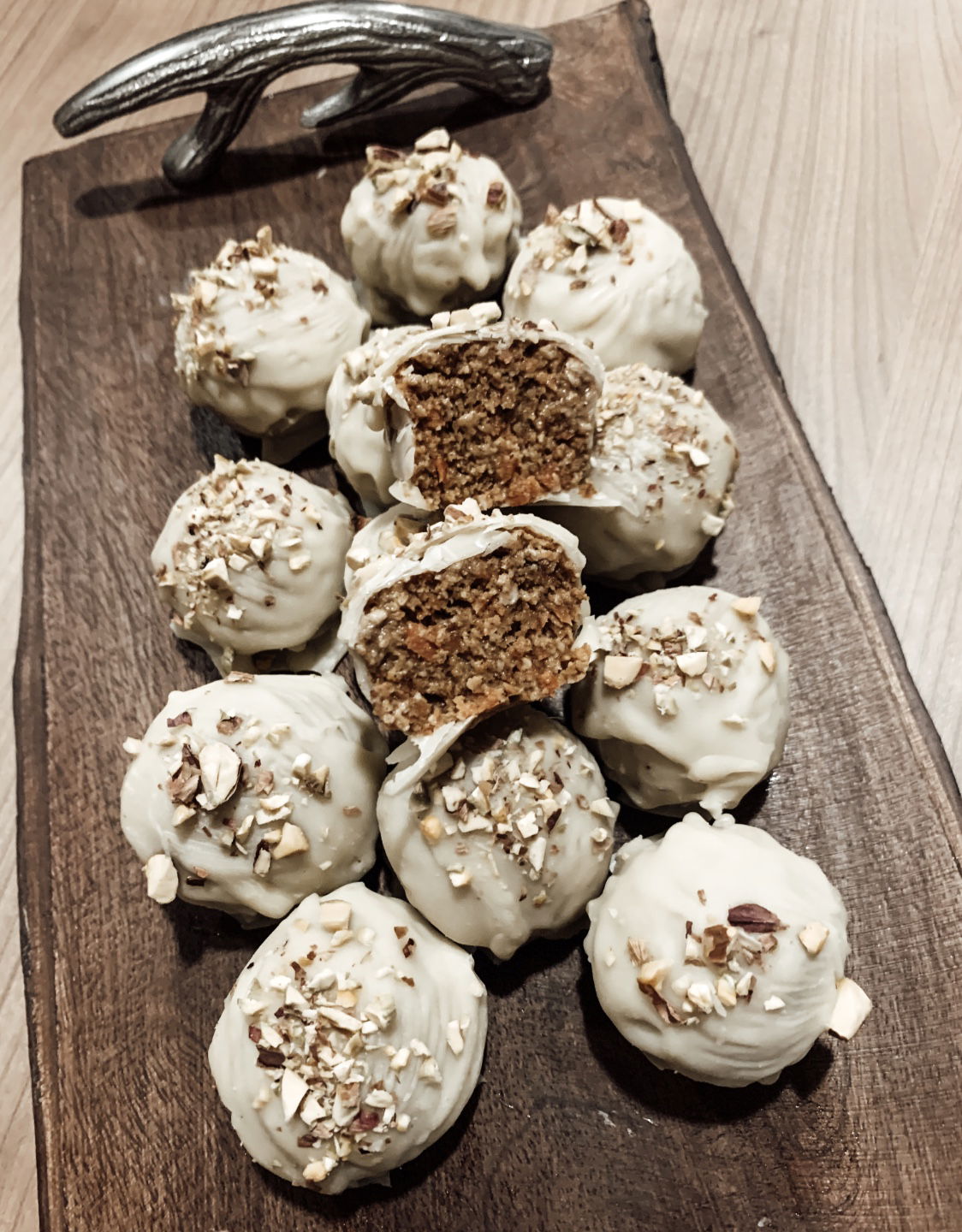 Before we get started make sure you prior measure all the ingredients. First heat the oven too 200 degrees and place a baking paper on top of your oven pan – then add the oats and sunflower seeds if you are using them. Toast them in the oven for about 5 – 8 minutes. Make sure you shredder your carrots, macadamia nuts and orange zest. Once you have finished toasting your oats and seeds, place all the ingredients into a food processor (all ingredients except the date paste and carrots). Pulse until it becomes a fine meal. Add the date paste and carrots and pulse until the mixture combines and sticks together. Taste and add more maple syrup if you would like your bites sweeter. If the mixture is too dry, add more maple syrup; if it's too moist, add more coconut and/or let the mix chill in the fridge for 20 minutes to firm up. Use a tablespoon to scoop the mixture, then use your hands to roll it into approximately 1-inch balls. Once you have finished rolling all the balls, place them on a baking paper and put into the fridge for 30 minutes or into the freezer for 15 minutes.
To decorate the carrot bliss balls you have several options. You can either roll in the coconut powder to coat them outside. If you wish to decorate your carrot balls with vegan coconut chocolate – simply take 185 g of coconut butter (chopped into chunks) and add 2 teaspoons of coconut oil. Prepare a pot with boiling water and slowly melt in a separate bowl the coconut butter until its melted. Let the mixture cool down for 10 minutes on room temperature. Remove your carrot balls from the fridge/freezer and start to coat with the coconut butter one by one. You have to coat it several times – as its very see threw and takes few times to cover one ball. You can decorate the balls with pistachios or any other fruit or nut powder if you wish.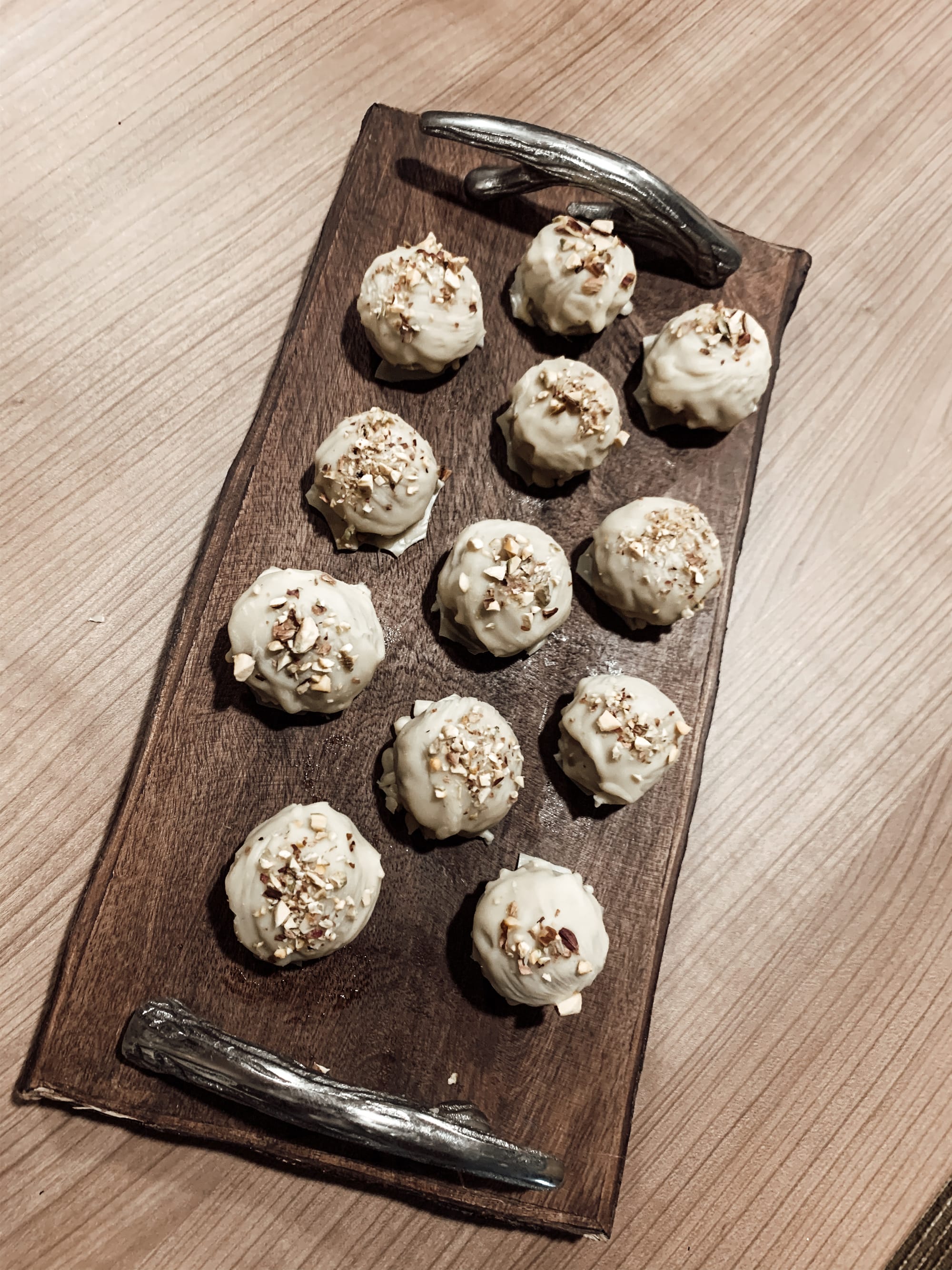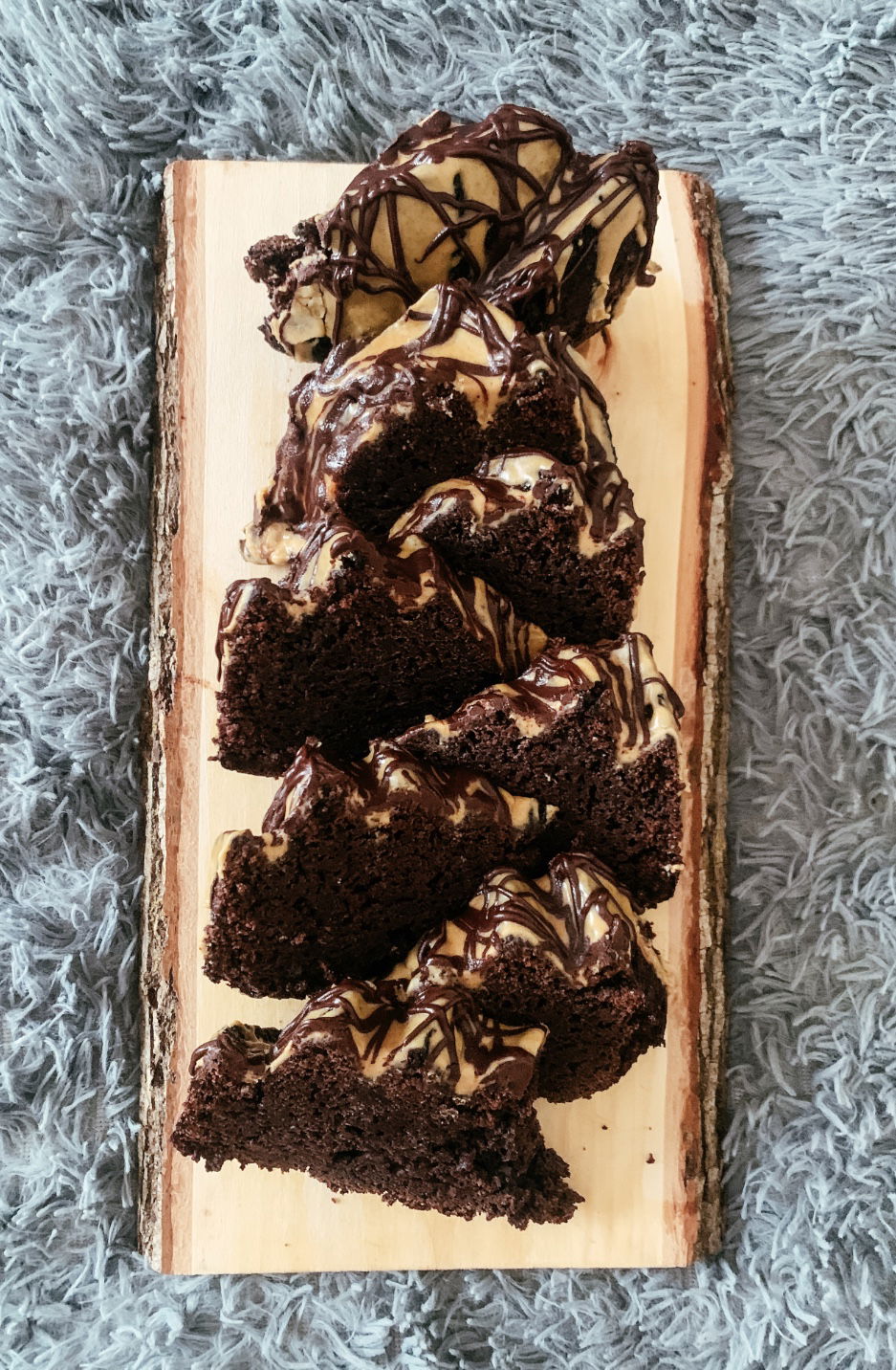 ' More about the ingredients used in this recipe '
Carrots – are a fantastic source of beta carotene that your body converts to Vitamin A. This vitamin promotes good vision. Carrots are also a reasonably good source of fiber. Plus, the carrots are the key ingredients in these bliss balls.
Rolled Oats – a pantry staple that I always have on hand. You can make these carrot oat bliss balls gluten free by obtaining certified gluten free oats. You could also use nuts like almonds or cashews to replace the oats, but I have not tried this variation not would this be appropriate for many school lunchboxes.
Sunflower Seeds – high in Vitamin E and packed with many minerals these tiny seeds are a good source of protein and healthy fats. You can substitute with extra oats or coconut.
Pitted Medjool Dates – these dates have a caramel-like flavor and are softer and more moist than other dates. You could use other dates however you may wish to soak these in hot water for 5 minutes then drain before using to soften them. You may also want to use a few more dates as Medjool Dates are typically larger. I used date paste – which are widely available in the supermarkets (its pure dates already pitted and made into a paste).
Cinnamon and Spices – a cozy spice that adds flavor, light heat and brings out the sweetness of these bliss balls. I also use in my recipe a spice mix – which has a touch of cardamom, nutmeg, cloves and ginger.
Orange Zest and Juice – you could omit this from the recipe, but I would recommend you don't! The orange adds such a delicious flavor to this recipe.
Desiccated Coconut – used for rolling and sealing the Carrot Cake Bliss Balls this is finely ground dried coconut and normally found in the baking section.
Macadamia nuts - are tree nuts that have a subtle, butter-like flavor and creamy texture. Like most other nuts, macadamia nuts are rich in nutrients and beneficial plant compounds.
' How to customize your energy balls recipes '
There really is no end to the possibilities with your flavor combos for energy balls! But if you're trying to get creative, here are the places you can change things up:
- Dried Fruit: dates, figs, dried apples/mangoes & dried berries all work
- Nuts/Seeds: use any combination you'd like (I love adding coconut)
- Flavored Powders: adding things like cacao or protein powder is a great way to change up the flavor!
- Spices: just like with cooking, you can add spices to transform your flavors! Some of my favorites are cinnamon, nutmeg, turmeric, vanilla, and pumpkin pie spice!
' How long can you keep energy balls '
There are two different ways to store your energy balls: in the fridge or in the freezer. While they can definitely also be stored at room temperature, I personally find the texture to be better if you keep them chilled. And a bonus is that they'll also last a long longer!
Here's how long you can keep energy balls:
Fridge: 1 – 2 weeks
Freezer: 3 – 6 months


' Troubleshooting tips '
Now that we have the basic recipe laid out, let's talk about customization! There really is no end to the possibilities with your flavor combos, but here are some of my best tips:
Use at least ½ cup of a sticky dried fruit (like dates or dried figs)
Nuts & seeds can be changed out for anything, as long as it adds up to that 1 cup
You can swap up to ⅓ cup of the nuts and seeds for oats/quinoa flakes
If you add cacao powder (or any other powder-like protein powder, etc.) increase the nut butter or oil by at least 1 tablespoon for every 2 tablespoons of powder
If the mixture isn't coming together & you don't want to add more oil/nut butter, add some water (but no more than 2 tablespoons per recipe)
' Storage & Nutrition '
These carrot cake bliss balls will last up to 7 days in the refrigerator. It's best to keep it in an air tight container. Carrot cake bliss balls can also be freezed well for up to 3 months.
Servings: 12 bliss balls
Calories: 195 cal
So let me know what you think of these vegan and gluten - free carrot cake bliss balls in the comments section below -thanks so much! In order for you to stay updated with all my latest vegan recipes and baking posts – give a follow to my Instagram account @sigrid_ballard
I truly hope that you will find the above raw carrot cake bliss balls as delicious as I do.
Enjoy this beauty!
- SiggyBlog -